3 Reasons You Shouldn't Wait to Implement Warehouse Robots.
Robots are becoming a necessity in the UK warehouse. In this, the first of a series of blog posts about autonomous mobile robots (AMRs), we take a closer look at three reasons why you shouldn't wait to deploy robots in your warehouse.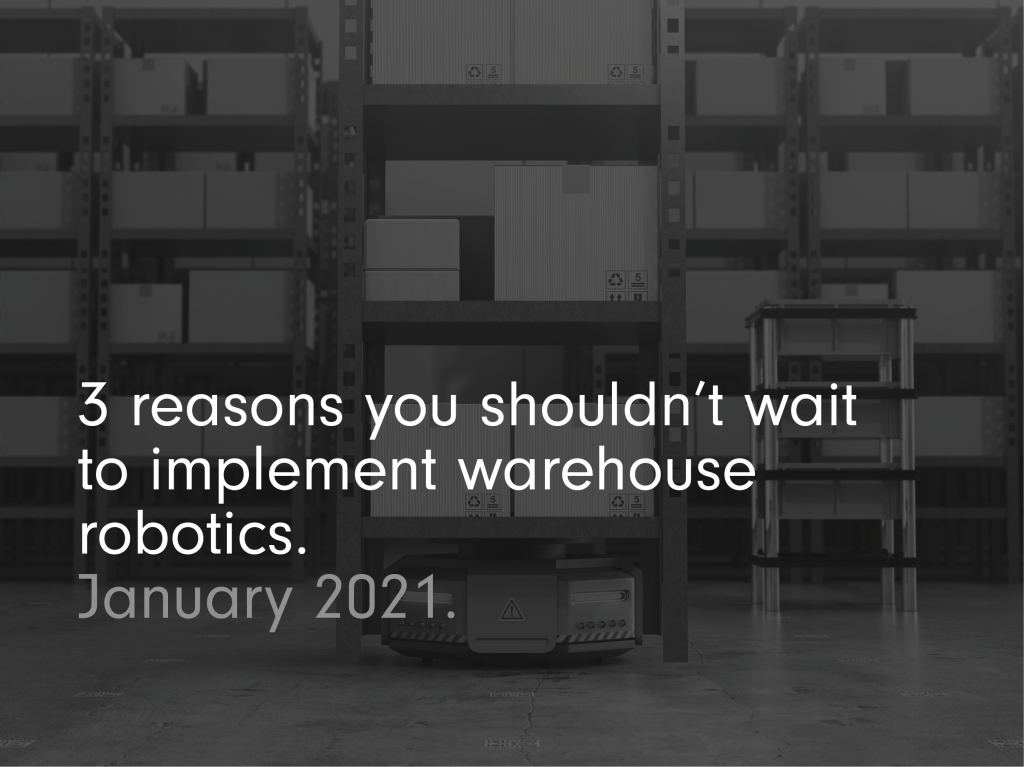 Many warehouses across the UK are struggling with labour shortages. And there are two main factors contributing to the issues.
The first is the fallout from Brexit. With the UK leaving the EU and the end of transition period, freedom of movement came to an end, resulting in many foreign workers leaving the UK and returning to their home nations.
Up to 1.3 million non-UK born workers are estimated to have left the UK during 2020. The UK warehouse sector has long relied on cheaper European labour and migrants – particularly from Eastern Europe – who are more likely to be employed in sectors like warehousing and logistics. Some estimates reckon that EU nationals make up some 20% of the labour in UK warehouses. So, the 'Brexodus' has been a concern for many distributors. 
EU migrants are known to be diligent and conscientious workers – and they are willing to work for the minimum wage. Although the labour pool has grown due to the numbers losing jobs as a result of COVID, it's not yet certain whether that void can be similarly filled with willing British nationals.
And the government's own impact assessment show that its new immigration points system is forecast to prevent 94% of EU warehouse and transportation workers from coming into the UK labour market. So, the labour shortages will likely continue.
The departure of so many EU workers has also been compounded by the effects of COVID-19. Faced with the pandemic, it seems many migrants have chosen to return home. On top of that, the warehouse sector has been hit in the same way as other industries by staff shortages actually caused by the virus. While some are off-sick themselves, others are self-isolating due to close contacts having tested positive.
Increased complexity due to ecommerce.
Ecommerce has grown rapidly over the past few years. And COVID-19 has only increased the amount of shopping done online. For some, fear of the virus has kept them away from the shops. And of course, lockdowns and the closure of non-essential retail have sometimes made online shopping a necessity.
Volumes of ecommerce orders have increased massively. McKinsey reported that US ecommerce penetration saw 10 years' growth in just three months. The UK has seen huge growth too. As a share of total retail, online sales in the UK accounted for 33.8% at the peak in 2020. Pre-COVID, in February 2020, that share was 20.1%.
Furthermore, even when shops re-open, ecommerce levels may remain high. Seventy percent of UK shoppers say they will continue to do their grocery shopping online after the pandemic is over.
All of this also comes with added complexity. There's the difficulties of predicting demand, of course, and needing to have the right stock available at the right time – something which has proved tough for the food industry at times due to the added pressure of Brexit.
But this change of the make-up of orders has also brought added pressure for many distributors. While the total volume of stock you're selling may not have increased, and you may not require any more storage space for it, having a higher number of orders – typically made up of lower numbers of lines and smaller unit numbers – will have caused you extra work in the warehouse. Where a company's business may have predominantly come from retail before, when the shops closed, many switched to selling direct to consumers, and this has upped the number of transactions being handled.
When it comes to the use of technology, the UK lags behind many other countries. It doesn't even rank in the top 20 worldwide in terms of robot density, with only 91 robots per 10,000 employees. This puts it behind Slovenia and Switzerland. And way behind the highest level in Europe, which is Germany's figure of 346 robots. Even the worldwide average is higher than the UK's, at 113 robots.
At the top end of the scale, Singapore has a density of 918, South Korea at 855 and Japan at 364. According to the International Federation of Robotics, "Robotics in the United Kingdom remains on a low level – new installations slowed down by 16%. The newly installed 2,000 units in the UK are about ten times less than the shipments in Germany (20,500 units), about five times less than in Italy (11,100 units) and about three times less than in France (6,700 units)."
While the UK has perhaps relied on hiring in cheap labour, other countries have invested in their capital equipment, creating a widening gap and affecting our competitiveness.
Our productivity is not making up for this though. In comparison with many other nations, the UK's productivity levels are. We trail behind Spain, France, the US and Germany in productivity per hour worked, for example.
So, as distributors are struggling with numbers of warehouse staff, and overcoming the hurdles associated with increased volumes and/or smaller order sizes smaller, it seems we're lagging behind the world in our technological competitiveness.
Plus, with COVID-19 seemingly becoming endemic, we may well have to learn to live and work in a certain way for some time. Getting ahead by deploying warehouse robots sooner rather than later could help put your distribution business ahead of your competitors.
Robots can help fill labour shortage gaps caused by Brexit and COVID-19 or tackle peak season labour requirements. They can enable your workforce to remain socially distanced in the warehouse. They can cope with higher volumes of orders, working 24 hours a day, 365 days a year.
Robots are flexible and scalable and can work alongside human operatives. They can take on repetitive tasks, shuttle goods around the warehouse or help with heavy lifting. They can assist your staff with picking or putaway, bringing goods to your packers, or directing operatives to the next pick location.
Balloon's robot partner, Locus Robotics, can fully deploy robots in the warehouse in just a few weeks. Customers see productivity rates shoot up, even from the first day that the robots are implemented.
Don't wait to implement warehouse robots. Call us on 020 8819 9071 or get in touch for a free assessment of your facility and a quote to install robotics in your warehouse.
Read the other posts in our series on robots in the warehouse: