K.Motion WMS and Locus Robotics: a turnkey solution.
Implementing robots in the warehouse need not be difficult. In fact, it is incredibly easy if you choose the right supplier. Robots from Locus Robotics are a turnkey solution for anyone already running K.Motion WMS (previously HighJump WMS and Accellos WMS). LocusBots are fully compatible with these systems, having been purposefully designed to integrate seamlessly with them.
Locus Robotics provides a complete solution, with everything you need to get started. So, you don't need to worry about your server being compatible nor do you have to source specific hardware or firmware.
Here's what you get with this ready to go solution.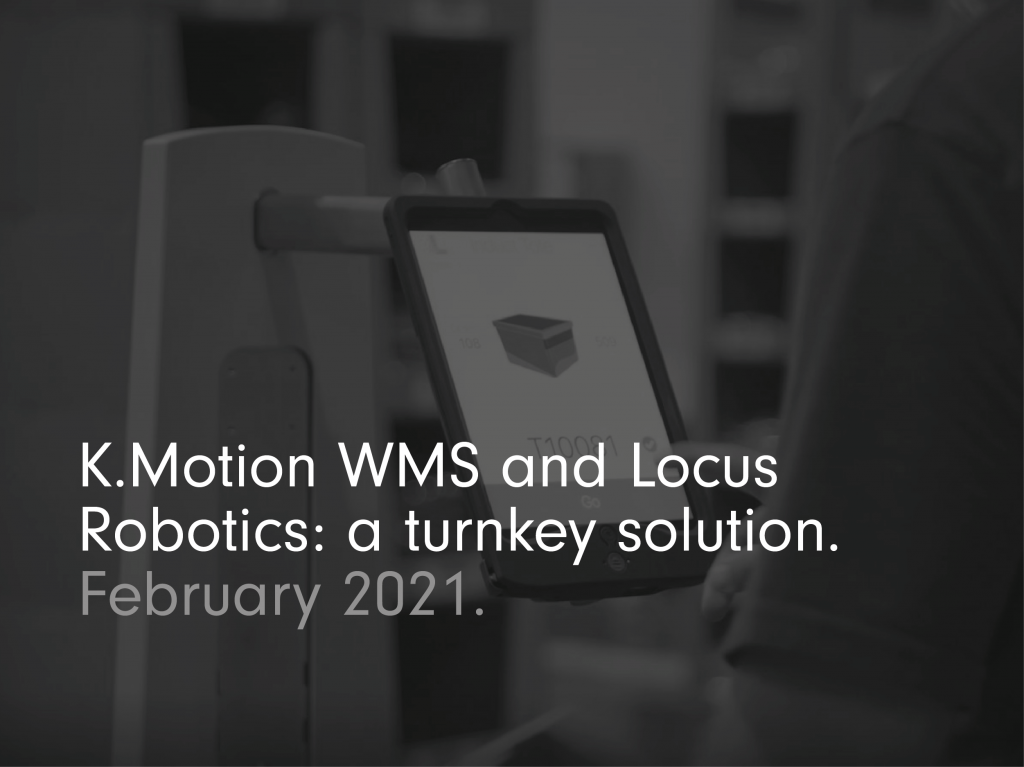 Simple user interface.
Your operatives will quickly master the simple touch pad-based LocusApp user interface. The pad has an integrated scanner that ensures the picking process is effortless for your workers. In a fluid motion, they pick, scan and place goods smoothly into the cart or tote.
Autonomous robots.
The LocusBots robots travel autonomously throughout your warehouse. They minimise the amount of walking your operatives do, by moving from picker to picker. Your employees remain in their zones and the robots travel to them, working collaboratively to transport the picked orders.
Remote operation.
Available on both iOS and Android, LocusManager software allows you to access and manage your operations remotely from your mobile devices. You can check on status and access analytics.
Integration with your WMS with no complex configuration.
The LocusServer integrates with your WMS and WCS. Using an API, the LocusBots can be quickly deployed to work with your K.Motion WMS. The system instantly receives notifications of orders, then delivers an optimised picking schedule, confirming back to the WMS system and instructing the robots on their next moves. The system really is ready to go. There's no need to customise any coding or undertake complex configurations.
Warehouse insight.
The LocusView software gives you insight into your operation. It provides real -time reporting to help you track performance and operational insights, including productivity data like units, picks or lines per hour, plus information on robot status and employee productivity.
No disruption to operations.
During implementation, there is no disruption to the working of your warehouse. Integration typically takes just four weeks and the system integrates with your existing infrastructure, workflow, and other systems. Much of the implementation can be managed by engineers remotely,  via a VPN.
Once you're on board, there's no need to stop the operation for software updates, either. The cloud-based system means updates are always made, so that you always have the latest functionality.
Equally, support can be provided remotely without your IT team needing to intervene. Locus can troubleshoot any issues without needing to visit you, limiting delays and downtime.
Easy to scale.
If your needs change down the line, then it's straightforward to expand the Locus Robotics system. You can simply scale up by adding additional robots, without needing to change the system. You might be continually growing so want to systematically add robots, or you may need to temporarily scale up to manage a peak period, in which case, extra robots can be deployed within days.
Transformational results.
With Locus Robotics and K.Motion WMS, everything is ready for you. It's easy to deploy the robots and they work right out of the box, bringing immediate productivity gains. LocusBots bring a two- to three-fold increase in productivity. Your warehouse staff could go from picking around 75 units an hour using a cart, to more than 160 units an hour with the help of robots.
If you already run K.Motion WMS (Accellos / HighJump), there's no need to transform your warehouse. But the robots will transform your results.
If you want to add robotics and get the ultimate combination to run your ecommerce fulfilment operation, call us on 020 8819 9071 or get in touch for a quote.