Top 5 Myths and Misconceptions about Warehouse Robotics.
There are many myths and misconceptions surrounding robots in the warehouse. But are they just speculation and myths – or are those objections and fears well-founded?
Our second blog post in this warehouse robots series takes a look at the top five notions surrounding warehouse robots.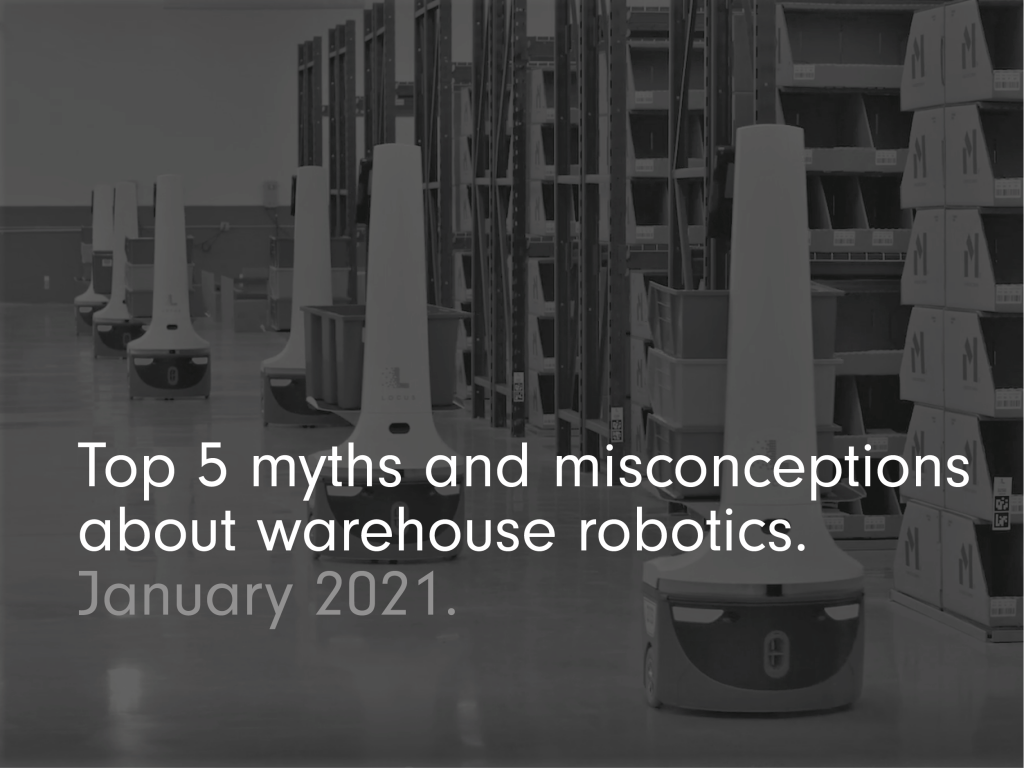 Myth 1: robots are expensive.
Robots seem like part of some sort of futuristic vision that only belong in the most technologically advanced warehouses. The belief is that they cost too much for "ordinary" warehouse operations.
But that is a misconception. As with all technology, advancements in production and manufacturing mean that robots have become cheaper to develop and build over the past several years – and they are certainly more affordable than fixed automation. Not only that, but providers offer ways of buying them without the need for upfront capital investment. Many autonomous mobile robot (AMR) providers offer robots-as-a-service (RaaS), as a way of "subscribing" to robots.
Balloon partner, Locus Robotics, offers its LocusBots via RaaS. This service allows you to implement robots in the warehouse with minimal risk. You can try them out and scale up or down as you need, which is especially valuable if your requirements change seasonally. With the subscription model, the service is an operating expense rather than a capital expense, so it's typically easier to gain budget approval for. Maintenance and upgrades are included, so your robots will always be up to date with the latest software. With a smaller, ongoing cost, users see a quicker return on investment and the robots can also be bought into on a short-term basis.
Myth 2: robots require warehouse infrastructure to be changed.
Robots do not rely on any sort of fixed infrastructure, so you don't need to change anything. They can match your existing workflows and be configured to the way you already run your warehouse. All they need is reliable Wi-Fi and integration with your warehouse management system (WMS).
They are flexible enough to work in ambient warehouses, or in chilled and frozen environments. Although they don't move between temperatures well, as their sensors can become fogged and your robots might become "lost".
They can readily be moved between locations too, so if you perhaps have a temporary labour shortage in one of your facilities, you could move them there and plug that gap for a while.
Myth 3: implementing robots is difficult.
AMRs don't require complex IT systems. You can get them up-and-running simply and quickly, without having to employ complicated bespoke coding or implementing a certain WMS.
Integration of LocusBots with Körber warehouse systems (previously known as Accellos and  HighJump) is simple and straightforward. There is even an all-inclusive programme that comes complete with everything you need to run ten LocusBots. It includes a server, help with strategic management and goals planning, training and set-up and can be ready to go live in just 45 days. What's more, it's implemented without any disruption whatsoever to your existing operation.
Myth 4: robots replace humans, making them redundant.
Those that fear technological improvements believe that robots replace humans, taking their jobs away.
Of course, there are many human tasks that robots can do very easily, and with greater efficiency. As robots are used more and more, there will be an inevitable displacement of jobs. But while particular jobs may be lost to a robot, it doesn't mean that all warehouse jobs for humans will cease to exist. People are still vital in the warehouse and remain key in distribution operations.
Although some see robots as rivals, they should instead be viewed as allies; there to help us out. AMRs are collaborative robots – often known as cobots – and can work alongside people, enhancing human labour. We already see these developments in the use of AMRs that follow staff around, guide them through tasks and direct them to picking locations, or bring goods to pickers and packers.
Collaboration between workers and robots like this is certainly in our future. As with everything, workplace change is unavoidable, but it doesn't mean workers will be redundant. Technological progress just means that jobs will change. This has been the case for centuries. We might not need thousands of chimney sweeps these days, but instead, we need central heating engineers. Technology may eliminate certain roles, but as a rule, the resulting efficiency enables the creation of new jobs and roles.
Myth 5: robots aren't proven.
Warehouse robots may seem new and experimental. However, they are no longer a new application, but are a proven approach that increases efficiency and productivity in the warehouse.
They have been built on the more mature technology of autonomous guided vehicles (AGVs), but don't need any of the built-in infrastructure to guide them, instead navigating more freely around the warehouse.
The outcomes and returns are where you'll find the proof though. LocusBots can generate a two to three times uplift in picking productivity, reducing the cost of picking by 25-40%. And without the large upfront capital costs – if bought on a subscription basis – returns are very quickly made. Locus Robotics say that most of their customers see a return within a month.
Truth: robots are the future of the warehouse.
So much for the myths – here is a truth. Technological change has been underway since the industrial revolution. Further change and progress is inevitable. But it should be embraced, not feared. Robots have a huge part to play in reinvigorating UK distribution businesses after the setbacks of Brexit and COVID. So, don't believe the myths. Robots can bring greater efficiency and productivity to your warehouse, ensuring you achieve better profitability and faster growth.
Get a march on your competitors. Call us on 020 8819 9071 or get in touch for a quote to see how easy, fast and inexpensive it is to implement robots in your warehouse.
Read the other posts in our series on robots in the warehouse: