Pandemic: how warehouse robots can facilitate the new normal.
Blog Post by Claire Kerr
As the world comes to terms with the new normal, warehouse robots can help businesses to get goods to those that need them.
Although we're contending with economic recession, the lockdowns haven't affected all industries in the same way. Many sectors that provide necessary goods, like food and drink, or household staples, have seen surges in business as restrictions have forced people out of the shops and towards online commerce. With many people reluctant to shop in person, sales via ecommerce have been boosted even further. Prior to lockdown, in February 2020, internet sales represented 19% of all retail sales. That figure peaked to nearly 33% in May.
For businesses that want to increase trade, outperform their competitors and to buck the recessionary trend throughout the pandemic, robots present a number of opportunities.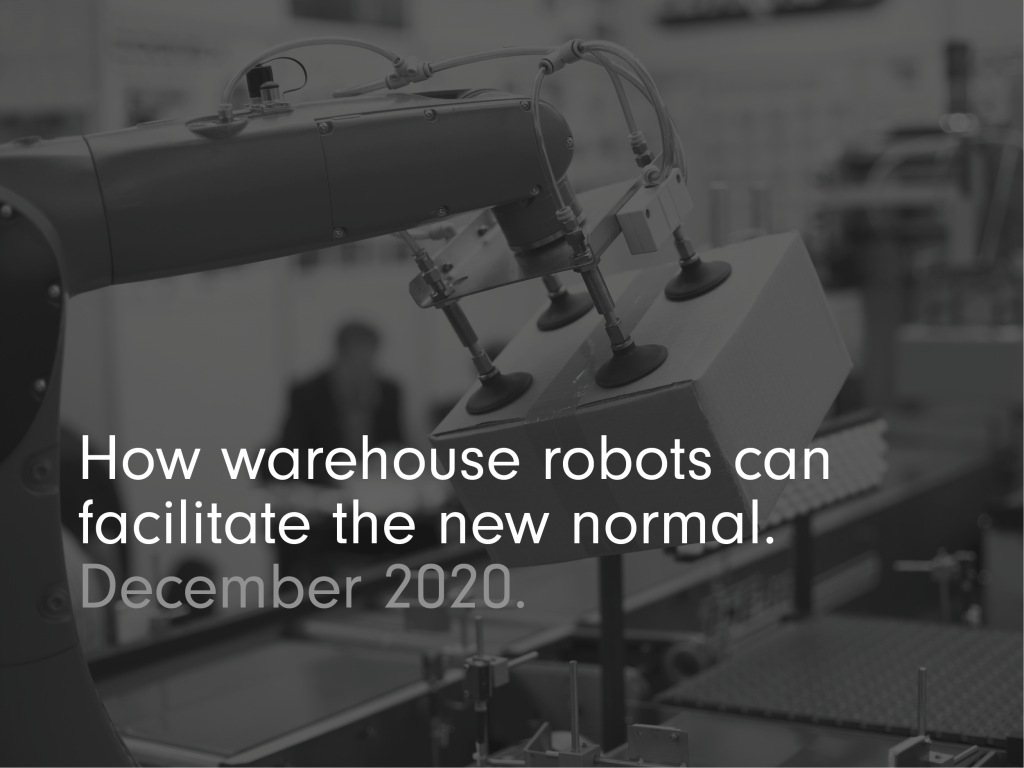 Market growth prior to the pandemic.
Even before the pandemic hit, the warehouse robotics market was a growing sector. Globally, the market was worth $6.12 billion in 2019 and is expected to grow to $25.8 billion by 2025, giving a compound annual growth rate of 27%.
The pandemic will likely accelerate this growth. Many companies offering ecommerce will have seen orders increase, and to meet demand will be able to benefit from the introduction of automation. Solutions such as AMRS – autonomous mobile robots – can be deployed quickly and will immediately start to increase efficiency and reduce cost.
COVID-safe warehouses.
With social distancing requirements, many distribution businesses have had to limit the numbers of operatives in their warehouse. Or they have had to operate in a more COVID-safe way, introducing one-way flows, for example, all of which can slow down warehouse practices like picking or can limit which operations can be carried out at the same time as others.
Robots, however, can mitigate the risk. A warehouse could be reconfigured to set staff at certain pick faces or aisles – and keep them well distanced. AMR robots can visit the pickers, who pick the items required and put them into the robot's caddy, for transport to a packer. This is just one way that robots can help ensure safe social distancing and minimal human interaction.
This ensures speedy despatch and overcomes the delays that many distributors have seen due to high demand for couriers, or staff shortages within the Royal Mail. While consumer expectations of delivery times during the pandemic have reduced, the established giants like Amazon are still managing to achieve short delivery times. Where robots are keeping productivity up, customers can be sure to get their goods just as quickly as before, and businesses can continue to compete with the likes of Amazon.
Addressing staff absences.
Of course, the best thing about robots is that they don't need time off. With more staff absence due to sickness or the legal need to self-isolate, warehouse robots can plug the staff shortage gap.
Millions of working days have already been lost across the country in the past nine months. And until the pandemic is over, this looks set to continue. Robots can reduce the numbers of staff needed, so can help with labour while there are temporary shortages.
Not only that, but robots can also work 24 hours a day, seven days a week, bringing huge efficiency gains to any distribution business. In many operations, human workers need not even be on the warehouse floor, but can instead be remotely supervising the robots doing all the manual labour.
Conclusion.
Although COVID-19 has not been welcome, its presence has thrown up new opportunities for automation. With many commentators warning that some level of social distancing may be required throughout 2021, automation in the form of robots will continue to be in much demand. The businesses that seize this opportunity to automate and improve operations will be in a better position to serve customers well and to increase profits.
Although the pandemic will – one day – come to an end, it's clear that warehouse robots are here to stay.
For more information, download our white paper, Robotics in the Warehouse: Automation in the Supply Chain. And if you would like a free assessment of how autonomous mobile robots could help improve your warehouse, call us on 020 8819 9071 or get in touch for a quote.