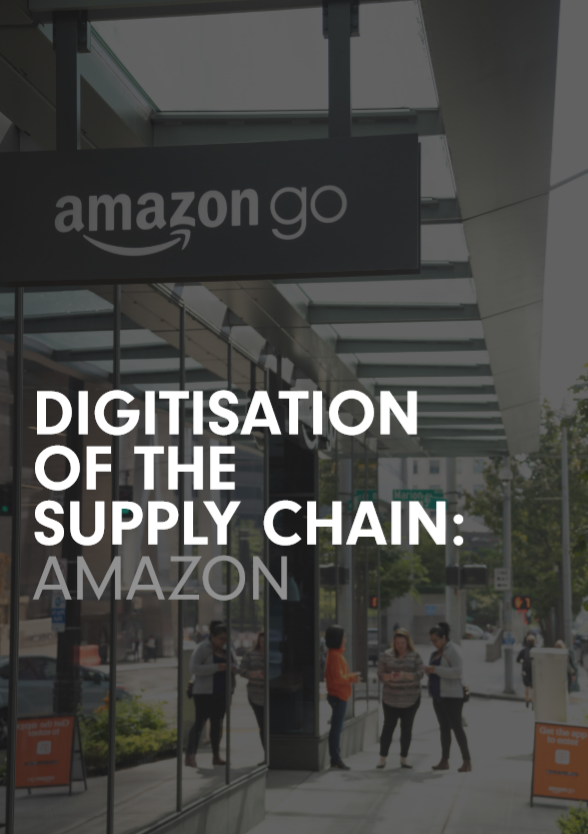 Amazon: Digitisation of the Supply Chain.
Download the whitepaper on the disruptive effects of Amazon's technology on supply chains.
Amazon have been the leading figure in the digitisation of the supply chain. From AmazonGo to Amazon Air, explore how the supply chain has become digital.
Amazon Go
Amazon Go is a retail concept whereby shoppers electronically identify themselves on entering a store, then shop for the goods they want, and leave without checking those items out, or physically paying for them. Using artificial intelligence and image recognition software, Amazon Go eliminates queuing up and paying for the goods. Instead, it recognises what you have bought and charges the cost to you after.  
AmazonFresh
Amazon has long been known as a digital disruptor. Not content with reforming the bookshop market, it is now the world's largest online retailer, selling all manner of goods. It entered the grocery market with AmazonFresh in 2016, offering grocery delivery in hundreds of postcodes across London and the Home Counties. Amazon's competitive advantage is its same day delivery offering, a feature that other UK online grocers struggle to match. While not available in all postcode areas, those that aren't eligible are guaranteed next-day delivery.    
Pharmaceuticals
In June 2018, Amazon announced it would purchase the online pharmacy, PillPack, in a deal estimated to be worth just shy of $1bn. With this planned acquisition, Amazon is clearly signalling how important the e-health market is. But its disruption of this market has also had commentators speculating that it has single-handedly wiped $14.5bn off the market capitalisation of the entire US pharma and drugstore industry.  
Amazon Vendor Central
A distributor looking to sell its products through Amazon as a first-party supplier – that is to have Amazon undertake the fulfilment, shipping and customer service for those products – needs to use Amazon Vendor Central, a key section to the Amazon Digital Supply Chain. To use this system, suppliers are required by Amazon to comply with various shipping constraints. Amazon provides a detailed 22-page guidance booklet that sets out the conditions that the supplier must meet. These cover purchase order management, carton dimensions, pallet building, shipping label sizes and fonts, barcode parameters, label positioning, bills of lading, freight loading restrictions and more. Additionally, all Vendor Central suppliers must submit their shipments using ASNs (Advanced Shipping Notices) and must use a specific EDI specification if using EDI.  
Amazon Prime Air
With distributors and logistics providers constantly looking to shorten delivery times and reduce costs, it's no surprise that innovation into automated methods of delivery is a prime focus. The rapid advancements in autonomous vehicle and drone delivery technology mean unmanned home deliveries may no longer be the stuff of science fiction. Instead, their reality seems to be very much on the cards. But how long will it be before these technologies are rolled out more universally?
Also recommended for you...