What is a warehouse management system (WMS)?
A warehouse management system – or WMS – sits at the core of a suite of software that helps you manage your warehouse operations and supply chain. But what exactly is a warehouse management system?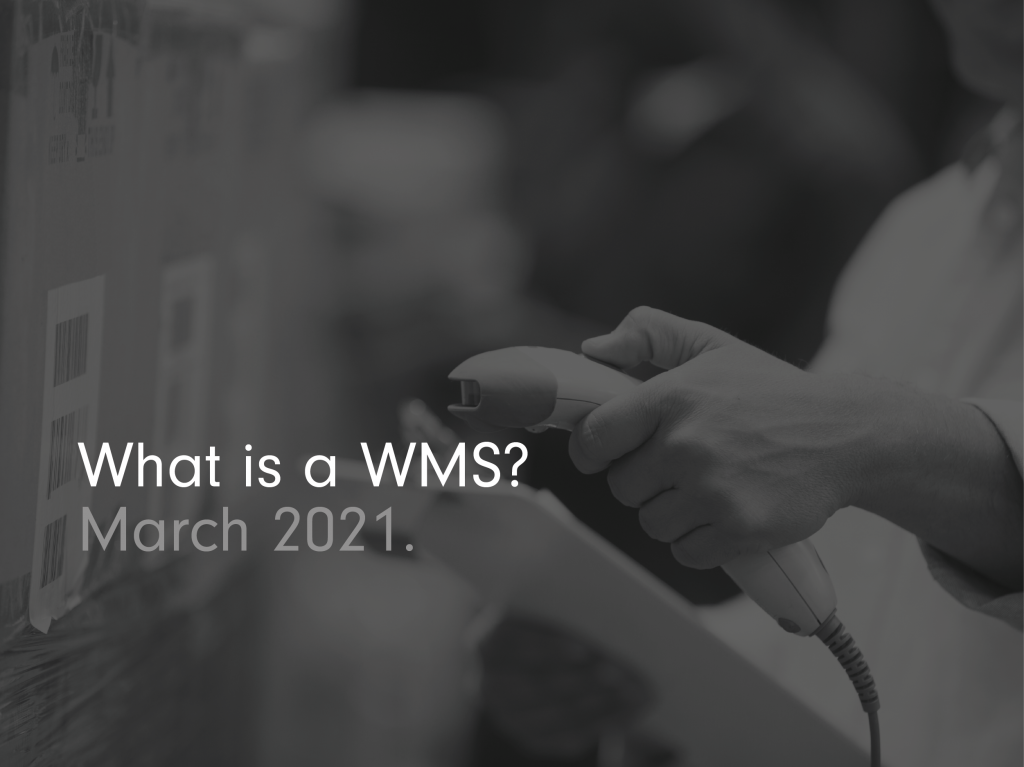 A WMS is a specialist application for managing your warehouse operations. It governs all aspects of warehousing from the moment stock enters the warehouse until it leaves again. So, this includes: receipt, putaway, management and tracking of stock; labour management; picking and fulfilment; shipping and despatch.
The WMS integrates with other applications used in your business. It communicates with your Enterprise Resource Planning (ERP) solution to update order details and customer records and to synchronise stock data. Some WMS applications can manage a Warehouse Control System (WCS), meaning it directs machinery and automation systems like conveyors, carousels, robots, automated storage and retrieval system (ASRS), and voice and light picking technology. A WMS also ties in with your Transport Management System (TMS) to coordinate your outbound logistics and sometimes aspects such as palletisation and load-building. And finally, it links with other specialist software, such as stock planning and forecasting, in situations where sophisticated stock optimisation is required.
However complex your warehousing operation is, a WMS will optimise your warehouse processes and streamline your workflows. It will improve your order fulfilment, more effectively manage your workforce, and ensure you have live, accurate stock information. Collectively, these improvements enhance productivity, reduce your costs and bring a more efficient warehouse.
Gartner has a WMS framework that classifies warehouses into different levels. These range from Level 1, a small, simple warehouse, to Level 5, a complex, automated warehouse.
Balloon One has codified this Gartner information against the various WMS solutions we supply:
 

Level 1 – Gartner describes this as a small and simple set-up, typically less than 500m

2

and with fewer than five users. It requires limited inventory management and many processes are manual and with little complexity. The needs of this warehouse can be met by Balloon's most simple solution, Warehouse Core.

Level 2 – this is a facility that requires basic product locating functionality, as provided by K.Motion WMS. It is usually less than 3,000m

2

and has up to 25 users. It is focused on storage and retrieval and is often pallet-based.

Level 3 – this is a warehouse that needs more advanced product location. The operation is still focused on executing processes, but will require more picking, packing and shipping options. It will have up to around 100 users and normally be less than 15,000m

2

. Again, K.Motion WMS meets these requirements.

Level 4 – this level is for warehouses that have need of a more intelligent system. K.Motion WMS fits this need, running with unlimited users and for all warehouse sizes. At this level, the focus is more on productivity and throughput. Complex processes can be catered for by the system's extended capabilities.

Level 5 – this top level is for automated facilities. They will again be unlimited in size, but require integration with warehouse control systems (WCS) and other automated processes. The shift here is away from the use of warehouse operatives, towards a greater reliance on the skills and input of automation designers. Once again, K.Motion's top of the range solution, fits here.
What can you do with a WMS?
Fundamentally, a WMS runs your order processing, integrating with your ERP to manage receipt of stock, putaway logic, stock allocation and order management, picking, packing and shipping. It also delivers reporting and analytics and can integrate with hardware such as voice picking equipment and handheld devices and scanners.
More advanced solutions offer additional capabilities for inventory management, cycle counting, task interleaving, wave planning, replenishment, staff management and automation of materials handling equipment (MHE) interfaces. At the top level, WMS functionality is extended further and includes slotting, yard management, parcel manifesting, and 3PL billing.
The benefits of K.Motion WMS.
K.Motion WMS is a single, flexible and scalable warehouse management solution for all warehouse sizes. It can be deployed either in the cloud or on premise and brings a range of benefits for your warehouse operations.
Accuracy

. K.Motion WMS reduces admin through paperless warehousing and real-time work direction and delivers up to 99.9% stock and order accuracy, which avoids expensive errors.

Optimisation

. Workflows can be optimised according to data from your operation. Functions such as directed putaway, task interleaving, slotting logic and labour management all improve your warehouse processes.

Integration

. K.Motion WMS integrates seamlessly with your ERP software – whether that's SAP Business One, Microsoft Dynamics, Sage, NetSuite, Infor – or one of the many others that K.Motion has deep technical integration with. It also links with your ecommerce website, marketplaces such as Amazon and Wayfair, and with your TMS and carrier solutions.

Adaptability

. To achieve continuous improvement, you can tweak the functionality of K. Motion WMS so that it suits your operation as it changes and grows.

Visibility

. Live reporting and analytics bring better forecasting and improve productivity and efficiency for an effective warehouse operation.

Automation

. You can integrate K.Motion WMS with your WCS and automated systems to give you a complete view of the warehouse and better control of your material handling solutions, equipment and robots.
What ROI does a WMS provide?
The return on investment (ROI) from implementing a WMS involves three aspects:
The direct cost savings it brings, through the elimination of admin and manual processes, reductions in labour requirements, lower packaging costs, consolidating orders, and lower stock holding costs. We estimate that our clients gain a minimum saving of 20% when they implement a WMS. Savings are made across receiving, putaway, picking, admin and labour, as well as from a reduction in stock holding and as a result of fewer errors. Additionally, around 50% cost savings can be made through the reduction in labour and admin for packing and shipping.

There are productivity and efficiency gains made due to faster order fulfilment. These are often harder to assess, but a time and motion study carried out before implementing a WMS can identify improvements that will be made, and what they will represent in terms of time saved in picking or cycle counting, for example. Improved order and inventory accuracy will also positively impact your organisation's finances.

Less tangibly, you can generate increased sales, revenue and profit thanks to providing a more efficient and effective service to customers, which reduces return rates and increases customer loyalty and satisfaction.
For most customers implementing K.Motion WMS, a full return on investment is attained in year two, but some see returns far more quickly and there are customers that have achieved this in just six months.
 If you would like to learn more about how a WMS can help your operation, get in touch or call us on 020 8819 9071 for a quote or an assessment of your likely savings and return on investment.
Why not stay updated on LinkedIn?