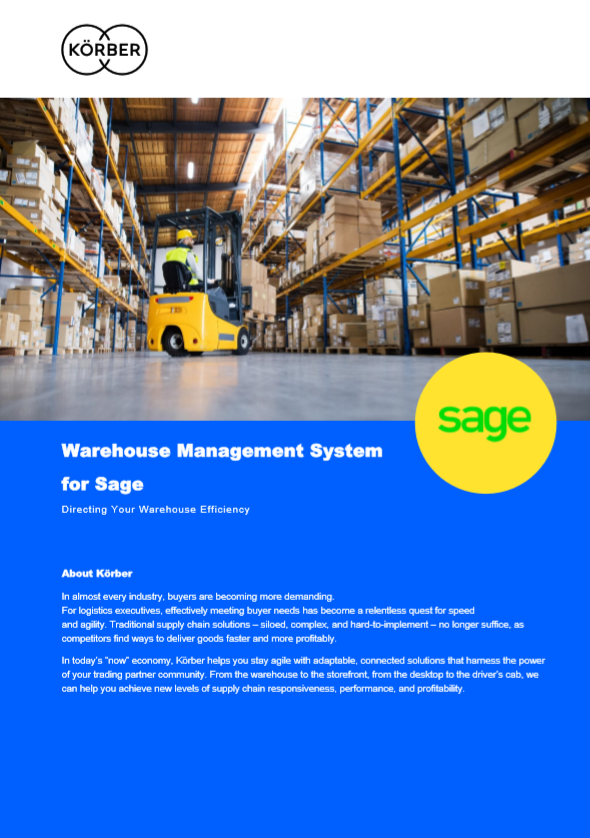 Warehouse Management System (WMS) for Sage.
Download the whitepaper on the market leading WMS.
Designed for the Sage user, K.Motion Warehouse Management System (WMS) couples the powerful financial management functionality of your ERP with an out-of-box warehousing solution for real-time inventory visibility and increased efficiency, accuracy and throughput. Download this brochure now to learn about K.Motion WMS software for streamlining your operations and overcoming challenges within the warehouse.  
Benefits/features include:
Dedicated team for managing the seamless integration to Sage, reducing implementation time to value
Highly configurable solution suite with best in class total cost ownership developed to amplify the power of your ERP
Integrated supply chain intelligence, shipping, and EDI/ASN compliance
K.Motion Warehouse is designed for small to mid-sized businesses, meaning it doesn't require an army of IT staff to support. You are able to start with the functionality that you need now at a price that makes sense and scale for growth over time. Our seamlessly integrated modules and applications are available to you when you need them. Functionality is important. Couple that with a tight integration to your Sage and an enduring company that cares for its customers and its R&D budget, and you've got a good fit. K.Motion's configurable web services integration platform stands between the warehouse and your Sage, order management, ecommerce, or purchasing system(s). K.Motion WMS delivers more powerful access to key performance indicators (KPIs) that can assist a business manager in more effectively making decisions within their business. New Pivot capabilities enable users virtually limitless ways to slice and dice information. The Win 8.1 tablet app mobilizes information wherever it is needed to illuminate trends and highlight outliers so that effective decision making becomes commonplace.