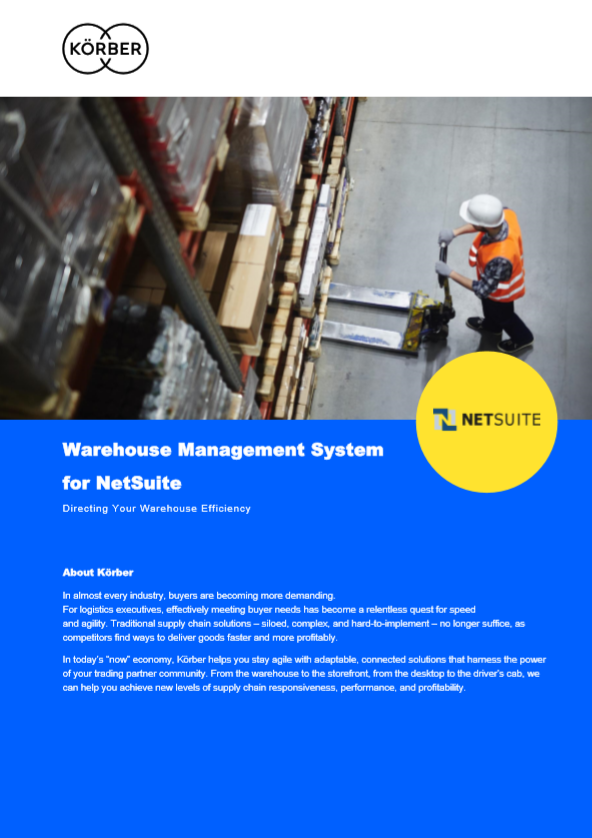 K.Motion Warehouse Management System for NetSuite.
Download the whitepaper on the market leading WMS built for NetSuite.
Amplify your NetSuite WMS to include best-of-breed warehousing functionality with a high-volume, multi-threaded integration deployed throughout hundreds of distribution centers today. Download this brochure now to explore the capabilities of the most comprehensive warehouse management system available to the NetSuite market. Learn how our dedicated NetSuite integration team minimizes implementation time, reduces costs, and provides the peace of mind that your integration is proactively managed.  
Benefits include:
One vendor for all your materials management needs
Embedded retail compliance
eCommerce-specific warehousing functionality
Intelligent shipping and business analytics
Improving accuracy, efficiency and compliance by just 2-5%, resulting in increased capacity and hundreds of thousands of pounds in annual savings
Modular design with integration-friendly architecture makes it simple to upgrade or add new modules, meaning you only pay for what you need
Role-based user-friendly interface that can be customized by the user for specific needs.
Typically 90 days to go live means faster ROI and higher profits.
Complete warehouse inventory visibility with dashboard analytics
Most functionality is provided out-of-box with minimal customization which helps to reduce implementation costs In almost every industry, buyers are becoming more fickle, and more demanding. For logistics executives, effectively meeting buyer needs has become a relentless quest for speed and agility. Traditional supply chain solutions – siloed, complex and hard-to-implement – no longer suffice, as competitors find ways to deliver goods faster and more profitably In today's "now" economy, HighJump helps you stay agile, with adaptable, connected solutions that harness the power of your trading partner community. From the warehouse to the storefront, from the desktop to the driver's cab, we can help you achieve new levels of supply chain responsiveness, performance and profitability. HighJump's suite of warehouse management, business integration, transportation management, and retail/ DSD solutions form a complete, powerful and adaptable platform that allow you to drive growth, customer satisfaction and revenue.