In many a warehousing operation, the picking and packing processes follow each other. First the items are picked; then they are packed. But since the majority of your costs for your warehousing operation are assigned to staffing, you may want to consider better ways of using your workforce so that you can save money.
In many cases, picking then packing may not always present the best way of doing things. In fact, a number of our customers are having great success with what we like to call pick/pack picking, but which is sometimes called cluster picking or carton picking.
Are you picking twice?
Say you have 20 orders to be picked and packed. With discrete picking and batch picking, you would create a consolidated picking list and then individually pick or batch pick the items. You take the items to a packing desk. All the goods will all be jumbled up and you will effectively have to pick them all over again. You will need to sort them so that you can pack them into the right orders.

Essentially, these picking methods mean that you are picking the orders twice, wasting time and increasing the effort deployed.
Pick once by combining picking and packing
A good warehouse management system (WMS) will have cartonisation functionality that allows for pick/pack picking. It's more effective to cartonise orders as less distance needs to be travelled in the warehouse for picking. Cartonisation functionality identifies the best box, envelope or packaging size for each order. It can be further enhanced by using a set of standard sized boxes or envelopes for packing.
By combining cartonisation with pick/pack picking, you only need to handle the goods once. You set up your trolley before you pick. It can be pre-loaded with the right packaging, each of which is pre-labelled with the recipient's details. Then, as you pick, you pack that order straight into its correct packaging. You only need to handle the goods once, saving time and effort. It also reduces moving time around the warehouse as you are only at each bin location once, before moving onto another one. It is much more efficient than the discrete and batch picking methods where you are first picking all the orders, then re-sorting them and finally packing them all.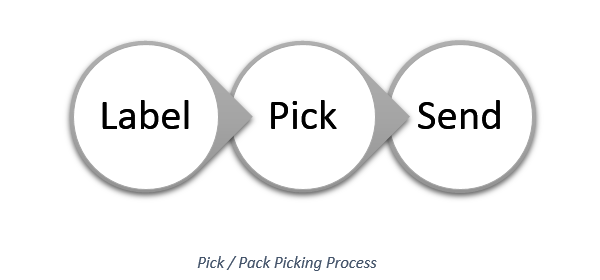 This method works best where you have detailed weights and measures information for all of your goods. And obviously that information also needs to be entered into your ERP (or WMS?) system. But even without that, companies that sell products in ranges of sizes can utilise rough dimensions and still employ this method.
The benefits of refining your picking and packing processes
While pick/pack picking is not automatically right for all operations, there are advantages to the method that may suit your own operations.
Handling the goods just once
A WMS includes carrier integration so that the right packaging can be pre-labelled with delivery addresses and carrier information. All of this is done in advance and the orders are picked and packed straight into the packaging. If you use multiple carriers, then the packed orders can be further sorted at this stage into separate bags or containers.
Handling larger order volumes with drop shipping
With the rise in drop shipping comes an increase in the volume of orders. When you have more orders to get through – and possibly it's a case of extra, small orders – it may be better for you to pick and pack each order. We have many customers that drop ship for retailers and they are seeing increased efficiency by using pcik/pack picking, despite having larger volumes of orders to get through.
Optimising your workforce
Pick/pack picking allows you to redeploy staff. You can reduce the numbers needed at the packing stage and redeploy them to the picking (which incorporates the packing). One client of ours, a company with a high volume of small, but valuable, orders has moved eight packers over to picking and has increased its order throughput by 30%.
Faster despatch
The increases in speed mean that you can despatch your orders more quickly. If goods are packed as soon as they are picked, they can be sent out straight away for delivery, rather than waiting on all the orders being picked and then packed. Getting your goods out of the warehouse door more quickly can mean earlier delivery for some customers if you can meet your carriers' collection cut-off times and deadlines.
If you want to improve your outbound order processing, and are considering using a different picking process, we'd be pleased to show you how Accellos One WMS facilitates the pick/pack picking method. To find out more, please call us for more information on 020 8819 9071 or contact us using the website form.