Balloon team to run Ealing Half Marathon for charity.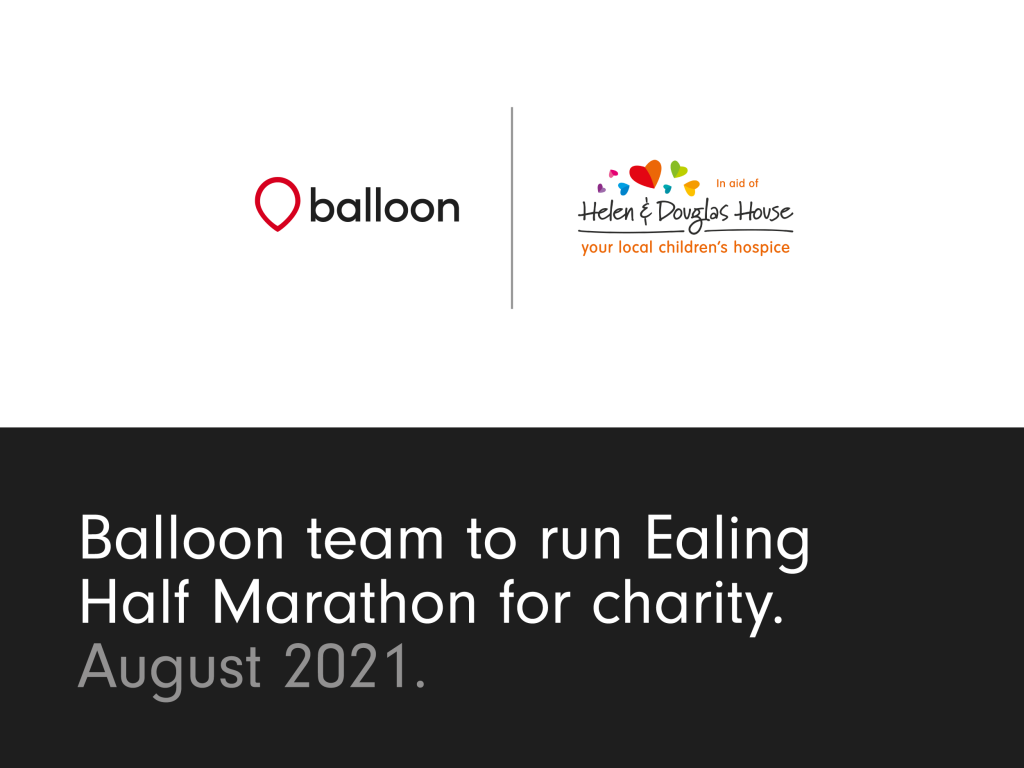 A team of nine Balloon staff is planning to run the Ealing Half Marathon in September in support of children's hospice charity, Helen & Douglas House.
Balloon has a strong ethos of fundraising through its charity events and each year we choose a charity project to support. As a company we have been focusing on ways we can all improve our physical health since our wellbeing workshop last year. With the Ealing Half Marathon right on our doorstep, it was an obvious choice.
Helen & Douglas House is a charity hospice that cares for terminally ill children. It relies on public donations and needs to raise £3.4 million each year to keep running. Aside from the hospice care for the children, the charity also supports affected families by providing both emotional and practical support.
The charity looks after a number of families from London and was included in a survey that was sent to staff asking which charity they would prefer to support. The vote for Helen & Douglas House was unanimous.
Now, in its tenth year, the Ealing Half Marathon race takes place on Sunday 26th September. It has been voted the UK's best half marathon three years in a row and has raised £2.5 million for its partner charities since 2012. The Balloon team is aiming to raise £2,500 for Helen & Douglas House.
In their own words, here's an introduction to eight of the fearless runners, many of whom have never run the full 13 mile distance before.
"I am 39 and I work as a Systems Administrator. Marathon running is one of the most physically demanding physical challenges you can set for yourself. There is, therefore, nothing more rewarding than achieving such a goal in order to inspire others to do something they previously believed was too difficult or impossible. I am immensely proud to have the opportunity to support Helen & Douglas charity as it has the potential to positively impact people's lives. Everyone has at least one fear or insecurity, and for many, running a marathon appears to be an enormous undertaking, if not impossible. But I must admit that I have overcome my fear and insecurity and grown as a person as a result!"
"I am 23 and a recent graduate, working as a Software Technician at Balloon. I recently discovered the true benefits of running when I began adding long distance runs into my weekly gym routine. In the very beginning, I couldn't run a mile without feeling like I was about to pass out. But I have since been able to surpass the five-mile checkpoint on my weekly runs, which will be very useful when attempting to run this half marathon. Running gives me a sense of freedom and excitement that simply cannot be found anywhere else! I am so delighted to work alongside the Helen & Douglas House hospice and raise awareness and money for their cause. I hope to complete this half marathon and support the hospice as much as I can!"
"I work for Balloon as a presales technician. I've never done anything for charity before, but I've always done good by other people where I can. Now though, I want to go well out of my way (and run really far even though there is nothing chasing me) and raise as much money as I can for the Helen & Douglas House charity to help young children who are less fortunate than myself. Now all I have to do is get over the finish line!"
"I am very excited about our charity event this year. The Balloon team has taken part in many charity initiatives over the years and this could be the biggest challenge yet. Our chosen charity, Helen & Douglas House does some amazing things for children with short life expectancy. Having young children of my own, I cannot help but be moved by the great work they are doing. I have never run anything like a half marathon before and as I embark on preparation and training in the best way I can, I realise my legs need more and more recovery time after each session. This is going to be tough but thinking about Helen & Douglas House and the children in their care is all the motivation I need to get this done."
"I've always enjoyed running and being outdoors – staying fit is really important to me. When I heard about the great work that Helen & Douglas house does, I thought it was an excellent opportunity to support them and be challenged at the same time. Helen & Douglas House provides incredibly important support to children and their families who really need it. It's great to be part of the team fundraising for them."
"I hate running. However, the prospect of raising money for the Helen & Douglas hospice has spurred me on. Now into my sixth week of training I sort of see how people get hooked, although I'm looking forward to the end of the race more than the start. I'm sure it will be a great day and hopefully we will raise lots of money for a really great cause."
"I'm running the Ealing Half Marathon to support the Helen & Douglas hospice – and to beat Craig! When asked if I wanted to take part it was a no-brainer. Raising money for a worthy cause by doing something I enjoy was too good an offer to turn down. Can't wait for race day!"
"I am a 26-year-old support technician here at Balloon. I have always been involved in fitness to challenge my mind and my body and the Ealing Half Marathon is the perfect place to do this. It is a perfect opportunity to also raise money to support the Helen & Douglas House charity organisation. I believe what they are doing to support others who need it most is absolutely amazing and they definitely deserve to have more awareness. Hopefully, I'll be able to complete the marathon without stopping!"
If you would like to help the team reach its fundraising goal, please donate. Any amount is welcome – we are grateful for anything you can give as it will be helping provide a home from home for a terminally ill child when their family needs it most.
Good luck to all the runners.
Why not stay updated on LinkedIn?