How a WMS can ensure food safety in the cold chain.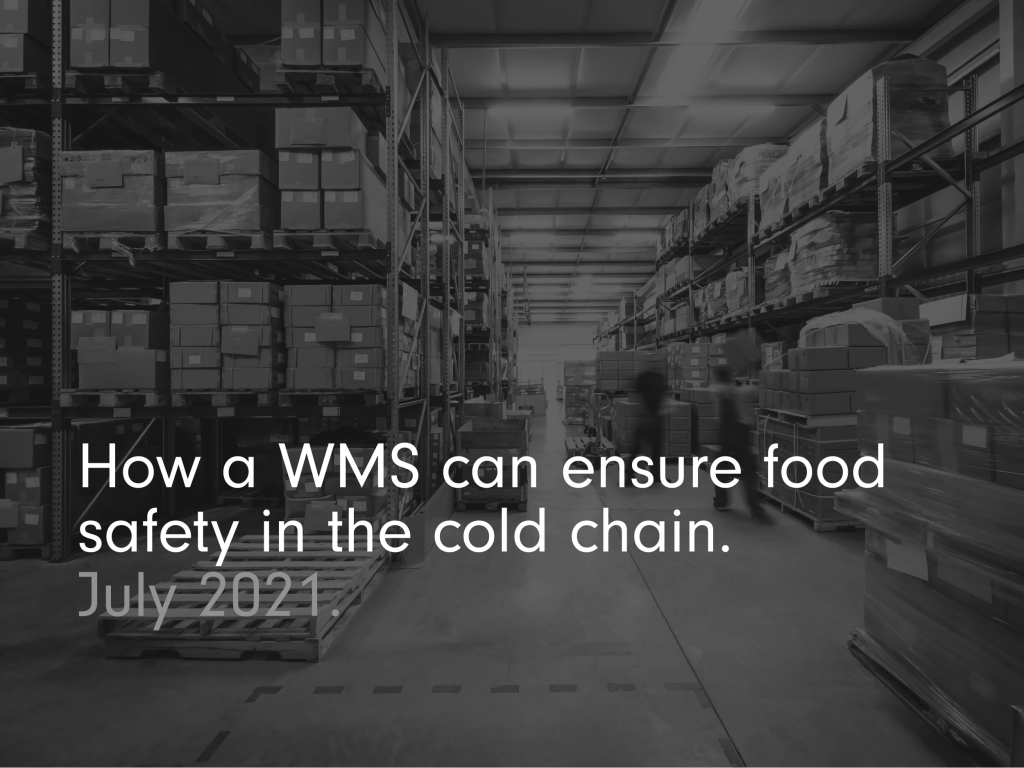 It is vital for food businesses operating in the cold chain that their produce meets safety criteria. Whether they provide chilled or frozen foods, there are various regulations and requirements that they must comply with to ensure they keep food safe.
From the time it is produced, through storage, transportation and right up until delivery, a warehouse management system (WMS) can help cold chain distributors to meet safety standards. It can ensure they prevent wastage, avoid foodborne illnesses and effectively deal with withdrawals and recalls.
Here is how a WMS helps cold chain distributors ensure the safety of their temperature-controlled food produce.
Chilled and frozen foods can be compromised and spoiled when not stored or shipped at the right temperatures. Even small fluctuations in temperature can potentially affect the viability or shelf life of produce. So, it's vital to constantly monitor temperatures of goods in the cold chain so that they remain within tolerance.
A WMS can automate processes for monitoring and reporting on storage conditions. If problems are identified, then this can trigger notifications, so that a situation can be rectified as soon as possible.
Meeting use-by dates and managing shelf life.
Cold chain foodstuffs are perishable. So, food distributors need to ensure they have real-time data about their produce, so that they can accurately manage the time frames applicable to their goods. A WMS provides accurate, timely data that allows for stock to be properly managed. Using a WMS eliminates the risk that food spoils because of sub-standard management of use-by dates.
A WMS also helps streamline the cold chain so that chilled and frozen goods can reach customers as quickly as possible. By tracking and analysing important KPIs, a cold chain distributor can assess if cleaning schedules are being met, the propensity of HACCP deviations and if other quality assurance targets are being reached.
Preventing cross-contamination.
Cross-contamination of produce can be dangerous, even life-threatening. There are 2.4m foodborne cases of illness every year, resulting in a burden of some £9bn for the UK. Within the cold chain, the main risks for cross-contamination come during storage.
Cold-stored raw food needs to be kept covered and separate from ready-to-eat food. Incorrect storage can mean that bacteria in the food is accidentally transferred to foods that will later be eaten uncooked – and therefore without cooking killing that bacteria. This is how illnesses like salmonella, E. coli and other serious strains of food poisoning can be passed onto the consumer.
Food and drink containing allergens needs to be isolated from other goods if there is any chance of cross-contact. It's estimated that there are two million people in the UK with some sort of food allergy – so ensuring that allergens are not transferred between products protects these consumers from accidental exposure.
For both situations with a risk of cross-contamination, a WMS can help. The distributor can define putaway profiles in advance for all produce so that new stock is only allocated for storage in its designated location. And, if a warehouse has separate receiving and despatch areas for raw and ready-to-eat foods, then a WMS can also assign goods accordingly, again averting any cross-contamination.
Traceability and managing product recalls.
Even where suppliers in the cold chain adhere to best practice in storage, handling and despatch, it's still the case that issues can arise. For those that don't manufacture, but just distribute, those problems may not even be of their own making, but instead could be a manufacturing or labelling issue.
Issues can lead to serious illnesses or even fatalities for consumers. Cold chain distributors not only have a duty to ensure the integrity of their produce, but also need to be able to trace food and ingredients back to their sources in case of problems.
For food to be traceable throughout the cold chain, distributors must be able to track the items or the ingredients that they receive, as well as where they distribute them to in the forward supply chain. They must be able to take corrective action in the event of a food safety incident, by quickly withdrawing products before they reach consumers or by successfully recalling a food item that has already been distributed.
Batch traceability functionality within the WMS facilitates this. Its use can minimise any disruption to the cold chain business as well as to the consumer. It allows the supplier to note and therefore track batches, lots and consignments throughout the cold chain. It also enables the tracking of expiry dates, so that stock can be despatched in the most expedient way, using First-Expired-Out allocation, for example.
It is batch traceability too that enables a cold chain distributor to react swiftly to carry out a total recall of products if needed. The WMS can identify both suppliers and customers according to the particular batches or consignments of products involved, meaning consumers can be protected down the supply chain, or the source of an issue can be pinpointed further back through the chain.
The WMS can store a wide range of data, including where and when the product was manufactured, how it was transported, its temperature, humidity and other aspects of storage, the equipment used, or even which employees handled the goods and when. Having this level of detail gives the cold chain distributor a complete insight into the supply chain so that they can effectively and accurately report food safety incidents to the authorities.
Food safety recalls often need to be executed within hours, to minimise the risks to consumers and to avert any reputational damage. An automated system can rapidly mount food safety recalls to maximise their effectiveness and preserve the cold chain supplier's standing and ensure its ongoing profitability.
Identifying food safety hazards, assessing them and controlling them under the Hazard Analysis and Critical Control Point (HACCP) principles is a regulatory requirement for cold chain suppliers.
Identifying and managing physical, chemical, allergenic and biological risks is a supplier's duty. A WMS ensures compliance with the HACCP approach. With complete HACCP records, integrity in the cold chain can be maintained and any issues can be tracked backwards to the source.

For more information on how K.Motion WMS can help your cold chain supply business ensure food safety and meet cold chain compliance requirements, call us on 020 8819 9071 or book a free consultation.
Why not stay updated on LinkedIn?