Optimising your Supply Chain management.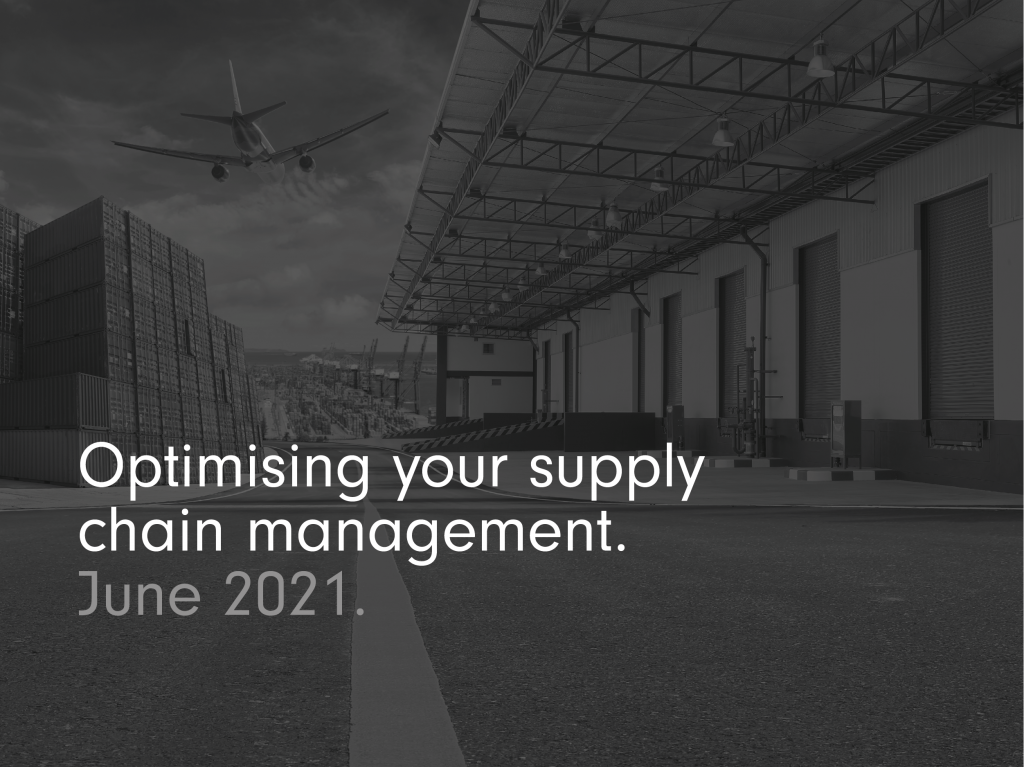 If your supply chain management is efficient and well-optimised, your business will be able to profitably fulfil customer orders. Effective supply chain management is the cornerstone of a successful distribution-based business.
Here we take a look at what supply chain management is and how can you optimise your own network and operations.
What is supply chain management?
The term 'Supply Chain Management' was first publicly used by consultant Keith Oliver during an interview with the Financial Times in 1982. With the development of technology, the delivery has evolved greatly since then. But supply chain management still means what Oliver described, which is "the process of planning, implementing, and controlling the operations of the supply chain with the purpose to satisfy customer requirements as efficiently as possible. Supply chain management spans all movement and storage of raw materials, work-in-process inventory, and finished goods from point-of-origin to point-of-consumption".
So effectively, it's about managing the end-to-end flow of goods – and the associated communications and payments – from procurement right through to the final mile logistics.
The characteristics of an excellent supply chain.
A supply chain strategy that gets the execution right is one that is focused on efficiencies and cost performance. An effective supply chain has these characteristics: 
'SMART' objectives and

KPIs

– so that you can clearly define what your goals are and how you can measure your performance.

A consolidated information flow that comes via connectivity with others in your chain – both suppliers and customers. Information about receipts, orders and invoices can be shared for improved levels of communication.

Good

forecasting

, via processes that can predict customer demand and avoid supply issues. This means getting reorder points right so that you are not out of stock, but not holding excess inventory either.

Visibility – you need to be able to access data so that you can measure against goals and KPIs for real-time insight into your performance, financial health, your stock situation, and your relationships with both suppliers and customers.

Strong payment flows to ensure on-time payments and availability of cash, which also strengthen supplier and customer relationships.

Co-ordination of internal functions – such as purchasing, finance, warehousing, sales, marketing, HR and logistics – to ensure greater efficiency and effective collaboration across internal departments and eliminate duplicated or redundant processes.

Integrated IT for optimised and effectively managed business processes – connecting your

enterprise resource planning

(ERP),

warehouse management system

(WMS),

robots and automation

, and

transport management systems

(TMS) together and with other internal systems.

Integration of your network with that of your suppliers and/or customers, via use of

EDI

, or

Amazon

or

Wayfair

integration, for example, for better sharing of information and more effective communication and planning.

Proactiveness and responsiveness – having the ability to plan in advance for market situations and/or to react to them so that you can still deliver on time and with accuracy.

Resilience – a resilient supply chain can adapt or transform to changes. It involves having good supplier relationships so that your procurement does not encounter supply bottlenecks as well as great internal practices and processes that ensure fulfilment is fast and efficient.

Balance – a supply chain needs to balance costs, quality and lead times and weight them according to the business goals. This is particularly vital in production and assembly situations, where goods require manufacture from several components or ingredients.
5 key supply chain features to optimise.
There are five elements of the supply chain that can be improved in order for you to most effectively manage your operations.
Improving visibility enables you to track every interaction and touch point in the supply chain. In this way, you can see the status of your receipts, stock, orders and deliveries at all times. Opening up this same, real-time insight to your suppliers and customers – with visibility of stock levels or resupply information – reinforces your supply chain relationships and communications.
Enhancing control in your supply chain comes through better demand planning and forecasting. It allows you to synchronise supply and demand, optimise your stock holding, control the timing of deliveries, and improve picking and operative movements in the warehouse.
With improved measurement in your supply chain you can check that you are minimising risks, optimising warehouse activities, and maximising your productivity and profit. By measuring your performance, you can assess how you are doing and implement new strategies, objectives or plans to overcome any shortfalls.
By implementing automation you can eliminate time-consuming and laborious manual tasks and processes. This might be through the automation of processes or perhaps by using robotics or other systems that automate the movement of goods within the warehouse.
Through integration you can join together all your systems. This ensures that all parts of the supply chain that you manage can interact and have visibility into each other. Additionally, you can integrate with others too – your suppliers, partners and customers – for even greater overall  visibility, control, communications and collaboration.
The benefits of effective supply chain management.
With effective management of your supply chain, you can reduce your costs of supply while enhancing your responsiveness to the market so that you can best service your customers.
With a streamlined and smooth-running supply chain operation, you will eliminate unnecessary or over-handling of goods, lower your stock holding, maximise your customer service levels, improve communications and speed up information flows, increase the accuracy or information, and speed up delivery times.
To optimise your supply chain management, call us on 020 8819 9071 or get in touch. One of our supply chain consultants will be happy to advise, with information or a quote on our end-to-end supply chain products and services.
Why not stay updated on LinkedIn?