Wayfair integration for a seamless end-to-end supply chain.
Automating your orders from third-party marketplaces requires integration. Balloon's Wayfair integration allows our customers to communicate effortlessly with Wayfair, and to provide a seamless order experience for their end customers.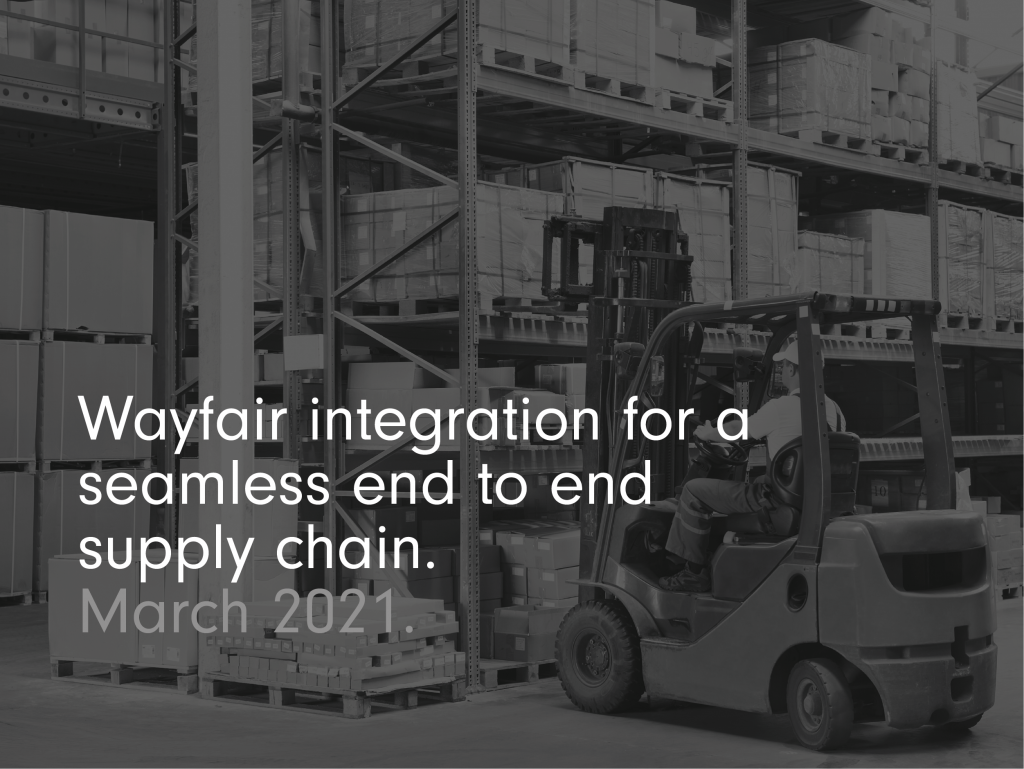 Wayfair is an online retailer that sells furniture, lighting and homewares. It is a digital marketplace, selling products from third-party suppliers. Globally, it offers more than 14 million items from 11,000 suppliers. With 12 million square feet of warehousing space across 12 fulfilment centres in Europe and North America, Wayfair brings in $8 billion annually in worldwide revenue.
Why sell through Wayfair?
Manufacturers and retailers can drive additional revenue and grow their businesses using third-party marketplaces like Wayfair. They expose your products to a new audience, allowing you to reach potential customers without having to allocate extra budget for advertising and marketing to attract them to your own store or website.
Thanks to extensive advertising, the Wayfair brand is well recognised. It has built a large market share and sales are growing 40% year on year. Retailers can easily tap into this market, giving them a complementary and additional sales channel.
As a supplier to Wayfair, you don't have to pay any fees. The arrangement is based on the wholesale cost model whereby Wayfair pays suppliers the wholesale cost of their products, but Wayfair is free to set the retail price that the end customer pays.
You supply the Wayfair website with all your product details. Once an order is received, the fulfilment is managed on a dropshipping basis. Wayfair takes the orders via its website and sends them to the supplier. The supplier then picks, packs and ships the order.
The benefits of Wayfair integration.
Integrating your own systems directly with Wayfair is vital as it allows you to manage your product information, process the orders, create labels and arrange the shipping. It also updates your own systems with customer information, order details and stock levels, maintaining your live, real-time visibility, while also keeping the Wayfair system updated with the stock situation.
Data can be synchronised with your WMS and ERP – and also other systems too, for example, your CRM system if you run a separate one. An integration automates the updating of system information, plus communicates between your systems and those of Wayfair, so that both parties are notified of the order and delivery status.
Balloon's Wayfair integration.
Balloon has developed an integration for linking K.Motion WMS with Wayfair. It offers a seamless integration, which facilitates our customers' end-to-end supply chains.
The Balloon Wayfair integration uses Wayfair's API. The Wayfair purchase order is sent to the supplier's system and in return, K.Motion WMS sends an API request back to Wayfair for the shipping label information. The shipping label is sent and can be printed locally by the supplier. The WMS and ERP systems are also updated with all the necessary information.
Wayfair label processing for Birlea.
Balloon's recent Wayfair integrations have been for clients Premier Housewares and Birlea.
The integration for Birlea required additional development. The goal of the API integration with Wayfair here was to automate and speed up the label printing process. Balloon achieved that and enabled Birlea to reduce its labour costs too. The automation eliminated the previous manual process, whereby Birlea had to access and print labels manually from the Wayfair portal. The result is a streamlined and effective process, Birlea's "pick and stick" procedure.
Birlea also uses the integration to send consignment stock to Wayfair, which Wayfair stores in its own warehouses and dispatches directly to customers.
For more information on Balloon's Wayfair integration, call us on 020 8819 9071 or get in touch.
Why not stay updated on LinkedIn?