Case Study: CMS Distribution Achieves Efficiencies of 15% with K.Motion WMS
CMS Distribution is a leading trade-only specialist distributor, supplying technology products to more than 3,000 resellers. The company was established in 1988 and now employs more than 350 people across 12 sites in the UK, Ireland, the Netherlands, Sweden, Spain, Australia, China and the USA.
The company began life as a data storage supplier and has diversified over time into consumer electronics and supporting products. It now works with more than 100 vendors of enterprise, hardware and consumer technologies, supplying them to both business-to-business (B2B) and business-to-consumer (B2C) reseller partners. Data storage, data transmission and peripherals make up the bulk of the B2B business, while on the retail side, it's consumer products like drones, e-scooters, mobile phone accessories and wearable fitness devices.
CMS Distribution has 18 warehouses and distribution hubs in EMEA and APAC. Supplying products from household names like FitBit, it now has a global turnover of £500m and ships to the likes of Dixons, Argos and Amazon and also drop-ships for some of its customers.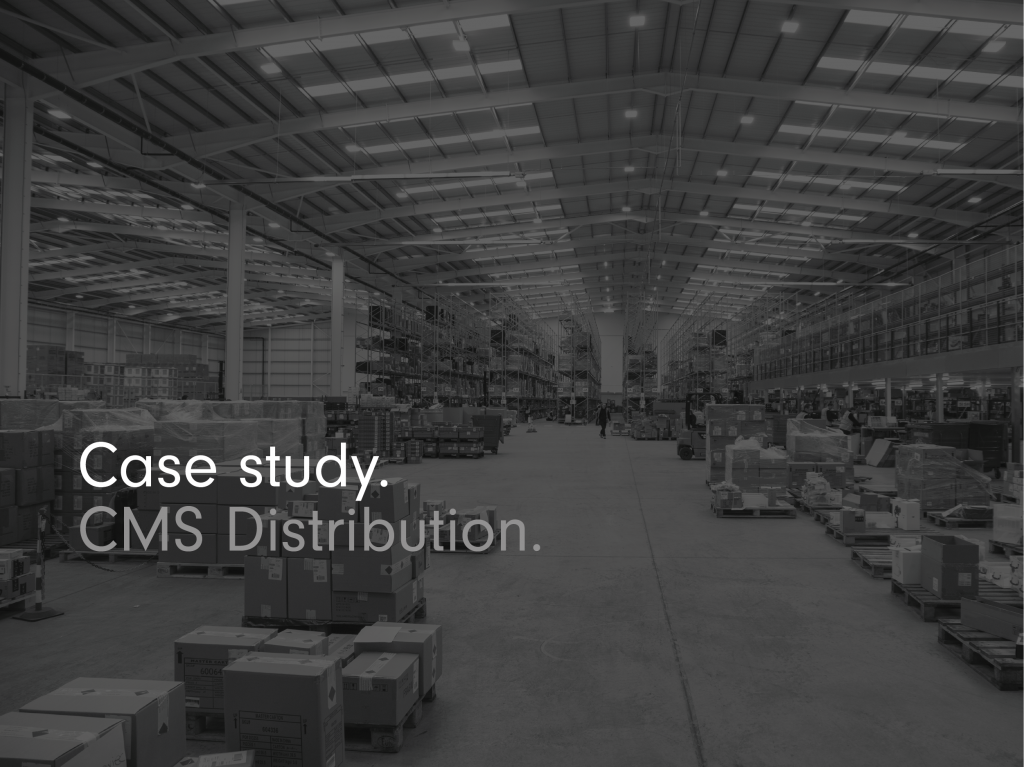 Replacing a paper-based warehouse system that was impeding profitable growth.
CMS Distribution wanted to achieve growth and the economies of scale that go along with that. To meet this, they had already identified the need to consolidate two of the UK warehouses. Additionally, the warehouse was running a paper-based system that was hampering growth.
Jon Bates, Senior Supply Chain Change Manager, explains, "We needed to implement a system so that we could control our receipts, inventory and shipments electronically – rather than on paper – otherwise we wouldn't be able to scale the operation." He continues, "As you grow, things become administratively harder. To be able to manage millions of pounds of inventory via a spreadsheet, you need to increase your admin resources and invest extra time into processes to cope with your growth. But with a warehouse management system, the automation allows you to grow without having to correspondingly expand your resources."
Managing the picking via paper brought an extra level of burden for operatives in terms of making sure they were picking the right product. Jon elaborates, "It's key for us to ship accurately, quickly and reliably, so we wanted to avoid mistakes as much as possible. Although our accuracy was good, one mistake is always too many and averting errors costs a lot of money – having to put in layers of manual checking and rechecking, for example."
It's not just the costs that matter, though. Jon acknowledges that it also requires extra space, more staff and a need for the processes to work well. He reveals, "As you grow, those resources become stretched and strained and while our customer service was good, the cost of achieving it was high."
To support its growth strategy, CMS Distribution wanted to implement a new warehouse system that would provide the control required in its 140,000 square feet warehouse. The company wanted to run their distribution operation more proficiently, with an objective of driving an extra 20% efficiency. Continues Jon, "Our expectation was that the 20% efficiency would generate a return on our capital investment in the system over a period of 18 months to two years."
Selecting the right software.
The first stage of the project involved selecting the right solution. CMS Distribution needed a WMS that would integrate with its existing ERP system, SAP R/3 (now known as SAP S/4HANA).
Jon details the initial criteria. "We wanted to get the right size of tool for our operation. We knew that wouldn't necessarily be one aimed at global, multi-nationals, but more the next level down in terms of scale. It would still be very feature-rich, but faster to implement, allowing us to get the benefits of it quickly. We wanted something that was flexible, that we could understand quickly and then learn how to adapt and optimise as we went forward." He continues, "We checked the Gartner Quadrant for WMS solutions that sat in that area and settled on a shortlist of three, each with similar functionality."
Ultimately though, CMS Distribution chose K.Motion Warehouse Edge and were recommended to use Balloon as their implementation partner. As Jon explains, "It was the closest match out of the box to our requirements, so needed less customisation, making it faster to implement."
Balloon not only implemented K.Motion Warehouse Edge and integrated it with SAP, but also integrated CMS Distribution's third-party network of carriers, alongside Amazon Vendor Central.
Most large-scale implementations like this will encounter delays and issues, but this project had the extra burden of consolidating two warehouses and moving into a new facility. Jon acknowledges this: "Balloon were flexible and they worked with us to create the solution we wanted, and did it pretty much on time – as far as our own internal limitations allowed them." The new solution went live at the beginning of the fourth quarter of the year, which is a peak period for CMS Distribution. Jon elaborates, "Balloon supported us through the implementation stage, and although it was hard work – because of our peak loading and a necessarily speedy implementation – I'm not sure we would have so successfully got through that peak time without an automated system"
Improved efficiency and a reduced cost per transaction.
Once the new system went live, Jon reports that they immediately got the scalability they were looking for. The WMS addressed customer quality and compliance situations, as well as stock visibility problems. The integration with the carrier network meant that labels could automatically be printed for parcel shipments, reducing the admin time and manual work this used to take. Plus, not being on a paper system has brought automation improvements. Before the implementation, it was common to hear from temporary workers that they had never worked on paper before – Jon admits: "We were behind the times."
But now, he says, "With a systemised approach including scanning goods, we have the checks in place that show the right product has been picked. So, you're assured there's far less risk of any mistakes – and you can ship quickly, reliably and accurately. The WMS has addressed the quality issues that we had to inspect out. Now we build them into the process so that we can't make those mistakes."
"Initially," Jon reveals, "we saw something like a 10%-15% efficiency improvement." However, this was in early 2020, before the Covid-19 pandemic, which saw the company go through a period of retrenchment, as was the case for so many UK businesses.
But, Jon continues, "After July, we began growing again. The system has continued to perform and we've optimised its performance, focusing on deploying some extra functionality. The key thing is that we have a system that we're using across the whole site. We have good visibility on where product is in the building, and all the data is live, not on a spreadsheet that's only updated once a day."
Jon reveals that their cost per transaction is around 10-15% lower. This is due to a combination of factors: both the new WMS and consolidating into one building have worked favourably for them. Conversely though, costs have been impacted due to changing ordering profiles. "The pandemic has seen a change in the mix of products we now sell," Jon says. "We are shipping a lot more single line items, rather than larger orders of multiple units. And that type of ordering is a lot less efficient for us. Consumer shipments of one monitor are a lot less efficient than a retailer ordering, say, 150."
While Covid restrictions have impacted their achievements and ability to implement as much with the system as they wanted, a 10-15% improvement is already a positive change and Jon is optimistic that the future will bring more
Enhancements for the future.
After the initial implementation, which was deliberately kept uncomplicated, CMS Distribution is now exploring more advanced functionality. The key focus for the future is optimising the location of inventory. Jon explains, "We now know what stock we have and where it is. But our next step is to decide where we want it to be – and then put it there. That means perhaps putting specific products in certain places to reduce walking time and drive efficiencies that way. We've sketched out some proving areas with Balloon, some small-scale projects that we can trial, and once we know we've got everything right, we can expand that very quickly."
Jon continues, "This is where the K.Motion WMS solution will really help drive greater efficiency: less walking time, more efficient picking, and better routes through the building. It will also help us to drive higher accuracy and location of the stock. Based on the greater pick accuracy, we can decide where items need to be placed. We're not using that tool at the moment. But it's a fundamental building block for achieving greater efficiency in the building and we'll be introducing this extra functionality as a second phase in the first half of 2021."
Now that the implementation for the first phase is over, and plans are in place to use more advanced functionality, Jon's thoughts are turning to the third phase of the project. "It takes two minutes to walk from one end of the building to the other, and if people are continually doing that, it's not productive," he says, "so, longer-term, we're looking at the possibility of deploying robots in the warehouse to assist operatives."
Jon concludes, "It sounds like a simple thing. We told Balloon all we wanted to do was receive, put away, store, pick and ship. But the detail needed to achieve that is absolutely where it matters. We're 99% there and keen to do much more."
Why not stay updated on LinkedIn?