Measuring Warehouse KPIs: On Time In Full (OTIF).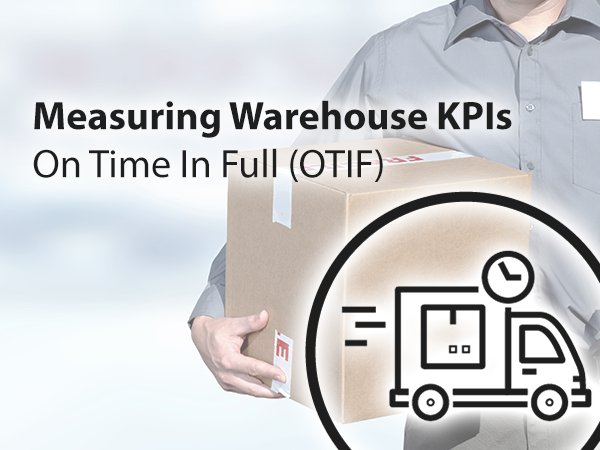 OTIF is a measure of your outbound operation that mainly measures customer satisfaction. But it also contains a wealth of information and is a good headline measure of the effectiveness of a company's supply chain.
Essentially, OTIF measures the percentage of orders that are shipped on time in full, meaning the customer gets everything they ordered, on the day they expected to receive it.
OTIF is generally used to cover the entire supply chain, and therefore, as delivery to the customer is the final step, then delivery OTIF is an indicator of performance across the whole supply chain. But the term OTIF is also used at various stages in the supply chain, preceded by the activity it describes. So for example, you can have "supplier OTIF", "receipt OTIF", "picking OTIF", "despatch OTIF" and "delivery OTIF". Although OTIF can be used throughout the whole chain, when it is looked at as a whole, it corresponds to delivery.
A distributor's OTIF score depends on three vital components of the supply chain all working as they should: purchasing, the warehouse and the delivery operation.
First off, the items being ordered need to be in stock. If they're not, your customer is not going to get them on time, and your OTIF record will worsen. So to help contribute to a good OTIF figure, your buying needs to be efficiently planned.
Even if the items are in stock, then there are elements within the warehouse that could prevent the order going out on time. You might have staff shortages, meaning the order may not get picked on time. Or perhaps the order didn't come in on time to meet the cut-off for the correct delivery. Orders need to be shipped on time, and within tolerance, to be delivered when you have promised they will.
Finally, even if the items are in stock, and picked and packed and ready to be dispatched on time, then the carrier still has to get it to the customer on time and undamaged. All manner of disruptions or hindrances could affect this.
OTIF identifies where process improvements in final delivery or within the warehouse are required and where there are any stock issues. It measures the contribution and balance of all three of these aspects of your supply chain in delivering your orders to your customers on time.
Although it may depend on the priorities of the customer base, a suggested good way of measuring OTIF is according to product type. Using an ABC classification, many distributors will split their product lines according to sales:
A lines are best sellers, the 10-20% of your products that represent 50-80% of your sales.
B lines are the mid-range, the 20% or so of SKUs that constitute about 20% of your income.
C lines – or the tail – are the 60-70% of items that make up about 10-30% of your revenue.
So, when measuring OTIF, should you look at the total percentage for all your stock, or should you split it down by the ABC classification? Some companies will only look at OTIF for their A and B lines. But others argue that to measure true customer satisfaction, all lines should be examined; a customer will be just as disgruntled to not receive your best seller on time as to not receive one of your slower moving items.
Some distributors will apply an appropriate strategy to their different lines, so that OTIF is not affected. For example, delivery times for some items could be longer, or they might consider these to be special order deliveries that – when ordered with A or B lines – are stipulated not to arrive with the main shipment. This process is designed to meet customers' expectations, assuring their satisfaction.
What is a good OTIF score?
Of course, all distributors will want to achieve the perfect 100% score. But there are too many variables and chance events that could affect this. And sometimes it's best not to aim for 100% delivery OTIF as this can put unnecessary costs into the supply chain. The target needs to be a business decision based on what will be considered acceptable to the customer, considering the product or services provided. For many companies therefore, the target scores might be:
A lines – 95-99%
B lines – 85-95%
C lines 99-100% – where there is a differently worked delivery time strategy
How often should you measure OTIF?
Most distributors will measure OTIF on a daily basis. And certainly, if there is a problem, it is vital that you have the figures so that you can analyse if there was perhaps an isolated issue on a certain day that then skews the figures for the entire month. Tracking the daily trends can also tell you a lot. For example, if you're trending downwards then something is wrong and you will need to investigate and drill down to find the root of the issues.
Even better is real-time intelligence. Expert distribution operations use real-time analysis to gain an early warning if there are any issues. If all aspects of your supply chain are not working together, or if there is a breakdown, then the customer will be impacted and your reputation and future revenue could suffer.
What can you do if your OTIF score is low?
OTIF is a great marker of supply chain performance. If your score is low, or if it is trending downwards, then you have issues that you urgently need to resolve. You firstly need to delve further into the three main areas – purchasing, warehouse and carrier – to identify where the problems are.
Technology can help enormously too. Warehouse management systems such as HighJump can improve warehouse efficiency. When an order hits, for example, it can immediately identify if you have the right level of staffing to pick it in time. And the forecasting and inventory planning tool, Valogix, will ensure you have the right level of stock to be able to fulfil the order. Finally, our own suite of Springboard applications can assist: Springboard Ship enables carrier integration, and – if you manage your own fleet – Springboard Delivery is a route planning and proof of delivery application.
If you would like to explore the options for improving your technology, or would like to discuss how to measure OTIF, we can help. Our supply chain consultants can analyse your distribution operation and advise on KPI metrics, as well as recommend technology to help boost your supply chain performance.
Call us on 020 8819 9071 or get in touch to arrange an appointment or demonstration.
Full list of articles in this Measuring KPIs series: