Korber WMS is a flexible and scalable warehouse management system (WMS).
It can be seamlessly integrated with leading ERP software, eCommerce websites, marketplaces, warehouse control systems, transport management software, carrier platforms and other systems as part of a full end-to-end supply chain solution.
The following explains how the warehouse processes work in a standard implementation of Korber WMS. This will help you to determine if the standard deployment of Korber WMS is right for your own warehouse operation, or whether your processes mean that you need it to be customised.

Click on each stage of the workflow to learn more.
The item master data process automatically replicates data between Korber WMS and your ERP system. It is a two-way, end-to-end automation process. This means that it works in both directions, ensuring that data is accurately replicated in each system.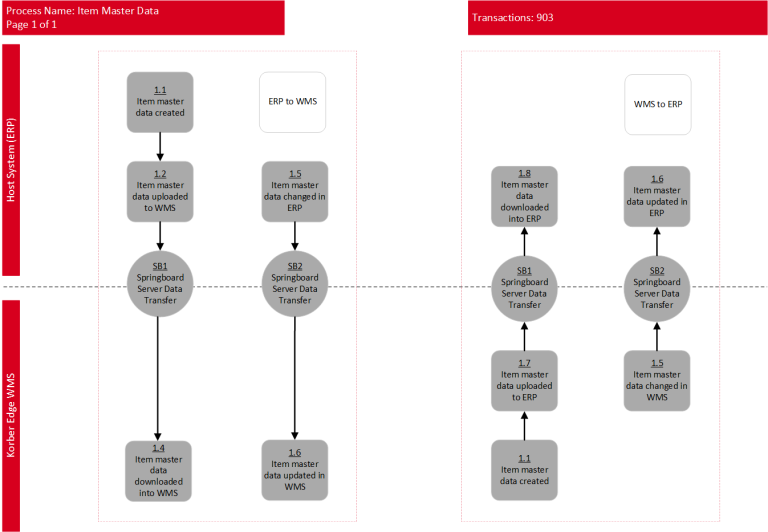 By way of example, once SKU data is created in the ERP system, all the information about the SKU automatically appears in the WMS. There's no need for users to rekey any information into the WMS. All your own user-defined fields are carried over from your ERP into Korber WMS.
If the order status changes for the SKU in the WMS, information is passed automatically back to the ERP. This provides you with live visibility of product and order status.
Data is transferred between systems via an API. When data changes in either system, it is passed to the other automatically. This includes product information, purchase order details, stock adjustments and sales orders.
Balloon has integrations for many ERP systems, including SAP Business One, Microsoft Dynamics, NetSuite, Sage and others.

More advanced processes and functionality.
The workflows described here are the standard processes available in Korber WMS.
If you want to undertake more advanced processes or if you want to incorporate additional steps into your workflows, then Balloon can customise Korber WMS.
Contact us to speak to a warehouse consultant who can advise on how Korber WMS can be implemented to fit with your own workflows and specifications, including a detailed development and implementation quotation.