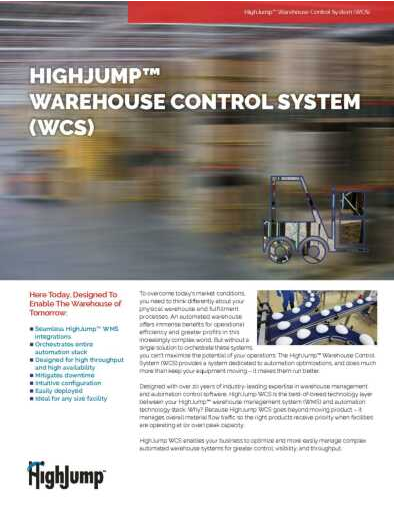 HighJump Warehouse Control System.
Download the whitepaper on the market leading warehouse control system.
The HighJump™ Warehouse Control System (WCS) is designed to fit any level of automation complexity—from fixed automation to robotics. This not only sets up your warehouse for success today, but tomorrow and beyond as your business needs change. HighJump WCS orchestrates your automation stack, ensuring that your investment is maximized and you achieve a faster ROI.   Download our WCS brochure to learn more about what separates HighJump from other warehouse automation control software. With our WCS, you can expect:
End-to-end warehouse automation control no matter your automation stack
Real-time automation data leading to smoother operations
Warehouse automation support beyond software; lean on us for better technology integrations
A solution ready to grow and scale with your prospering business
To overcome today's market conditions, you need to think differently about your physical warehouse and fulfillment processes. An automated warehouse offers immense benefits for operational efficiency and greater profits in this increasingly complex world. But without a single solution to orchestrate these systems, you can't maximize the potential of your operations. The HighJump™ Warehouse Control System (WCS) provides a system dedicated to automation optimizations, and does much more than keep your equipment moving – it makes them run better.   Designed with over 20 years of industry-leading expertise in warehouse management and automation control software, HighJump WCS is the best-of-breed technology layer between your HighJump™ warehouse management system (WMS) and automation technology stack. Why? Because HighJump WCS goes beyond moving product – it manages overall material flow traffic so the right products receive priority when facilities are operating at (or over) peak capacity.