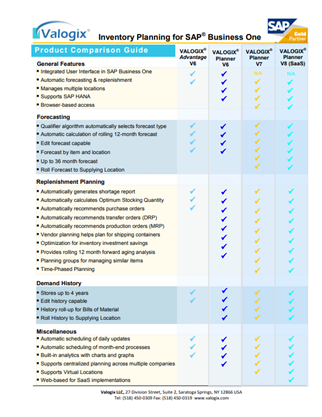 Inventory Planning for SAP Business One.
Download the whitepaper on Valogix Inventory Planning for SAP Business One.
Valogix products are designed for companies of all sizes that carry an inventory. Finished goods inventories exist in many industries like, Manufacturers, Wholesale Distributors, Retailers, and Aftermarket Service companies. Enhancing SAP Business One by providing automated forecasting, replenishment planning and inventory optimisation and eliminates the need to manually enter Min, Max and Safety Stock values.
Valogix provides dynamic calculations of Excess and Inactive inventory which provides for intelligent removal of this stock. Recommended replenishment orders automatically populate Draft or firm Purchase Orders in Business One.   Valogix Planner enhances and sometimes replaces the MRP module by automating inventory planning and replenishment.
The system automatically selects the best forecast algorithm for every item at every location. It then creates a rolling forecast and calculates an optimal stocking quantity based on many critical variables like the lead time, order frequency and target service level. Variability in demand is considered along with other key factors ensuring the right amount of stock is planned.