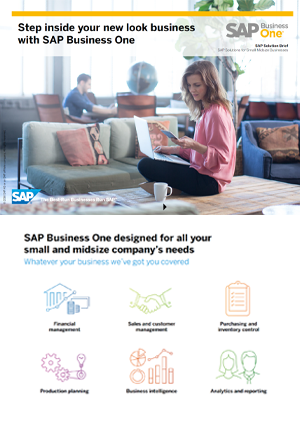 SAP Business One Brochure.
Download the whitepaper on the market leading Enterprise Resource Planning system (ERP).
Download this SAP Business One Brochure now to explore how SAP Business One helps you to streamline processes, gain a greater insight into your business, so that you can act fast and make decisions based on real time information, to help you drive profitable growth.
The SAP® Business One application offers an affordable way to manage your entire business – from accounting and financials, purchasing, inventory, sales and customer relationships, and project management, to operations and human resources.
Benefits include:
Comprehensive – all your departments needs from one solution

Quick and easy to implement

27 languages and 43 localisations

55,000 customers worldwide