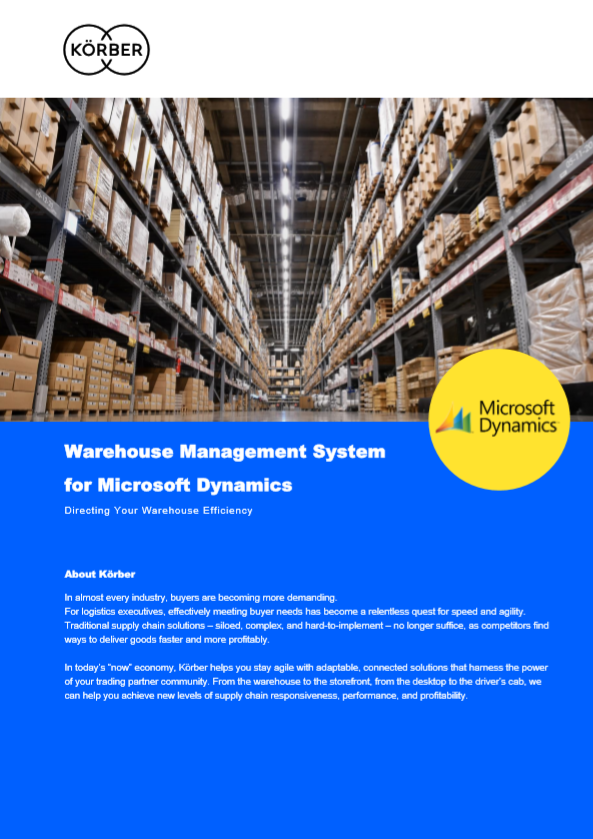 Warehouse Management System for Microsoft Dynamics GP.
Download the whitepaper on the market leading WMS for Microsoft Dynamics GP.
Microsoft Dynamics GP WMS is specifically designed to seamlessly integrate with Microsoft Dynamics GP. Learn why thousands of Microsoft Dynamics customers trust K.Motion with their complex supply chain needs. Download this brochure now to learn how hundreds of Microsoft Dynamics GP users have achieved real-time inventory visibility and increased efficiency, accuracy and throughput in their warehouses today.
Benefits/Features include:
Reduced implementation time to value with a proactively managed, seamless integration to Microsoft Dynamics GP
Out-of-the-box functionality designed to fit your unique business requirements and scale with organizational growth
Integrated business intelligence, shipping and EDI/ASN compliance
In almost every industry, buyers are becoming more fickle, and more demanding. For logistics executives, effectively meeting buyer needs has become a relentless quest for speed and agility. Traditional supply chain solutions – siloed, complex, and hard-to-implement – no longer suffice, as competitors find ways to deliver goods faster and more profitably. In today's "now" economy, K.Motion helps you stay agile with adaptable, connected solutions that harness the power of your trading partner community. From the warehouse to the storefront, from the desktop to the driver's cab, we can help you achieve new levels of supply chain responsiveness, performance, and profitability. Korbers's suite of warehouse management, business integration, transportation management, and retail/DSD solutions form a complete, powerful, and adaptable platform that allow you to drive growth, customer satisfaction, and revenue. K.Motion Warehouse is designed for small to mid-sized businesses, meaning it doesn't require an army of IT staff to support. You are able to start with the functionality that you need now at a price that makes sense and scale for growth over time. Our seamlessly integrated modules and applications are available to you when you need them.