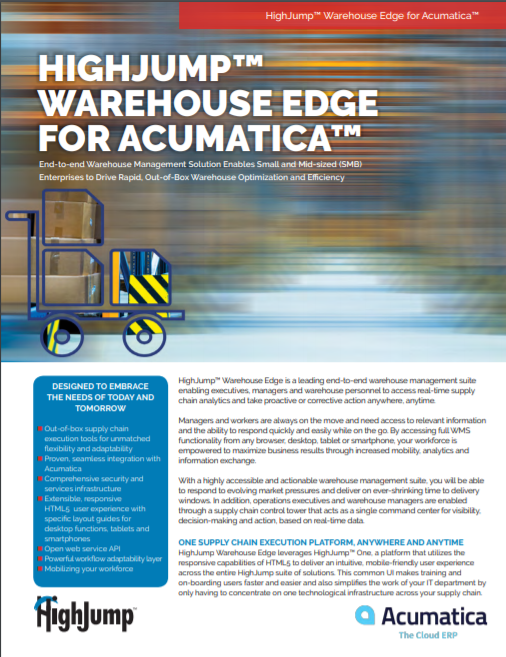 K.Motion WMS for Acumatica.
Download the whitepaper on the market leading WMS for Acumatica ERP.
K.Motion (formally known as HighJump) Acumatica WMS in the Cloud is built to extend the power of your Acumatica ERP by providing comprehensive, out-of-box functionality that enables sustainable growth. K.Motion Warehouse Edge for Acumatica provides you with real-time access to relevant information with the ability to respond quickly and easily, while on the go. By accessing full WMS capabilities anywhere, anytime and from any device, your workforce is empowered to maximize business results through increased mobility, analytics and information exchange. K.Motion Warehouse Edge in the Cloud leverages best-in-class infrastructure and has multiple, geographically dispersed regions to offer availability, fault tolerance and redundancy unachievable on-site. K.Motion is responsible for managing, monitoring and supporting the cloud platform in-house, end-to-end to ensure change management policies and procedures are strictly followed for no client disruptions.
K.Motion serves a variety of distribution and manufacturing industries from 3PL operators, food and beverage, automotive, aerospace, pharmaceutical and apparel. Flexible and adaptable software is a requirement for any company with a distribution center that needs to scale for growth.Whether you are seeking an adaptable solution built to fit your unique requirements or one that can be quickly configured and implemented, K.Motion Warehouse Edge arms your operations with the out-of-box tools you need to achieve efficiencies and enable scalable growth. Many organizations look to control their own destiny by customizing their own processes without modifying source code. K.Motion offers a unique, adaptable environment that enables process adaptation that carries forward with platform upgrades.
Contents:
Out-of-box supply chain execution tools for unmatched flexibility and adaptability
Proven, seamless integration with most ERPs – Microsoft, Sage, NetSuite, SAP and more.
Comprehensive security and services infrastructure
Extensible, responsive HTML5 user experience with specific layout guides for desktop functions, tablets and smartphones
Open web service API
Powerful workflow adaptability layer
Mobilizing your workforce