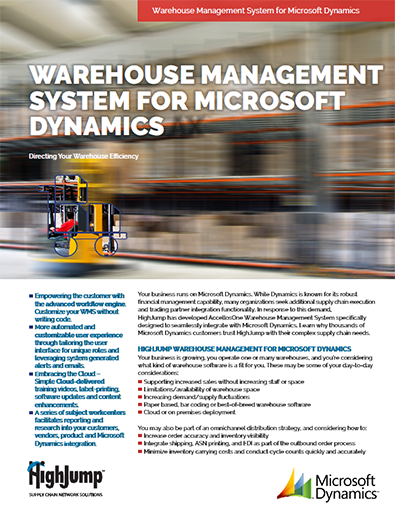 Warehouse Management System for Microsoft Dynamics.
Download the whitepaper on the market leading WMS for Microsoft Dynamics.
Your business runs on Microsoft Dynamics. While Dynamics is known for its robust financial management capability, many organizations seek additional supply chain execution and trading partner integration functionality. In response to this demand, HighJump has developed HighJump Warehouse Edge specifically designed to seamlessly integrate with Microsoft Dynamics. Learn why thousands of Microsoft Dynamics customers trust HighJump with their complex supply chain needs.   Your business is growing, you operate one or many warehouses, and you're considering what kind of warehouse software is a fit for you. These may be some of your day-to-day considerations:  
Supporting increased sales without increasing staff or space
Limitations/availability of warehouse space
Increasing demand/supply fluctuations
Paper based, bar coding or best-of-breed warehouse software
Cloud or on premises deployment
Download this brochure now to learn how hundreds of Microsoft Dynamics users have achieved real-time inventory visibility and increased efficiency, accuracy and throughput in their warehouses today.