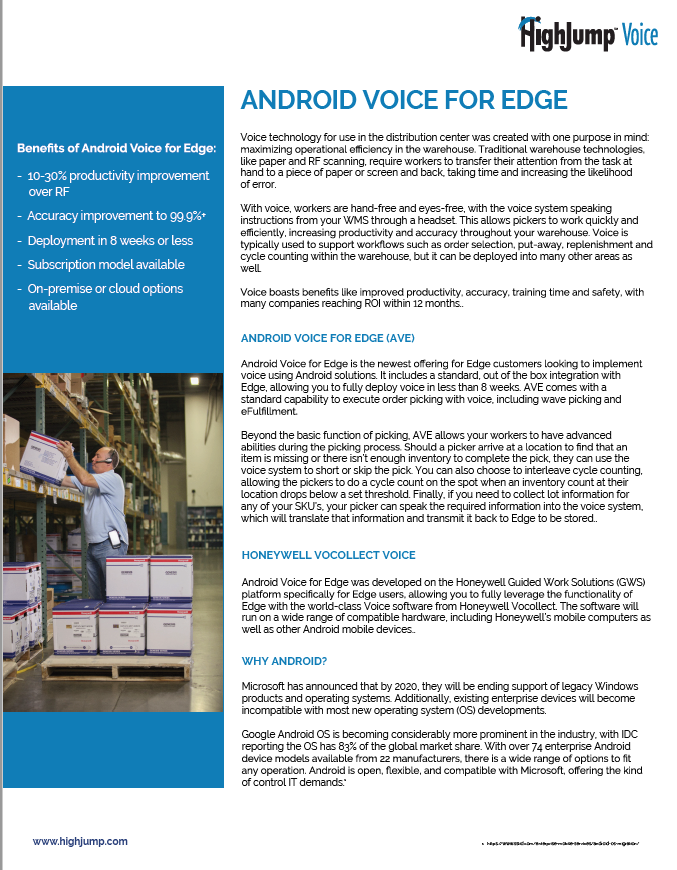 Download the whitepaper on the market leading Android Voice for Edge.
K.Motion Voice technology for use in the distribution centre was create with one purpose in mind: maximising operational efficiency in the warehouse. Traditional warehouse technologies like paper and RF scanning, require workers to transfer their attention from the task at hand to a piece of paper or screen and back, taking time and increasing the likelihood of error.   With voice, workers are hand-free and eyes-free, with the voice system speaking instructions from your WMS through a headset. This allows pickers to work quickly and efficiently, increasing productivity and accuracy throughout your warehouse. Voice is typically used to support workflows such as order selection, put-away, replenishment and cycle counting within the warehouse, but it can be deployed into many other areas as well.   Voice boats benefits like improved productivity, accuracy, training time and safety, with many companies reaching ROI within 12 months.  
Android Voice For Edge (AVE)
Android K.Motion Voice for Edge is the newest offering for Edge customers looking to implement voice using Android solutions. It includes a standard, out of the box integration with Edge, allowing you to fully deploy voice in less than 8 weeks. AVE comes with a standard capability to execute picking with voice, including wave picking and eFulfillment.   Beyond the basic function of picking. AVE allows your workers to have advanced abilities during the picking process. Should a picker arrive at a location to find that an item is missing to short or skip the pick. You can also choose to interleave cycle counting, allowing the pickers to do a cycle count on the spot when an inventory count at their location drops below a set threshold. Finally, if you need to collect lot information for any of your SKU's, your picker can speak the required information into the voice system, which will translate that information and transmit it back to Edge to be stored.