Springboard Delivery is an innovative cross-platform application allowing for cloud routing and vehicle tracking, alongside proof of delivery (POD) capture on multiple Android devices. Built for ERP integration, Springboard Delivery allows for the seamless paperless management of any in-house distribution service.
The innovative, cross-application Springboard platform allows for the planning and optimisation of routes and vehicle tracking through a web portal and the capturing of proof of delivery data and Geolocation positioning through multiple Android devices.
[button size="medium" icon="fa-play" target="_self" hover_type="default" text="Watch Demo" link="/resources/springboard-demo/"]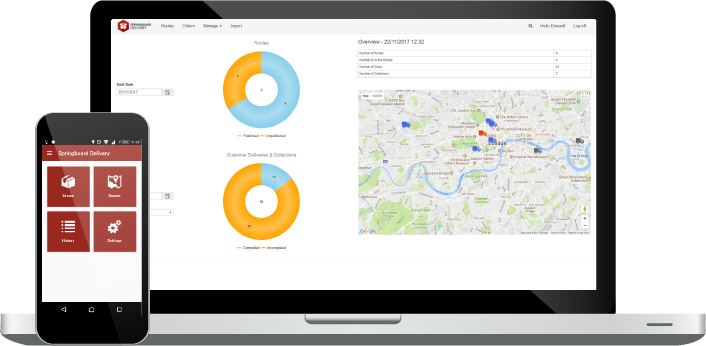 Springboard Delivery in 60 Seconds
[unordered_list style="circle" animate="yes" font_weight="bold"]
Creation and publication of driver schedules, using route planning and optimisation

Live tracking of vehicles, and the ability to view telemetric information
[/unordered_list]
[unordered_list style="circle" animate="yes" font_weight="bold"]
Driver schedules and electronic proof of delivery capture through the Android based mobile app

Management of your driving resource and fleet
[/unordered_list]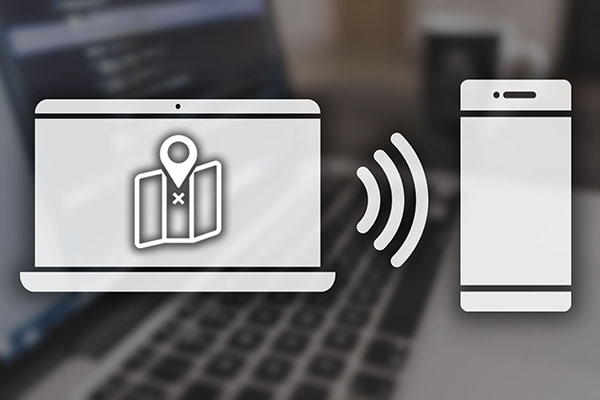 Plan and Optimise Delivery Routes
Import your own routes from your ERP / WMS system, or use our intuitive online route planning function.
Plan your routes manually or use Springboard's 'Optimise' function to find the most efficient route.
Allocate routes to your drivers, then release them to the driver's Android handheld device.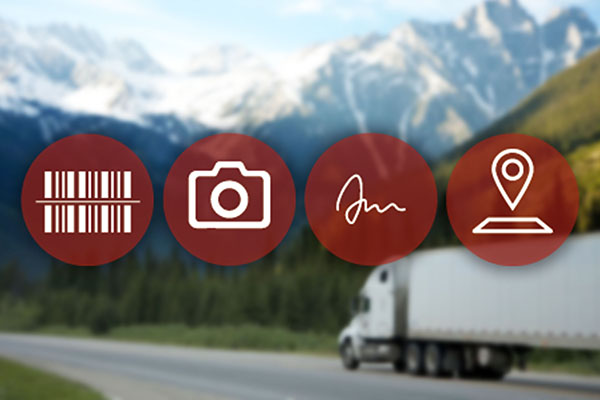 Barcode, Camera and GPS Functionality
Drivers are presented with an interactive route manifest, allowing them to follow the drop sequence on the handheld.
Drivers can then log deliveries and collections using the handheld and capture various information such as barcodes, photos and signatures.
Geolocation and timestamp are automatically captured at the point of delivery.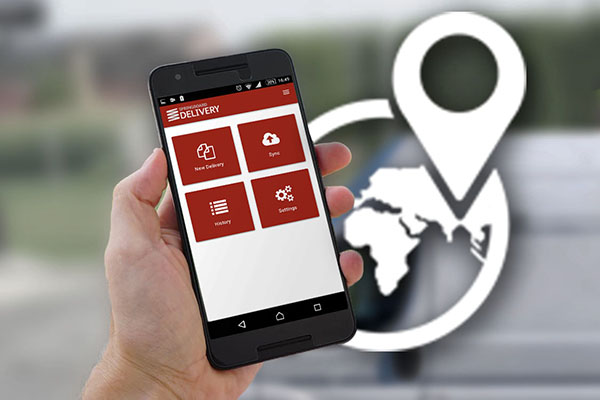 Vehicle Progress Tracking
Automatic synchronization transmits your device's coordinates, status and speed to the online application throughout the day.
Track your driver's activities as they happen, and view delivery records as soon as they are created.
Use the online dashboard to instantly view a snapshot of your fleet's progress allowing you to quickly resolve issues.
Using an ERP system?
Streamline your operations further through Springboard's direct integration to your ERP or Warehouse system. Import orders directly from the system whilst automatically synchronising captured POD data to your ERP order records.
[qode_carousel carousel="2017-erp" number_of_visible_items="four_items"]
Get Springboard Delivery Mobile on Google Play
Download Springboard Delivery's POD capture functionality for free now on Google Play. Start capturing paperless delivery records now.
For route planning, tracking and multi-user licenses please contact us below or call us on 020 8819 9071.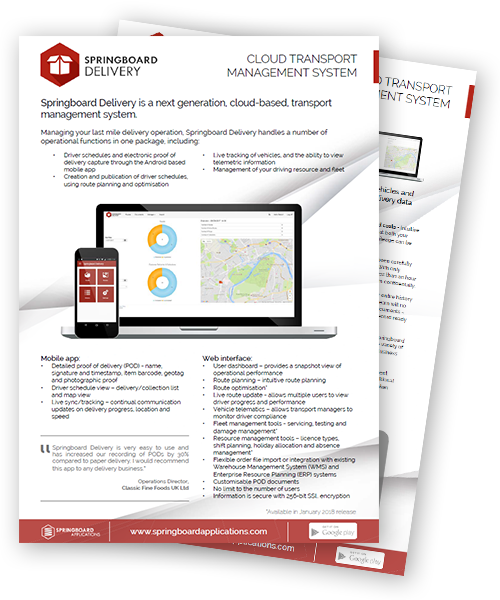 Download this brochure now to discover how Springboard Delivery handles a number of operational functions in one package, managing your last mile delivery operation. Information included:
Complete functionality breakdown
Operational and financial benefits to your business
Pricing information
[button size="large" target="_self" hover_type="default" text="Download" link="https://balloonone.com/resources/springboard_delivery_brochure/"]
Need integration to carriers?
Manage both your in-house and third party deliveries in one platform. 16 integrations: Cainiao (China), DHL® (Express, XML (Asia) and Standard), DPD®, DX®, eCargo (China), FedEx®, Nightfreight, Nightline, Palletways, Royal Mail®, TNT®, Tuffnells, UPS® and Yodel®. Only pay for the integrations you require. Find out more >
[qode_carousel carousel="carrier-connectors" number_of_visible_items="five_items"]
[counter type="random" box="no" position="center" separator="yes" digit="500+" text="Users"]
[counter type="random" box="no" position="center" separator="yes" digit="300,000+" text="Deliveries Captured"]
[counter type="random" box="no" position="center" separator="yes" digit="99.9% " text="System Uptime (2017)"]
[testimonials category="wholesale-distribution-testimonials" author_text_font_weight="500″ show_navigation="yes" navigation_style="dark" auto_rotate_slides="10″ animation_type="fade_option" text_font_size="18″]
[qode_carousel carousel="2017-balloon" number_of_visible_items=""]
[testimonials category="springboard-delivery" show_navigation="no" auto_rotate_slides="10″ animation_type="fade_option"]