Consultants Making IT Happen:
Joe Jessener creates a front-end picking interface to simplify internal processes for Rapid Electronics.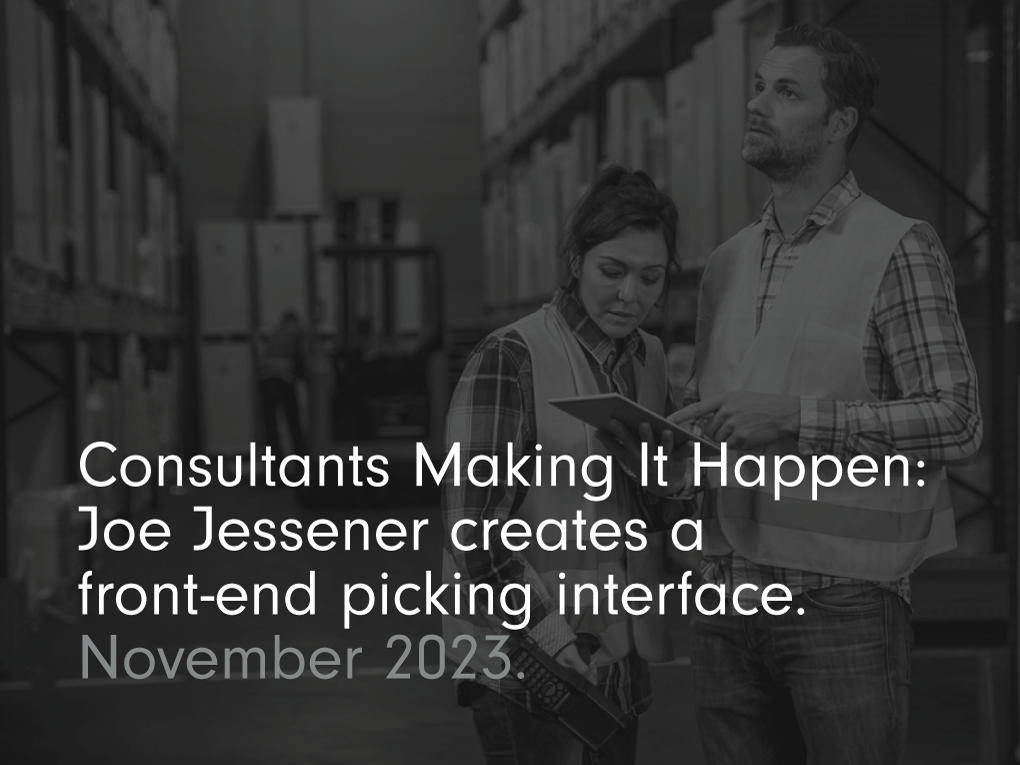 Rapid Electronics is a distributor and supplier of electronic components, consumables and industrial equipment.
The company appointed Balloon to implement Körber WMS, along with carrier integration, as a replacement for its paper-based warehousing system.
Joe Jessener – Consultant 
Tackling the unforeseen: how to streamline product picking for short-term internal use.
On the third day after the new system went live, with Balloon still providing active support, Rapid Electronics asked to incorporate one of its internal admin processes into the WMS.
To provide comprehensive product information for its customers, the Rapid Electronics marketing team ensures that all products are photographed. It supplies close-up shots of even the smallest components, images taken from different angles and often including the product packaging.
With the previous paper-based system, arranging a photography session involved printing a list of part numbers, ticking them off the list as they were picked, then putting them back into stock after the photography had been done.
Achieving the same outcome within a WMS can be done through a normal picking process. But to comply with Rapid Electronics' internal procedures, it would also require staff to create a dummy sales order and purchase order. Plus, a reverse logistics process would need to be established so that items could be put back into stock after use.
This would have involved the creation of a whole new internal process, which would have created a significant time and admin burden, with staff having to generate the various dummy order documents. This process would also then need to be programmed into the company's own API middleware, resulting in a lot of work for Rapid Electronics' own developers.
With more than 100,000 SKUs, new products coming in and regular marketing promotions needing new photography, there is a near daily requirement to photograph products. So, it was a pressing problem, requiring an inventive solution.
Database mastery and supply chain expertise inspire strategic problem-solving.
Just before the WMS implementation began, Joe Jessener had taken over responsibility for the project, becoming the main Balloon One point of contact for Rapid Electronics.
Despite being new to the project, Joe's knowledge and experience as a Supply Chain Software Consultant were to prove invaluable. He has a sound understanding of SQL and the system's database and is well-versed in how the WMS processes transactions and how it interfaces with other applications.
With a master's degree in Logistics and Supply Chain Management, Joe also has a good insight into the commercial aspects of distribution and the pivotal role that efficient warehousing processes play in driving a successful supply chain business.
Joe meticulously evaluated the issues and options at hand, and it was through the application of his keen knowledge and insight that he was able to devise an effective solution. He proposed the creation of a tool that would allow Rapid Electronics to process its photography picks as replenishments.
Custom front-end solution creates innovative replenishment workflow.
Joe developed a custom front-end page, coded into the system. Using this mini application, staff can input the part numbers required for that day's photography. This then triggers a check of the stock allocation. Available items that are not allocated to external sales are then requested, with the system automatically placing them in a 'photography' replenishment group.
The next step is to print a unique picking label. This is a summary label that details how many picks need to be made and from which areas of the warehouse. The process writes these 'picks' as replenishments and the label acts as a guided pick run for all the components. The label also incorporates the 'photography' location in barcoded form.
Miniature product labels for the items themselves are also printed. Many of the components sold by Rapid Electronics are very small and can be quite difficult to visually distinguish from each other. Because of their size, they are not all individually barcoded, so the miniature product labels are printed and stuck to the correct items as they are picked. This makes them easily identifiable during the photography process and also ensures they are put back into the right stock location after use.
With the stock allocated to the 'photography' group, when it is picked, it is then placed into a specified physical location, from where the photographers can collect the items.
Page Editor powers versatile WMS enhancements.
Joe chose to create the mini application within Page Editor, a Körber tool and one of his favoured applications. It is useful for incorporating new functionality that isn't already found in the WMS.
Using Page Editor, Balloon consultants can directly modify the WMS database to enable it to interface with other apps – such as Balloon's Springboard Ship. It also enables the teams to create new commands for the WMS or add more complex reporting.
In this instance, Joe used Page Editor to write custom pages into the WMS. These handle the requesting of products and stock validation, then trigger the print jobs, by interfacing with Springboard Ship as the printing engine.
There was a significant amount of custom development required, with ongoing testing and tweaking. Joe was pleased to be able to work collaboratively with the client. He says, "The Rapid Electronics staff are great to work with. They have good technical knowledge and helped me to hone the application over a couple of months so that it met their needs."
Alongside this input, Joe's understanding of the company's operational processes and the constraints of the available hardware and physical warehouse environment enabled him to successfully build an effective front-end interface.
An innovative solution and collaborative success ease Rapid Electronics' administrative challenges.
Rapid Electronics tested the front-end interface to assess that it integrated correctly with its own system. In particular, the new application needed to manage stock synchronisation between the WMS and the company's ERP system.
The application passed the rigorous testing and was deployed, allowing Rapid Electronics' marketing team to easily request stock for photographing.
With this new process, there is no need to manually create sales orders and purchase orders. Stock availability is automatically validated by the WMS and because the picks are created as replenishments, there is no need to involve the ERP.
The project has helped Joe develop professionally. He comments, "Through this project, I was able to help develop a different approach to these sorts of small implementations and change requests. We have been able to save time by involving the client as early as possible and identifying the right person with the understanding of what they wanted to achieve from a technical point of view."
Joe explains that this avoids the situation of Balloon developing something that may not work with the customer's other systems. With access to that person within the client company, he was able to discuss options and collaborate more closely in advance of any development. He finishes, "Although we are consultants, who listen closely to what our clients want, fostering this sort of collaborative approach has really been beneficial for all parties."
Why not stay updated on LinkedIn?