Balloon One Takes on Centrepoint's Sleep Out Challenge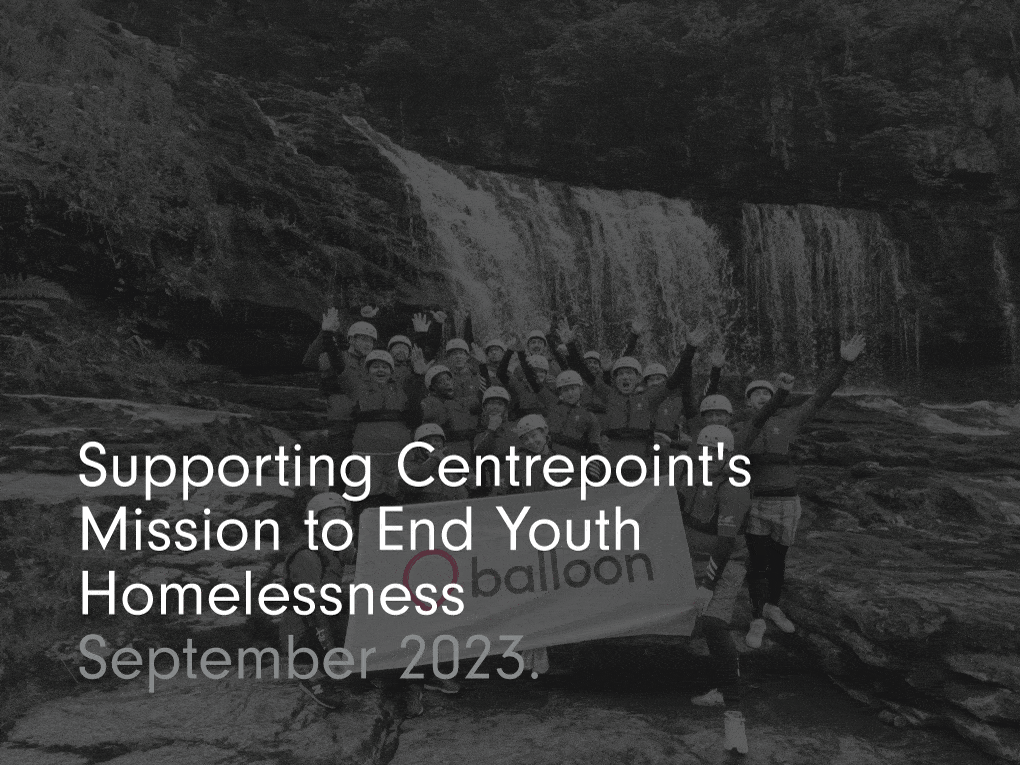 At Balloon caring for our community is at the heart of who we are and what we do. As a team, we are determined to contribute to building happier and healthier communities. This year we have chosen to take on the challenge of Centerpoint's Sleep Out.
Centrepoint is a UK charity that provides homeless young people with shelter, support, and opportunities for education and employment. Their goal is to help these individuals escape homelessness and build independent, fulfilling lives.
The Balloon One staff is joining the Sleep Out challenge, taking place on Thursday, November 23rd, 2023, at the Oval Cricket Ground, to raise funds for the charity. While Sleep Out doesn't fully replicate the experience of sleeping rough, it offers us a glimpse into the challenging situations many young people endure daily. By sacrificing the comfort of our beds for one night and opting for a sleeping bag on the floor, we aim to gain a deeper understanding of the hardships faced by homeless youth. Our participation also serves as a means to raise both funds and awareness in support of Centrepoint's mission to put an end to youth homelessness.
On behalf of everyone at Balloon, thank you for your donations and support!
In their own words, here is an introduction to a few of our fearless employees who will be taking on the challenge to sleep out.
"Hi, I'm Mikail and almost a year ago, I joined Balloon as a Support consultant. I would like to take this opportunity to express my enthusiasm and appreciation towards the Sleep Out Fundraiser that Centre Point are hosting. Over the next few weeks, I aim to partake in various activities to help raise money and awareness for youth homelessness. I must admit, as much as I am excited about this experience, I am also nervous and expect to learn some of the truths of being young and homeless. This challenge is nothing like I have done before, and I hope to make a real difference towards ending youth homelessness."
"No one should have to sleep on the streets so that is why we have opted for one of the most famous cricket fields in the world with food provided! This experience will not come close to the reality of homelessness but I hope the awareness and money we raise will give struggling young people a better chance in life."
"I've heard a lot about the previous charity events here at Balloon, and they always sounded like invaluable team experiences. I thought this event would be a good opportunity for me to step outside my comfort zone and gain an appreciation for the challenges that homeless people face. Here's hoping I manage more than 3 hours of sleep!"
 
"For a child or a young person, being homeless is a symptom of an undeservedly harsh start to life; especially in our society which cannot hide behind the excuse of widespread poverty. As a parent, I feel this injustice towards young people especially keenly. By rolling out our sleeping bags for the Sleep Out, we want to contribute to the great work of Centrepoint and show that we care about better life chances for everyone."
"I believe that everyone, especially young people should have a home, warm bed and food every day.
Unfortunately, life can be hard sometimes and no one is immune to the curve balls or unforeseen circumstances which affect us all, even the most vulnerable of our society. This is why this charity is so close to my heart. I believe they stand for a wonderful cause in helping our young people carve out a way to a brighter future for themselves despite the unfortunate events that may have led them there in the first place.
I am proud to stand with my colleagues in raising awareness and funds to help Centrepoint succeed in their mission and I also look forward to the experience of the Sleep-out event."
"I'm approaching 2 years of experience at Balloon One in the projects team, and am glad to be continuing our tradition of fundraising by taking part in the Centre Point 2023 Sleep Out! As well as raising money for such a crucial cause, it will be totally eye-opening to get a sense of what it is like to sleep rough, and have work to go to the next morning!"
"The thought of sleeping outside in just a sleeping bag for the night in November is something that I do not think any of us really have the knowledge to know what to expect. What I do know is that with the usual support of each other, we will survive this charity challenge. The energy that Balloon have always put into their charity activities has always demanded complete respect and this one is no different. I for one am honoured to be joining my fellow colleagues in raising money for this fantastic cause and who's work to end youth homelessness is second to none."
"As someone who was nearly homeless, even the thought of it causes distress. I see people on the streets in the middle of a country that doesn't know where summer ends and winter begins in their sleeping bags and makeshift beds because they don't have the luxury of a home or a warm bed or even being under a roof. Most of the time we take this for granted and this charity is greatly beneficial to not only help those who are homeless but to help us become more aware of our surroundings. Whether it's helping us understand and show more empathy towards those who have less or to show us we shouldn't take such a simple construct of going home for granted, this charity will make us experience the daily struggle of those who have no home and will bring us closer together as a community."
"By spending a night outside, I hope to learn more about the challenges homeless people face and raise awareness about this important issue. Centrepoint's mission of offering shelter, support, and opportunities to young people without a home resonates with me. This event allows me to do something meaningful for those who need help, and I'm excited to take part with Balloon One and raise some money for a great cause."
"Most of us cannot comprehend the day-to-day struggle that a lot of adults and young people have living on the streets. In a country such as the UK, it is shocking that there is still so much homelessness. That is why I am raising money for homeless young people and putting myself in their shoes by sleeping overnight in November at the Oval cricket ground. It is nowhere near as horrible an experience as homeless people experience, but it's a start."

"For the Sleep Out event, a group of us from Balloon One are joining forces to make a meaningful impact and bring attention to the critical issue of homelessness. This event offers a unique opportunity for me to step out of my comfort zone and gain a deeper understanding of the daily challenges faced by countless individuals. By taking part, I aspire to cultivate empathy and raise awareness about this pressing issue. If you'd like to support our cause and help us reach our fundraising goal, please consider visiting our donation page by clicking the link provided. Together, we can make a significant difference in the lives of those experiencing homelessness."
"As part of the Balloon One team, I'm humbled to be participating in the Centrepoint Sleep Out event. It's a stark reminder that the comforts we often take for granted can be a distant dream for many young people. By enduring a night of discomfort, we hope to shed light on the urgent issue of youth homelessness and inspire positive change. Your support means the world to us and to those striving for a brighter future. Together, we can make a real impact."
"The idea of sleeping outside on a cold November night is daunting to me. However, as we approach the evening of the sleepout I remember that there are so many unfortunate individuals who have no choice but to bare the cold and uncertain conditions night after night. No one should be without a home, no one should feel as though there is no place to go. This is why I am supporting Centrepoint with the rest of the Balloon One team. Any donation towards sponsoring Balloon One to take part in the sleepout is greatly appreciated and will contribute to Centrepoint's mission to end youth homelessness."

"The sleep out event is not designed to emulate the full extent of homelessness, as it's impossible to truly replicate the fear, isolation, and discomfort that individuals without secure homes face. However, participating in Sleep Out does offer a limited insight into this challenging reality. Spending a night away from the comfort of your own bed can certainly leave you feeling uneasy and fatigued. It helps you appreciate the difficulties of maintaining everyday responsibilities, like going to work and managing your life, even when you know you have a safe place to return to—an assurance not always available to homeless youth."