Masters Golf: overcoming Brexit with a remotely-implemented WMS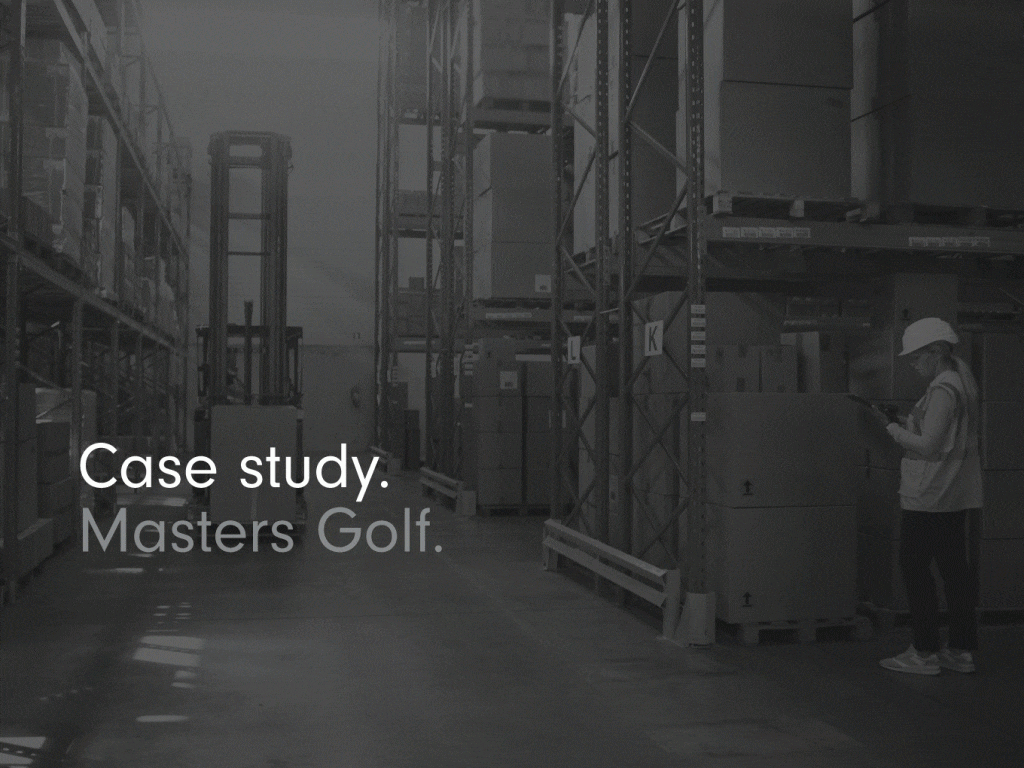 The Masters Golf Company sells golfing equipment to trade customers, internet retailers and golf course pro shops in the UK and Europe.
Based in Portishead, in Somerset, the company sells around 2,500 SKUs, comprising branded goods as well as the company's own products.
Brexit-related shipping delays and customs challenges.
Due to export complications arising from Brexit, Masters Golf was faced with major issues shipping into the EU. Kevin Clothier, IT Manager for Masters Golf explains, "A lot of our orders are bulky, multiple sizes and over the £150 threshold. So, we had a lot of issues covering the duty charges and VAT."
To overcome this, Masters Golf established a company with its own warehousing operation in Wevelgem, Belgium. In this way, the UK company avoids the customs headaches it was having. Kevin continues, "We basically sell to ourselves, delivering into the warehouse in Belgium. We cover all the duty costs ourselves and can then distribute onwards from there to our EU customers."
With a new company and warehouse to provision, there was an immediate urgency to find the right systems to power the new operation.
Kevin initially explored the same solution that Masters Golf has in the UK. He says, "I went to our ERP provider and they looked at putting Microsoft Dynamics GP in the cloud on Azure and having the same WMS as we have in the UK."
But it became clear the company's UK processes wouldn't work long distance. So, Kevin had to look elsewhere. He clarifies, "I wanted to find a cloud-based warehouse management system that would allow us to do all the administration from the UK office. There's no office in Belgium, so we wanted to control all the EU orders by pushing them out from our ERP system in the UK."
Remote implementation of the Warehouse Core cloud-based WMS solution.
Kevin recalled that the company had looked at Accellos when it investigated WMS solutions some ten years previously. He looked it up, found it had become Körber WMS, and that's how he discovered Balloon One.
Balloon's out-of-the box WMS solution, Warehouse Core, fitted all his needs. It is cloud-based and easily integrated with Microsoft Dynamics GP.
In the midst of the pandemic, in April 2021, Balloon began the project to implement Warehouse Core for the Masters Golf warehouse in Belgium. As international travel restrictions were still in place, all the scoping, planning, implementation and configurations were done remotely.
Masters Golf had the warehouse technology delivered to its UK offices first, so that the IT team could do much of the setup and testing locally, before then having it shipped to Belgium.
Perfect for smaller warehouse operations, Warehouse Core WMS is usually a 'plug and play' system. But in this instance, Balloon made some configurations that allowed Masters Golf to print an A4 document with extra information, rather than a standard shipping label.
It took just six weeks for Balloon to customise and remotely implement the new, cloud-based WMS. Says Kevin, "It all went in pretty quickly. We suddenly went from no warehouse to having it fully racked, with Wi-Fi throughout and a warehouse system in place within three months."
Enabling a thriving European distribution operation.
Kevin is appreciative of Balloon as an implementation partner. He claims the best things about working with Balloon are: "The knowledge that they provided along the way and giving us best practices for the setup."
He also praises the flexibility of the Warehouse Core system. He says, "Once it was settled in, it was quite impressive with the way it all worked and it's running smoothly now."
The Masters Golf warehouse system in the UK is heavily integrated with Dynamics GP and relies on much of its functionality. "But the Balloon-run WMS in the Belgium warehouse is completely separate," Kevin explains, "Which allows them to manage everything independently of Dynamics GP. They manage their stock, the goods in processes and receipting, and stock counts themselves. We don't have to get involved."
With a fully stocked warehouse and processing around 150 orders a day, the Belgium warehouse is now autonomously managing the entire European operation.
When the company was unable to function effectively in Europe, it lost a lot of sales. But the new warehouse has turned things around. Kevin says, "We're seeing an uptick in custom again. A lot of large customers have come on board, including some pan-European buying groups."
Additionally, the new warehouse has drastically reduced shipping times for the company's European customers. Says Kevin, "Even before Brexit, we had slow lead times in getting products from the UK warehouse over to Europe. But now we can ship straight from Belgium and our order turnaround time is so much quicker."