Balloon team to climb Ben Nevis for Helen and Douglas House.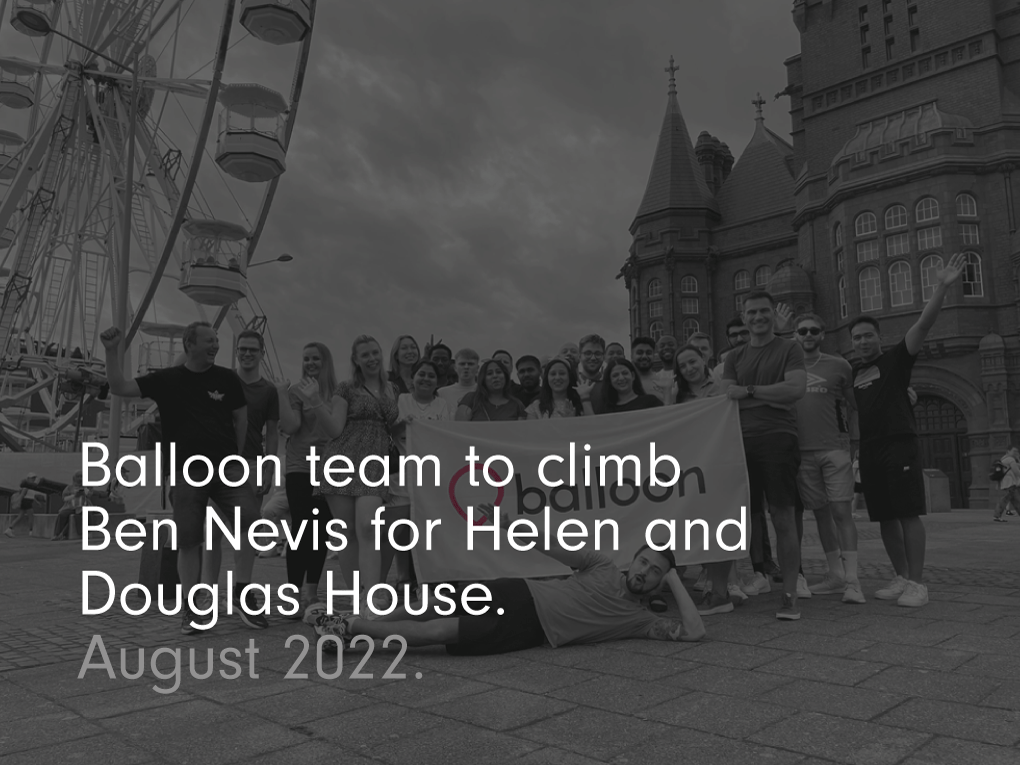 At Balloon caring for our community is at the heart of who we are and what we do. As a team, we are determined to contribute to building happier and healthier communities. This year we have chosen to take on the challenge of climbing Ben Nevis.
On September 3rd 2022, 18 Balloon employees are set out to climb Ben Nevis, supporting each other through the challenge and motivated by the worthwhile cause of Helen and Douglas House.
Helen & Douglas House provide a hospice for local terminally ill children and their families. They provide round-the-clock care in a warm, loving environment where families can create happy memories in their last days, weeks, months or years together. Balloon is honoured to be fundraising for such a worthwhile cause.
On behalf of everyone at Balloon, thank you for your donations and support!
In their own words, here is an introduction to a few of our fearless employees who will be taking on the challenge to climb Ben Nevis. 
"I am really looking forward to climbing Ben Nevis again, this time with a bigger team than ever! Climbing Ben Nevis is a real experience. Not only is there an amazing sense of achievement from reaching the summit of the highest mountain in the UK, but also the whole sense of adventure travelling up there, the views from the top and the amazing surroundings. It will be great to see the team take on this challenge – and what better reason to do it than to raise money for the Helen and Douglas Hospice. We've been working with this charity for many years and we've all seen the amazing work they do. Good luck everyone!"
"I am looking forward to our Ben Nevis climb as a team experience as well as a way to contribute to the great work of the Helen & Douglas Hospice.  I am sure knowing that we are doing something worthwhile will put extra spring in everyone's step.  Maybe some of us will find they are capable of more than they had thought possible before!"
"I have always enjoyed being outdoors and staying fit and active and I'm very excited & proud to be a part of the team and have the opportunity to support and help raise awareness of such a wonderful organisation such as Helen & Douglas. Hopefully, I can make it to the top as well, Go Team!!"
"The idea of hiking in Ben Nevis (The highest mountain in Scotland) of all places as my first ever hike is an amazing thought to experience and to do it on behalf of the Helen & Douglas hospice is an even better experience! I am excited to help raise money and awareness for their cause because what they do for the children that they support is beyond amazing :)"
"I am very excited to be taking part in my first charity fundraiser with Balloon One. Hiking is a passion of mine and I consider myself very lucky to have the opportunity to climb Ben Nevis for such a great cause. Helen and Douglas House do some fantastic work – I am thrilled to be supporting them by doing something I love."
"As a business owner, it's great to see so many volunteers taking part in this fundraising event. I'm really hoping for some spectacular views from the summit and to raise much needed funds for the Helen and Douglas Hospice."
"I am a recent graduate working in the development team at Balloon. I never thought I'd be climbing a mountain but there's a first time for everything.
I get to challenge myself while raising money for a good cause, killing two birds with one stone. It will also be nice to spend time with the team and I hope to raise as much money as I can for Helen & Douglas to help less fortunate children. Hopefully, I'll make it to the top of that mountain!"
"I'm very excited to conquer the biggest mountain in the UK – Ben Nevis. Even more so, we're raising money for Helen and Douglass – a charity which helps children and their families through Cancer. I'll be doing the walk to raise money for this good cause. I'm hoping that I don't butcher my knee like I did last year during the half marathon!"
"I am excited to climb Ben Nevis with the Balloon One team in aid of the Helen and Douglas House charity, an amazing organisation which supports local children's hospice. I hope aid Helen and Douglas to continue their amazing work. I am ready to take on this challenge."
"I am honored to be helping Balloon to raise money for Helen and Douglas through this challenge. I am taking myself out of my comfort zone to climb Ben Nevis, but I know that with the support of the Balloon team and fundraising for the Helen and Douglas charity I am up for the challenge!!"
"My name is Josh and I work in Marketing at Balloon One. I am really looking forward to walking Ben Nevis for the Helen & Douglas Hospice as they are an amazing charity and I am looking forward to supporting them with both a physically and mentally challenging task."
"One of the best things about working at Balloon One is the opportunity to take part in really exciting fundraisers and give back to good causes. Climbing a whole mountain seems like a worthy enough challenge to raise some money for Helen and Douglas House, who do incredible work in what must be the most difficult of circumstances. Really excited and hoping for a clear view from the summit!"
"I work for Balloon in the project delivery team as a Supply Chain Software Technician. I have always liked climbing and when the option arose to climb Ben Nevis for the Helen & Douglas charity to raise money, I was thrilled. This meant I could do something I liked and help an honourable cause that supports helping families and their children when they really need it. I am sure the climb will be fun and hopefully raise lots for the charity."
"To have the opportunity to climb Ben Nevis is a great achievement on its own, being able to do it knowing we are raising money for Helen and Douglas is even better! The impact that Helen and Doulas have on people's lives is amazing, it's for a great cause and it is a privilege to help raise awareness for this. I'm proud to be a part of a team supporting this and knowing the impact each and every donation has will hopefully provide the motivation needed to reach the top! (and hopefully back down again)."
"I am super excited to take on the challenge that is Ben Nevis! Balloon One has given our team a brilliant opportunity to do this climb together with the mutual motivation of fundraising for Helen & Douglas Children's Hospice. Having worked with the charity for some time now, it is clear to see that even the smallest donation goes a long way in helping these children. Ben Nevis, here we come!!"
"I am a 25-year-old Customer Success Executive here at Balloon One. I'm always looking to challenge myself whether it be physically or mentally and having the opportunity to climb Ben Nevis would be an exciting opportunity. I've never done any kind of charity work before so the chance to do this for a charity like Helen & Douglas Hospice makes this even more meaningful"
"This year I joined Balloon as a support technician and having done charitable work in the past centred around children, I jumped at the opportunity to support the Helen & Douglas House and their valuable cause. Just as the turtle only makes progress when his neck is out, I hope we can all stick our necks out to climb Ben Nevis! "