Balloon half marathon runners raise £2,500 for charity.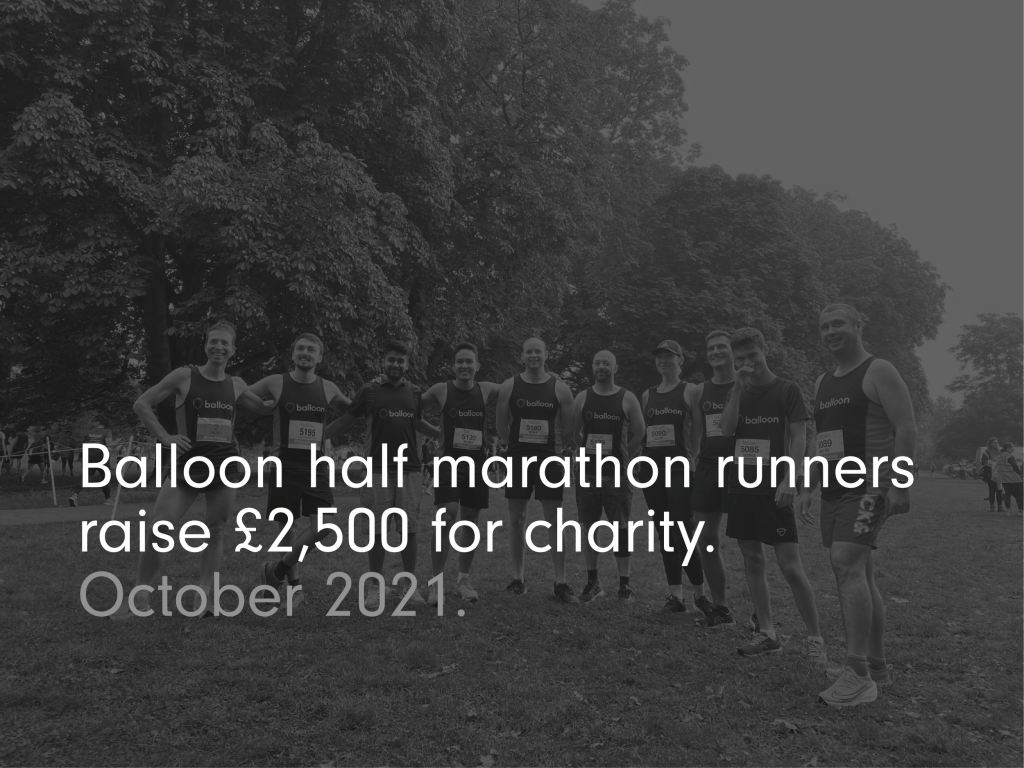 Our amazing nine runners took to the streets of Ealing last weekend to run the Ealing Half Marathon and have raised £2,533 for children's hospice charity, Helen & Douglas House.
Thank you to the runners for their considerable efforts and to everyone who donated. We're delighted that we beat our £2,500 target.
Nicola Wilson from Helen & Douglas House said, "I would like to congratulate the Balloon team on running the Ealing Half Marathon and raising so much money for Helen & Douglas House. It has been a tough 18 months for everyone and particularly families with terminally ill children who have had to isolate who have not had the normal support they get from friends and family, so they have needed our help more than ever. We are so grateful to amazing supporters like Balloon. Without the money Balloon has raised, we would not be able to help these families cope with the complex care their children need or cope with the devastating loss of a child."
Many of the Balloon team had never run a half marathon before. But there were some remarkably good times. Here are some of their reflections.
Nikolay Atanasov (finish time 2:26:11).
"My initial thought was that if I ran at least half of the distance, it would be an amazing personal achievement, as the longest distance I had ever run was 7km at the time. After the first ten minutes, I was certain that this would not be my last half marathon and indeed, I have now set myself the goal to run the London marathon. I feel like I have exposed a hidden talent. Not only did I manage to run the entire distance – which was three times longer than my previous best – but I also achieved a great time. I guess my motivation was to raise funds for Helen & Douglas House, and I gained strength and inspiration from the cheering crowd and people calling my name. It kept me flying throughout the half marathon."
"I hadn't been able to run beyond 7km prior to starting the Ealing Half Marathon, yet I somehow managed to complete the full 21km. I was so, so close to throwing in the towel at the 15km mark, but I was spurred on by the community support and by the extra energy gained from me eating my weight in jelly babies as I ran. Most of all though, I met somebody whose daughter was supported by Hellen & Douglas House just before the marathon began. I think actually talking with someone whose daughter's life I was helping to change gave me the boost to get over the line. I'm definitely going to continue raising money for good causes, though I'm not too sure if they're going to include running in the future!"
"Running the half marathon was a fantastic, albeit exhausting, experience. It was great to see all the crowds and there was a real sense of community and support. I am very pleased to have been able to help Helen & Douglas House and I hope our team's efforts will inspire others going forward."
Edward Napier-Fenning (1:54:25).
"It was a fantastic day and amazing to participate in such a large event, with the crowds cheering us on. Having never entered a race before, I didn't know what to expect, but it's safe to say I am now hooked! It was also inspiring to see so many of my teammates pushing themselves so hard for this excellent cause – their attitude throughout was outstanding and I am really proud to be part of the team."
Before the race, Craig claimed to hate running. But was he won over? "It was a fantastic day, filled with big achievements, great team spirit and lots of fundraising. Bring on the next challenge (as long as it is not a marathon)!"
"It was a great experience for my first half marathon. I hope there will be many more to come."
George had said that his aim was to beat Craig – and he did – well done, George!
"It has been amazing to be in a team with eight first-time runners reaching the finish. The motivation of raising funds for Helen & Douglas House, mutual support and the atmosphere on the day have kept many of us running much further and faster than we had thought possible. Having broken through previous mental and physical barriers, we definitely have a team ready to take on another challenge."
Ondra ran an amazing time, finishing the race in 62nd position, which was 15th in his category. Although he finished first amongst the Balloon staff, he then waited for everyone else to finish, cheering them on. Nikolay said, "Ondra's support was extraordinary, waiting for each of us as we approached the finish line, inspiring and motivating us to continue. This was true support and leadership."
Christopher Wijnen (2:08:59).
"What a run that was! I honestly wanted to give up at one point but seeing all the other runners and hearing the support from the crowd was too electric to just give up. Plus, because it was for a good cause on behalf of Helen & Douglas House, it gave me even more motivation to do better and finish the run without stopping at all! This is definitely a memory I will never forget!"  
Many congratulations to all our magnificent runners.
Unfortunately, Vivek was unwell on the day and wasn't able to complete the full distance. He did, however, manage an impressive and valiant 11k before he was forced to drop out. Great effort, Vivek.
Why not stay updated on LinkedIn?