Oscar Readwin remotely implements warehouse management system for Masters Golf in Belgium.
Consultants Making IT Happen.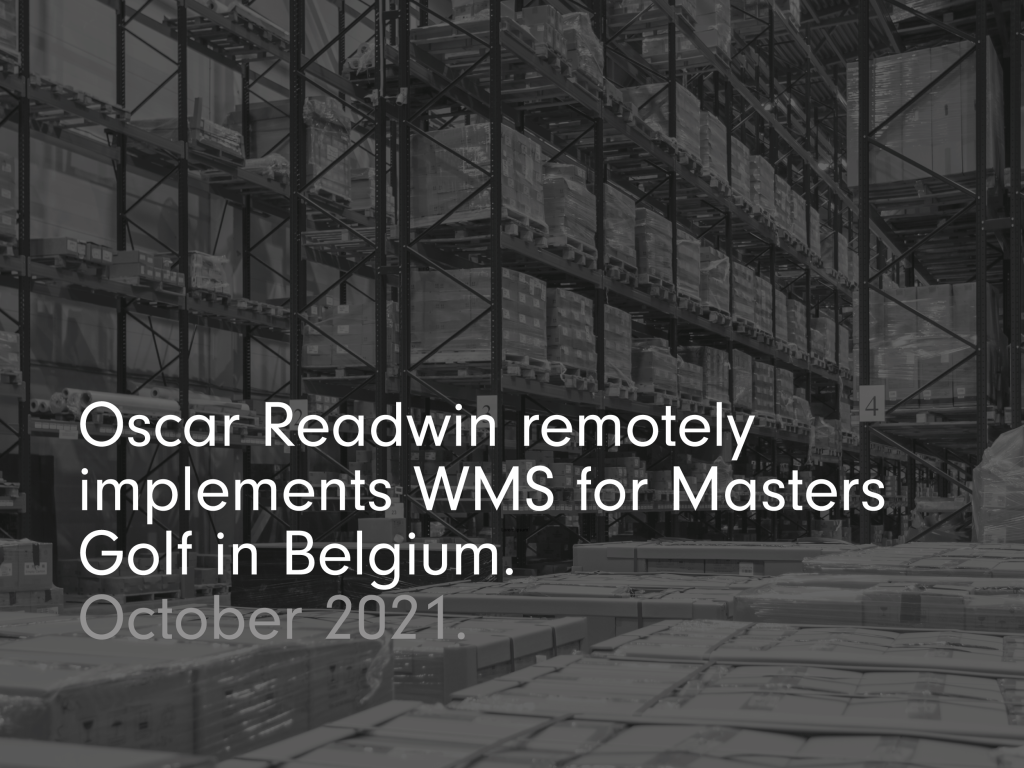 The Masters Golf Company sells a range of golfing products through stockists across the UK, Europe, the Middle East and Africa. The business is headquartered in Portishead, near Bristol in the UK. It works with global golfing manufacturers to procure clubs, balls, trolleys and other golfing accessories, which it distributes through golf club pro shops and other retail outlets.
Outgrowing legacy software.
The company's European base is managed in Belgium. They were opening a new warehouse and had previously been using the ERP system, Microsoft Dynamics GP, for the management of stock.
Masters Golf found that the ERP system alone did not provide it with enough information about stock in the warehouse. While it could tell you what you have in the warehouse, it could not keep track of it. It could not tell you, for example, the location of each SKU, which meant that Masters golf could not easily track its inventory or know the details of stock movements.
The company had grown beyond the point that the ERP software could effectively cope with. And as the Belgium base supplies the whole of Europe, the warehouse was in need of a more sophisticated system that could provide more detailed knowledge about their goods and analysis of performance.
Implementing the WMS solution in Belgium - remotely from the UK.
Oscar Readwin is a Supply Chain Software Technician at Balloon. He joined Balloon in 2019, having graduated from Southampton University with a degree in Web Science. As a graduate consultant in the Projects Team, he has been working on a number of client projects, with a particular emphasis on implementing Warehouse Core, Balloon's out-of-the box WMS solution.
 Oscar implemented Balloon's Warehouse Core warehouse management system for Masters Golf. But more impressively, he implemented it for the Belgium warehouse entirely remotely from the UK.
This is the first fully remote implementation that Balloon has performed. With travel restrictions and Covid considerations, it was judged to be the best option. Says Oscar, "The implementation went really smoothly. I was able to do everything from the Balloon office. The software installation was achieved by connecting to the application server and then all the configuration and set-up was done just via a web browser."
From the kick-off in mid-April, the entire project, including scoping and planning, as well as the implementation and configuration was all done in six weeks.
Oscar has undertaken some remote set-ups before but has never had a system go live while he was not on site. But he didn't have any concerns. He continues, "Warehouse Core is designed to be a straightforward solution with few customisations needed. So, it was the perfect system to implement remotely during a pandemic. Everything went off without a hitch."
Warehouse Core WMS is typically a 'plug and play' system. Oscar explains, "It is perfect for our smaller customers that have maybe five or so users and a relatively small warehouse operation. Because it's a cloud solution, it has flexibility in that you don't have to set up any onsite IT and you can access it from any device via a browser as long as you have an internet connection."
Although Warehouse Core WMS is usually supplied out of the box, Masters Golf did require one specific customisation so that the system would fit better with their own processes. Oscar reveals, "We have a standard shipping label, but instead of printing that, Masters Golf wanted to print an A4 document instead. It needed to contain a bit more information than the label and they also wanted it to be printed at a later stage in the process. So, we tailored the system to accommodate those needs for them."
The only slight hitch came about due to time differences. Masters Golf used their ERP specialists, Blue Moon, who are based in the US, to provide the integration between Dynamics GP and Warehouse Core WMS.
The only slight hitch came about due to time differences. Masters Golf used their ERP specialists, Blue Moon, who are based in the US, to provide the integration between Dynamics GP and Warehouse Core WMS. When it came to the cutover and the go live, there was an issue where some of the product records coming into the system weren't processing. This was Blue Moon's domain but because of the time difference between the UK and the US, it posed a challenge in communication.
However, it was quickly remedied and Balloon could move on with going live.
A successful remote implementation and newly automated warehouse operations.
Masters Golf is very happy with how the project has gone. Warehouse Core has helped automate the order fulfilment process. Oscar explains, "When it comes to picking orders, Warehouse Core WMS makes things so much more streamlined for them. The system now tells the pickers exactly where to go to find that stock in the warehouse. The ERP system on its own wasn't able to do that because it simply didn't have the information."
He continues, "The system also shows precisely what stock they have and where it is in the warehouse. And they can update the status of the stock. So, if anything is damaged, for example, then it can't be allocated to an order."
Oscar also implemented Pulse for Masters Golf. Pulse is an intelligence tool from Koerber that displays KPIs for warehouse operations. The dashboard tracks data on picking performance, warehouse efficiency and other metrics via charts, graphs and visual reports. The reports will help Masters Golf to continually monitor its performance and build in measures that will allow it to continually improve.
For Oscar, the project has been successful for him both professionally and personally. He says, "I am grateful to have had the freedom to be active in the management of the project – in leading the implementation and managing the customer communications. It has built my confidence in working directly with clients and has helped improve my organisational skills."
Says Oscar's manager, Veronika Simekova, "This implementation has helped Oscar to gain a better understanding of the methodology behind a WMS implementation project. He has acquired first-hand experience of managing all the steps involved – including preparation, defining the blueprint, the project realisation, user acceptance testing and go live. And he has managed them successfully to complete the whole project in less than six weeks."
With Warehouse Core, the emphasis is on scalability. Even if a company grows, they can scale up from using Warehouse Core WMS to a subscription plan that adds more users, more features and additional customisations. Oscar concludes, "This is why we recommended Warehouse Core for Masters Golf. With its multiple locations, including the UK warehouse, future growth won't hamper its use of the WMS and it can take advantage of that scalability."
Why not stay updated on LinkedIn?