Balloon has signed The Climate Pledge.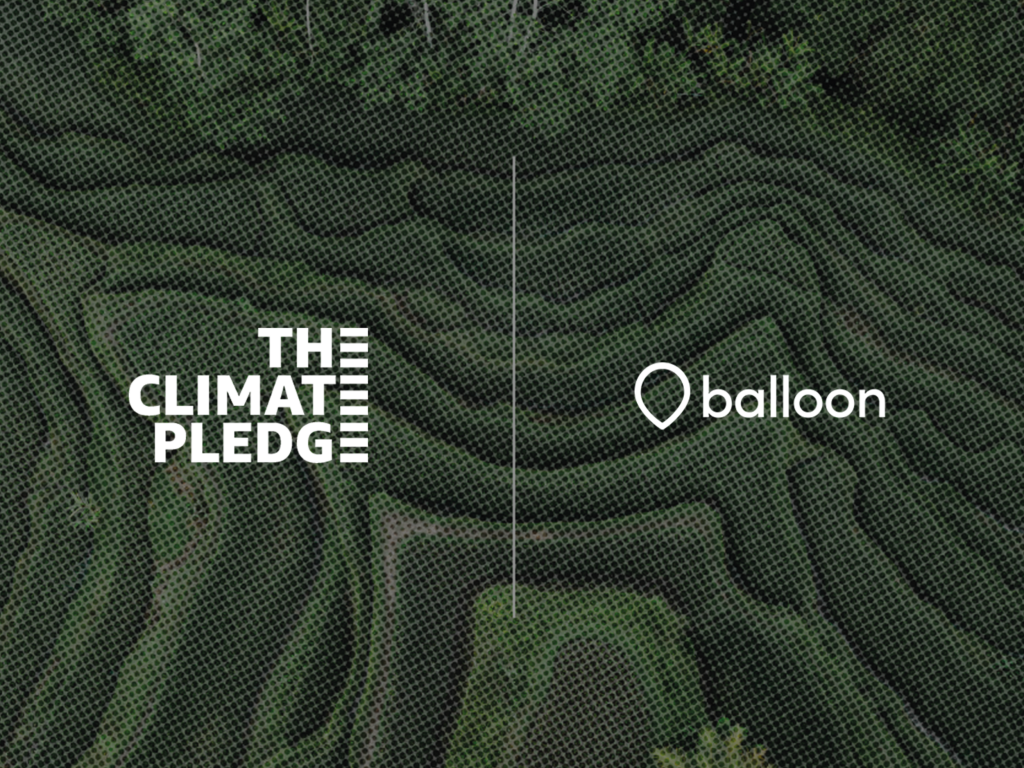 Balloon is proud to have become a signatory of The Climate Pledge (TCP), co-founded in 2019 by Amazon and the climate change organisation, Global Optimism.
Signatories to The Climate Pledge commit to achieving net-zero carbon across their business by 2040, which is 10 years ahead of the target set by the Paris Agreement.
There are already 115 signatories to The Climate Pledge – companies and organisations like Sainsbury's, Unilever, ITV, Microsoft, IBM, Coca Cola and Mercedes-Benz that span 25 industries in 17 countries. This week Balloon was officially welcomed by Amazon and Global Optimism as part of a new cohort of signatories to the Pledge. The announcement of the new signatories is in line with the commencement of Climate Week NYC, of which The Climate Pledge is an official sponsor.
Ondrej Pribyl, Technical Director for Balloon, said, "All companies produce carbon emissions and by cutting them, we can all play our part in making a real difference to the planet. In signing the Pledge, we have committed that Balloon will proactively take climate action steps across our business to cut carbon emissions."
Ondrej continued, "Signing the Pledge also gives us the opportunity to share access to technologies, best practices and innovations in the supply chain industry and to collaborate with fellow signatories. This will benefit our company and our customers as we assist them in their own use of end-to-end supply chain technology."
In signing The Climate Pledge, Balloon has committed to three areas of action:
Reporting – we will regularly measure and report greenhouse gas emissions.
Carbon Elimination – we will implement decarbonisation strategies in line with the Paris Agreement through real business changes and innovations, such as energy efficiency improvements, renewable energy and materials reductions.
Credible Offsets – we will act to neutralise any remaining emissions with additional, quantifiable, real, permanent and socially-beneficial offsets to achieve net zero annual carbon emissions by 2040.
Balloon has already made some sustainability and decarbonisation efforts: 
We make heavy use of online collaboration to reduce the need for physical travel, including both long-haul air travel and local car journeys.

We work with implementation partners in Asia and North America to reduce the need for long-haul air travel.

We have opened local offices, which employ local staff, in India and Thailand so that we can be closer to our customers, and again reducing the need for long-haul air travel.

Our staff are able to work from home, thus reducing much commuting to the office.

In the UK, we have a Bike to Work scheme to encourage cycling.

The IT infrastructure we manage directly runs from a

green data centre

.

Our UK building runs on a green electricity tariff.

Our UK office air conditioning is set to only run during standard working hours, to reduce energy consumption.

Our UK office lighting is low-energy, with sensors to ensure lighting is not left on when not needed.
Balloon is currently evaluating its 2019-2020 carbon footprint so that there is a baseline against which to plan future reductions in the carbon intensity of the business. We have also engaged with several recognised UK-based schemes through which to offset our emissions.
Ondrej concluded, "We are already a low carbon intensity business, but we aim to start 2022 on a firm path to carbon neutrality within The Climate Pledge timescale – or earlier, if we can. Our goal is to reduce our carbon intensity even further and to invest in verifiable local carbon reduction schemes so that we will reach net zero operation in line with The Climate Pledge."
Why not stay updated on LinkedIn?