Balloon supply chain consultants make IT happen.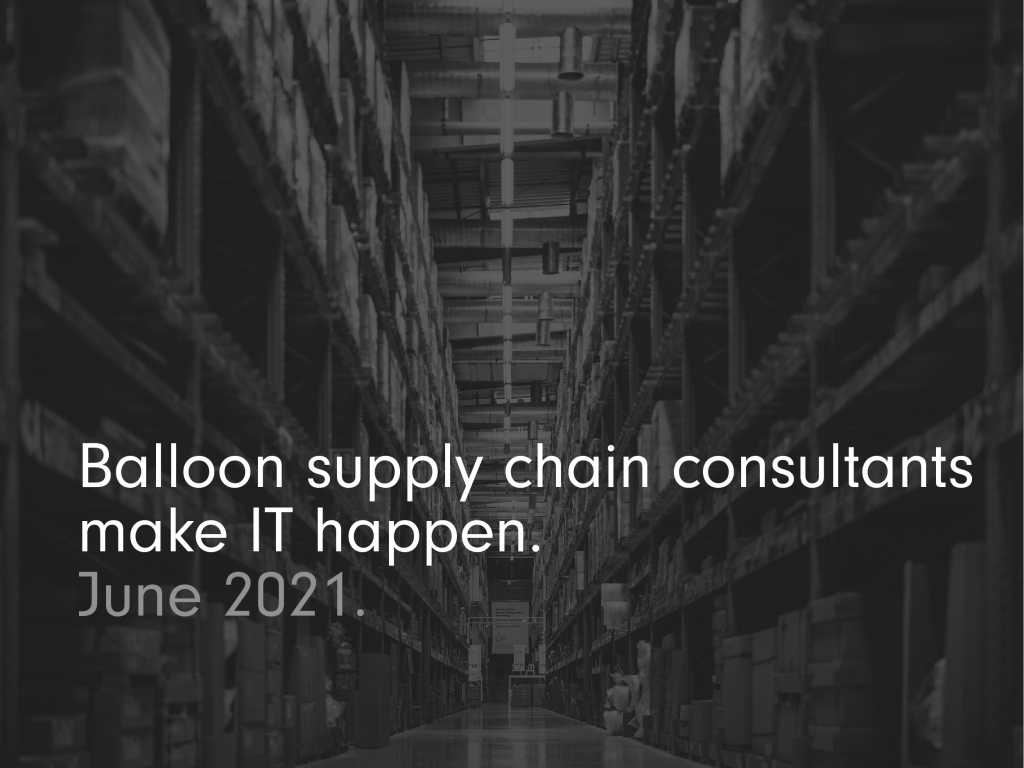 For some time now, the Balloon internal slogan has been "making IT happen". The phrase embodies the approach we take to working with our clients. Our strategy is a pragmatic one and it drives how we deliver IT for customers – and "making IT happen" for them is our primary goal.
What we produce is rarely off-the-shelf, though. So, implementing first-rate projects depends on the quality of our staff. We rely on the exceptional skills and knowledge of our consultants and developers, which they employ in giving our clients the best advice and providing the most suitable solutions to meet their supply chain issues.
We've begun publishing a series of mini case studies that demonstrate how our consultants' expertise has been beneficial in making IT happen for several of our customers. Each features a different Balloon consultant and shows how they have been able to deliver innovative or effective solutions that solve particular issues that our customers have been faced with.
Here's a summary of three of these developments made by our consultants, with links to the full case studies
Slaw Gliwa's 'pick and stick' procedure for Birlea.
Home furniture wholesaler Birlea supplies its goods to hundreds of UK online and retail outlets, such as Wayfair and DFS and dropships directly to end customers on behalf of some clients.
Birlea chose Balloon to upgrade its old warehouse software and replace its paper picking system. Lead consultant Slaw Gliwa mapped Birlea's existing warehouse processes and began to build a plan to replicate them within the new K.Motion WMS system.
Usually, during the picking process, two separate labels are required – one is an internal label that shows which order the item is assigned to, and the second is a carrier label, used for shipping.
During the system design process, Slaw discovered that Birlea did not need or want the internal label, as staff did not need to repack the furniture or check the orders.
As this part of the process was superfluous, a new method was needed. Slaw redesigned and streamlined the picking process. He reprogrammed the SQL so that the K.Motion WMS system would intercept data from the carrier label and place it into the internal label, without a second label being required.
Slaw's revised and simplified process was called 'pick and stick' by Birlea. Removing a whole step in the process has resulted in productivity gains and cost reductions for Birlea. It not only halves the number of labels used, but it also eliminates an unnecessary wait and the need to signal to the WMS that the product has been checked and repacked.
Luke Beer's pre-cartonisation API for Ironmongery Direct.
Ironmongery Direct, the UK's largest supplier of specialist ironmongery products, stocks more than 18,000 products, which it sells via ecommerce, a call centre and a trade counter.
The company has been a Balloon customer for many years. Software Development Consultant, Luke Beer, was integrating a new shipping service with the company's K.Motion WMS solution.
The typical way Balloon might implement a carrier service like this would be to integrate the carrier API directly into the Balloon Springboard Ship application. Thus, the warehouse management system (WMS) would send information to Springboard Ship, which would then send it to the chosen carrier, which would then return the necessary information for the label to be printed.
But Ironmongery Direct needed a slightly different solution. It wanted to give its customers more choice, by offering a selection of several carrier options. To do this, the system would need to already know the prices of each. But this couldn't be achieved with a standard implementation, because the cartonisation had not yet been done.
The solution was to pre-cartonise the consignment, which meant that Luke needed to make two additions. First, he created and implemented a bespoke API. This was to be accessed before any information reached the WMS and was integrated with the ecommerce website and the company's Enterprise Resource Planning (ERP) system. The API approximates the cartonisation before the order reaches the K.Motion WMS system. The second addition saw Luke create an integration for the new carrier platform within Springboard Ship.
Luke's pre-cartonisation API solution allows customers to make their own choice of carrier and is now helping Ironmongery Direct to handle around ten thousand orders a month.
Ed Napier-Fenning creates supply chains insights module for Power BI.
In helping Balloon to gain more insight into its own data, New Business Development Manager, Ed Napier-Fenning had created a data model for use in Microsoft's Power BI application.
Ed realised that Balloon's customers could also benefit from the same reporting capabilities. Having previously devised a list of seven KPIs that businesses should track if they want to see warehouse improvements, Ed recognised that his module could build on his KPI work.
He built a proof-of-concept model, which output detailed information, for example on how much time was being spent on certain warehouse activities and which activities could trigger new beneficial rules or actions.
Managing Director, Craig Powell, saw how the module could help customers to measure their performance much more accurately, and how it could provide anonymised sharing of insight between Balloon customers for benchmarking purposes.
The module was developed further by Balloon Account Manager Veronika Simekova, drawing on her WMS experience to make it more ruggedised and efficient.
The team built a standardised version for Balloon customers that has the potential to deliver outstanding insights and positively impact them, helping them to assess and benchmark their own performance and learn how to improve from others.
Ed's Power BI experience was brought to bear, and the new Supply Chain Insights Module is now delivering enhanced business intelligence for customers. In addition to the benchmarking benefits, the tool can report across a company's entire supply chain, incorporating data from transport management systems (TMS), carrier management platforms, automation and robotics. It helps with examining activity in motion, understanding performance against a range of KPIs, and gives insights on the performance of a company's staff, suppliers and customers.
Read the full case study on the Supply Chains Insight Module for Power BI.
Balloon staff make an impact.
Balloon's consultants, managers, developers and support staff all have a hand in making sure our customers' projects are successful.
Says Managing Director Craig Powell, "Our staff are rightly our greatest asset. Their skill, knowledge and expertise reflect the company's business ethos: to be a friendly, honest, reliable and pragmatic supply chain technology partner. We always strive to fulfil our customers' needs and to drive continuous supply chain improvement for them."
Balloon staff are a true reflection of our 'Making IT Happen' ethos. Their innovations bring truly tangible outcomes for our customers, helping us to deliver the value that ensures customers improve productivity and increase profit in their supply chain businesses.
If you have an upcoming warehouse project or would like one of our supply chain consultants to advise on the right solution for your needs, call us on 020 8819 9071 or get in touch.
Why not stay updated on LinkedIn?