Consultants making IT happen:
Ed Napier-Fenning delivers enhanced business intelligence with new Supply Chain Insights Module for Microsoft Power BI.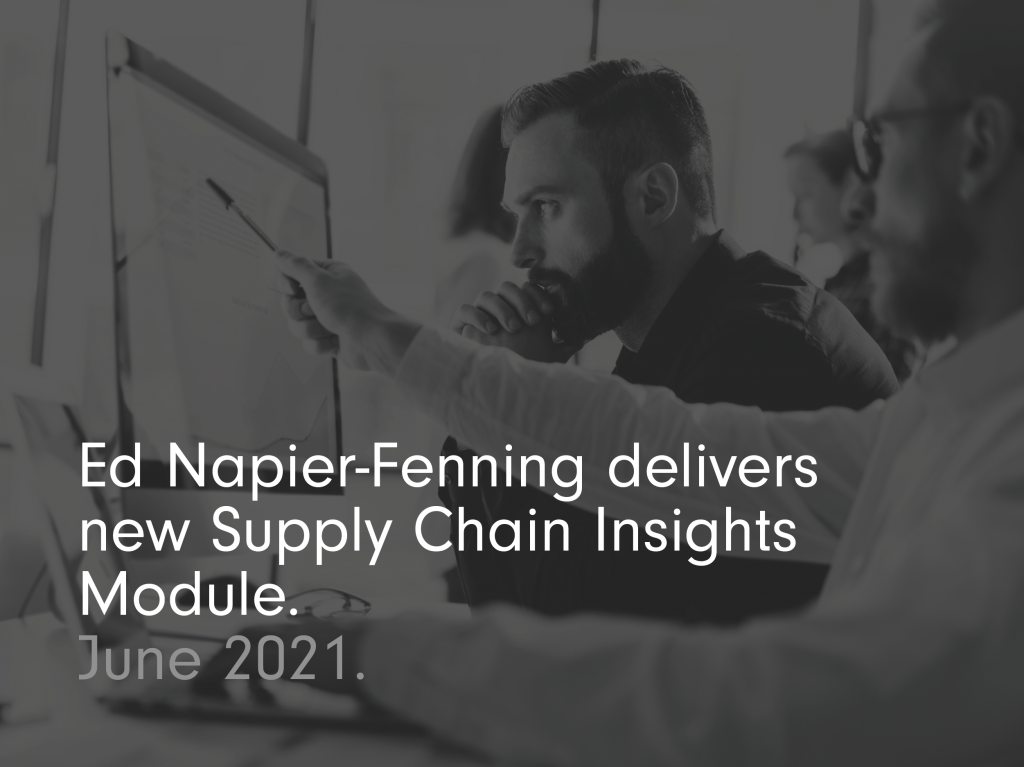 Balloon's New Business Development Manager, Ed Napier-Fenning, has driven the creation and development of a new Supply Chain Insights Module for customers.
The Supply Chain Insights Module works on Microsoft Power BI, a business analytics and reporting tool that provides visualisations of a company's data, in the form of charts, graphs and more. Power BI is readily available. Many businesses already have access to it as part of their Office 365 subscription, but if not, Power BI Pro is currently just £7.50 per user per month. It is easy to use and both the interface and operation are familiar as they are consistent with other Microsoft products.
Supply Chain Insights Power BI module.
Ed explains what the Balloon Supply Chain Insights Module does: "It gives customers the ability to pull data in from multiple sources – such as financial information from their ERP and ordering and stock data from their WMS. They can then transform that into visualisations that deliver useful insights."
The module allows a business to report across multiple systems in the one package. Ed continues, "It's been designed to simplify the data in the ERP and WMS – and other systems too – bringing them together in formats that relate to each other. So users don't need to know anything about how the data is formatted behind the scenes – they can still very easily create reports and use the intelligent analytics that are built into the module."
The module can be used to examine and visualise data for many purposes. Explains Ed, "One use might be identifying the cost to fulfil orders in the warehouse. The module takes the ERP's financial information and combines it with historical transactional data from the WMS to show the order fulfilment costs. This helps companies to understand if they are making a profit. It also establishes a fixed performance point, which they can improve on over time."
Another use would be calculating how much it costs a warehouse operative to pick an order. Ed clarifies, "Taking the activity detail about an operative that exists in the WMS, you can relate it to their HR information – their wage costs and working hours – to give a cost per shift, or hour, or order, for example."
The Supply Chain Insights module has been ready-built to include a number of data models. It includes models that pull in information from SAP Business One and K.Motion WMS. Adds Ed, "We've done the upfront hard work for clients in building the models and setting up how the data is cleaned and formatted. They can use it with their ERP and WMS and we will update and maintain the module to ensure its compatibility going forward. Essentially, it can also be connected to other data to pull information from the likes of web pages, Google Analytics, SQL databases and so on."
Developing the idea for the Power BI module.
The inspiration for the creation of the Power BI module came from an initial project that aimed to give Balloon more insight into its own internal data. Ed notes, "I've always been really interested in creating reports and understanding how data fits together. Initially we built a data model for internal reporting. It brought benefits across the board: visibility was much improved and as a company we became a lot more focused."
Getting more data out of the systems like this led Ed to realise that Balloon's customers could benefit from these sorts of reporting capabilities. Ed had previously devised a list of seven KPIs that businesses should be tracking if they want to see warehouse improvements. Creating the Supply Chain Insights module has fitted in perfectly. Says Ed, "I realised that this module could build on what we've done before. It clicked that we could take the historical data tables behind all the warehouse transactions and use them to calculate how much time had been spent on certain activities."
This had been done for customers before, but Ed's Power BI experience had shown him how the tool could easily replicate the process for every customer, despite their innate differences.
Ed built a proof-of-concept model and ran it. He adds, "That first attempt took all night to run – but it worked and it showed so much more detail about how much time was being spent on certain warehouse activities and what types of activities could benefit from having rules applied to them." He gives an example of the system noting that a scanner gun has been idle: "Once it's been inactive for a certain period of time, the system could conclude that the worker had finished for the day and so other rules could be set that triggered from this."
Managing Director Craig Powell understood how the module could allow customers to measure their performance much more accurately, without relying on too many assumptions. Anonymised sharing of insight between Balloon customers could also help them to benchmark their own performance and to learn from others how to improve.
To take Ed's idea further,Balloon Account Manager Veronika Simekova used her WMS experience to create a data model that was more ruggedised and efficient, covering the 7 key KPIs. Says Ed, "I'd reached the limit of my technical knowledge. Veronika's expertise was vital in relating the various tables so that this would output a lot more information."
The Balloon staff involved began to realise just how exciting this innovation was when, within the first week of building the data model, they had created a 3D representation of a warehouse with simulated activities going on. 
Enthused by the output they were seeing, Ed initiated the project to build a standardised version for customers. Power BI experts BurningSuit were called in to provide their insight in how best to deploy the model and perform the complex calculations efficiently.  Ed explains – "the team at BurningSuit quickly understood how to take our initial designs and make it deployable… in addition, they created some amazing dashboards and visualisations that made the data more usable for our customers". 
With the module completed, the Balloon and BurningSuit teams worked together to deploy the solution. . Ed notes: "The experience of the team at Burningsuit really helped to accelerate the project and allow it to be delivered to the customers in an effective manner. Their experience surrounding the intricacies of Power BI allowed us not only to build a one-off data-model, but also a solution that can be implemented for every customer".
The module was developed, tested and then released to the market. Ed reveals, "We've been successful in delivering an effective, durable tool that can deliver outstanding insights. It's early days, but we're already seeing a huge impact."
The benefits of the Supply Chain Insights Module for Balloon customers.
The Supply Chain Insights module gives warehouses greater power over their data, allowing them to create intuitive reports that pull data from different areas of the business.
"One of the most exciting parts of this is the benchmarking feature," Ed reveals. "Our aim is for our customers to benchmark their performance against others, to see if they can improve or to prove the benefit of undertaking something in a certain way." This anonymised collaboration will be of benefit to all customers. Ed continues, "It will allow companies to see where improvements can be made and help them understand what works well and what doesn't. Visibility is one thing – but measuring it and comparing it is something else."
The module comes with some standard tools set up, but it can measure whatever a company wants. It can report across the entire supply chain, so can include data from transport management systems (TMS), carrier management platforms and automation and robotics, for example. "It's particularly useful for looking at activity in motion, understanding performance against a range of KPIs, and pulling in information on the performance of staff, suppliers and customers," clarifies Ed.
Personal reflections and future expectations.
Ed relates how conceiving and managing this project to fruition has benefitted him. "It's been great learning about the data behind it all. It's also allowed me to consider and explore other areas, including more complex possibilities," he says. "For example, we are now looking at how it might be possible to optimise the spread of labour across the supply chain. So, if you take the main activities of receipt, putaway, replenishment, picking, packing and shipping, how can you best manage your staffing needs if one area is particularly busy."
Ed is also keen to look into modern intelligence tools like AI to develop applications that are even more useful in helping a warehouse operation to optimise its performance and efficiency. He wants to not only report and act on the data from the Power BI module, but also to use the forthcoming functionality of Microsoft's Power Apps to help the output to drive other processes in the warehouse.
As more customers subscribe to the module, Ed anticipates an exciting future. He is eager to see how customers begin to understand their data better and is interested to see where this takes them. He continues, "We have always adopted a pragmatic approach to improving and growing our customers' businesses and this module provides a clear, data-driven method towards achieving that improvement. It will also confirm how good the systems we endorse are when customers can accurately see and understand the true abilities and performance benefits they have."
Ed is magnanimous in crediting others who helped with this project. He concludes, "I may have had the initial idea, but Craig, Veronika and the team at Burningsuit helped to deliver it. Craig saw the possibilities behind it and provided the resource and structure to get it done.  Veronika brought her expertise of the system and her knowledge of code to put it into practice and finally the team at Burningsuit helped us to turn it into a deployable model"
This sort of teamwork underpins the Balloon culture. Focusing on continuous improvement and 'making IT happen' for our customers is what drives everyone to deliver.
Why not stay updated on LinkedIn?