Premier Housewares chooses Balloon to implement K.Motion WMS.
We're excited to announce a new client partnership. Furniture and homewares wholesaler Premier Housewares has chosen Balloon as their partner to implement warehousing and supply chain software.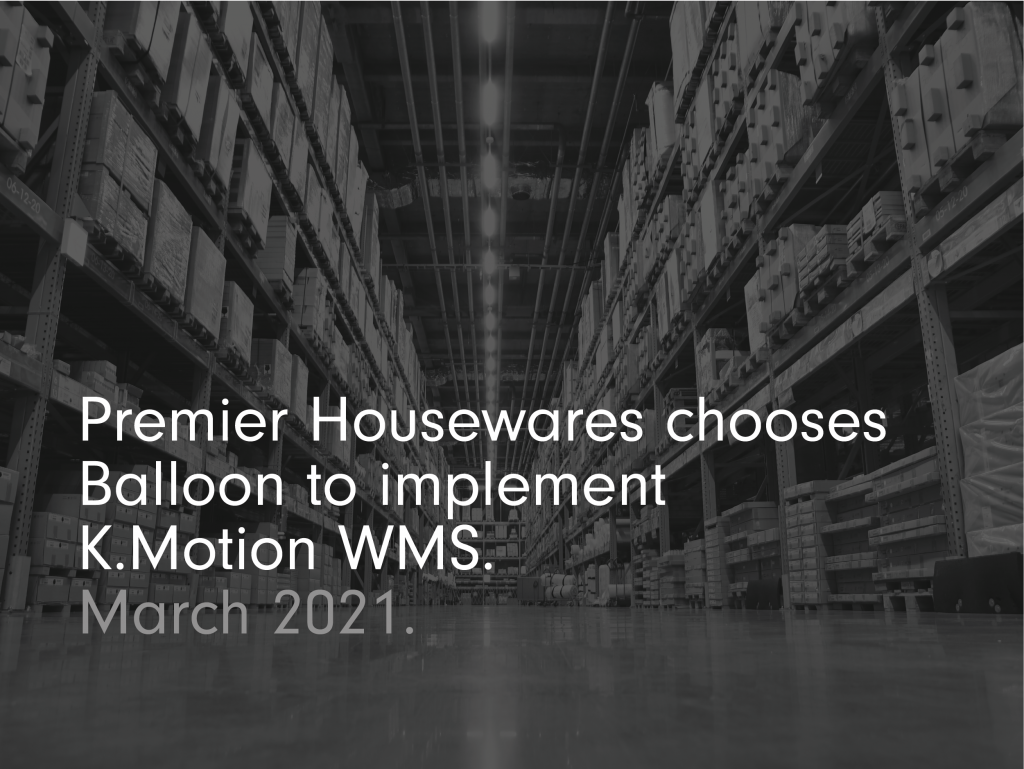 About Premier Housewares.
Premier Housewares is a family-run business that has been in operation for more than 30 years. The company is a wholesaler of furniture, interiors and kitchenware products, equipping retail outlets and online sellers with products that it sources from across the globe.
Premier Housewares has nearly 700,000 square feet of warehousing facilities, spread over three locations in Glasgow. It also holds additional stock in consignment warehousing. With an extremely high SKU count, its large selection of products is a key differentiator for Premier Housewares, but one that does not stop it from fulfilling orders quickly.
The challenges to be solved.
Premier Housewares is growing and seeking to expand into different areas. Additionally, it is faced with challenges such as changes in its customer make-up because of COVID lockdowns, and issues arising from post-Brexit trading. The company wants to ensure it remains resilient to navigate the tough economic times ahead. To do that, its aim is to continue to be one of the largest companies in this industry, with the largest stockholding in the UK.
With growth objectives in mind, and the pressures from Brexit and COVID, Premier Housewares recognised it needed to create a more technically agile operation.
The company had previously invested heavily in a bespoke warehouse management system. But, having spent money on it over the years to keep it fit for purpose, it became clear that it is no longer nimble enough to support their growing operations.
On top of that, the system is no longer being actively developed and supported. Its old technology meant it has not been accessible for staff working from home during the past year. It also hasn't been able to provide the vital information Premier Housewares relies on. With increased stockholding and additional warehouse facilities, the company can no longer trade efficiently without the central system receiving live updates from all the different sites.
Their current software is not only incapable of delivering this live stock information, but system outages are also beginning to affect operations. Heather Cuthbertson, IT Manager, explains, "Outages are more frequent now, and in the last 18 months we've had more issues". She continues, "We've had to make bespoke changes to the software to accommodate different warehouse scenarios, like returns, batch issues, and replenishment jobs. But some of those changes have had knock-on effects and we've had situations where we can't get the scanner guns to work properly. This has meant delays in getting orders out while we print out picking lists for staff to pick orders from."
All of these issues drove Premier Housewares to seek a new WMS – one that would support it now and during its future growth.
Head of Systems, Fiona Gilchrist describes the process Premier Housewares used to select the software: "We looked for the product first. So, we started by looking at ERP and WMS solutions and which ones worked together and would fit the business best. We looked at the Gartner Magic Quadrant for guidance too, as we didn't want something too overpowered, nor a product that was in its infancy."
She continues, "K.Motion was recommended in several places, and it seemed the preferred solution for SAP and Sage X3, the two ERP systems we were considering."
Fiona anticipates greater resilience and better support from the new system. She says, "If there's an issue, we can request support and quickly have it fixed, minimising any downtime. Plus, K.Motion WMS has a well defined roadmap, which gives us confidence."
Managing Director of Premier Housewares, Awais Mobarik, corroborates this view, and adds, "With K.Motion WMS, we expect to have a system that will be around for a long time and continue to be developed and supported."
Fiona explains why Premier Housewares chose Balloon as its implementation partner: "From the IT perspective, we felt Balloon understood the software and knew what they were talking about. And the warehouse manager felt comfortable that Balloon understood our operations and the warehouse side of things."
Fiona acknowledges that it's difficult to demonstrate a warehouse system, and it's here that Balloon's reference sites helped. She praises Balloon's handling of the site visit process, explaining, "We went to a company that quite closely matches what we do, and it was good that there was no involvement from Balloon while we had the site visit." The site references helped Premier Housewares to envisage their future system in operation and at scale, while emphasising Balloon's expertise.
Ed Napier-Fenning, Balloon's lead sales consultant on the project, is looking forward to working with Premier Housewares. He comments, "It's exciting for our staff to be working with a growing company that values the benefits that technology can bring. Premier Housewares is the largest company in its sector in the UK, supplying household names like Wayfair and introducing hundreds of new products every month. We're keen to show them how reliable and stable K.Motion WMS is and how it will support their ambitions of growth in the future."
If you'd like to explore how K.Motion WMS can help your company through the challenges of Brexit and into the post-pandemic landscape, call us on 020 8819 9071 or get in touch for a quote. Our consultants will be pleased to advise you.
Why not stay updated on LinkedIn?