SAP Business One: Growing your small business into a big business.
SAP is an extremely well-respected software company and its solutions power some of the world's largest businesses. But it's not just for big business. SAP Business One is the company's more affordable solution. It's ideal for smaller businesses turning over around £4m or more and brings enterprise-level capabilities for managing an entire operation – even a smaller one. Here's how it can help you to grow your small business into a big business.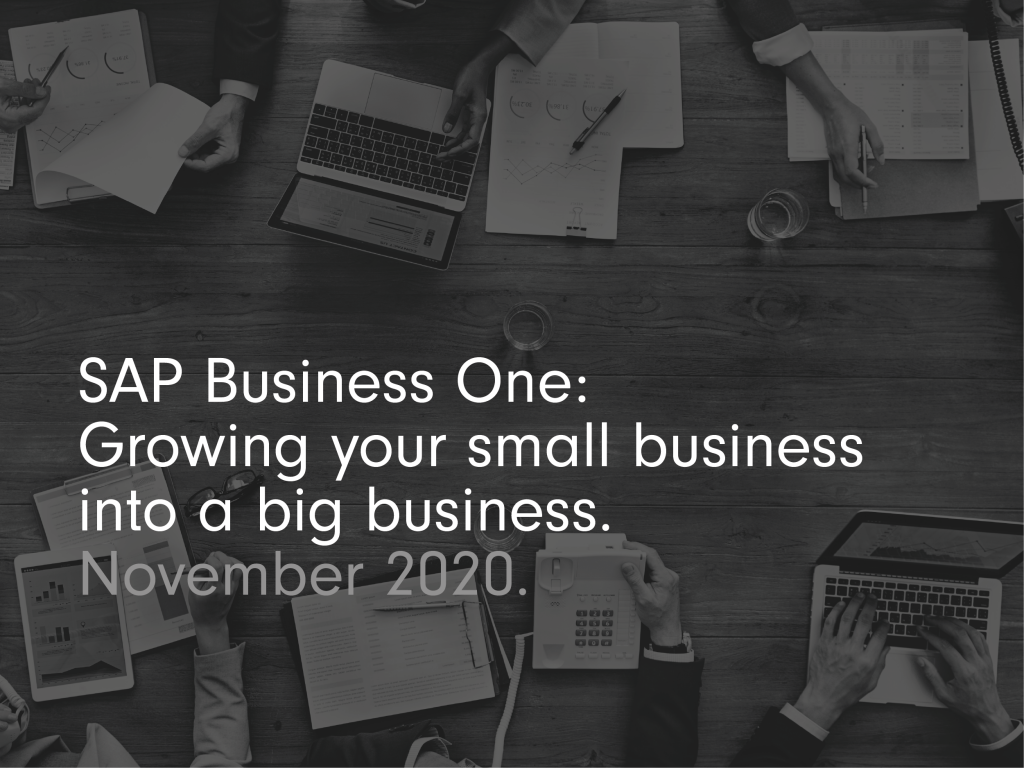 An integrated solution to manage your entire operation.
SAP Business One is an all-in-one Enterprise Resource Planning (ERP) solution. The single piece of software runs across your business to manage your finance and accounting, sales and customer management, purchasing and stock control, human resources, business intelligence and analytics. It is a comprehensive platform that runs everything, with no need to purchase different pieces of software for each department.
A single view of your business.
The all-round nature of SAP Business One means that your departments won't operate in silos or with fragmented information. As everyone is working with the same data, there is a single, real-time view of customers, stock and financials. Information doesn't exist separately in different applications but can instead be accessed by anyone within the company who needs it. As your company grows, having a consolidated view cuts through the complexity and helps you stay in control when managing your business.
Buy streamlining and automating processes, as well as consolidating data and improving visibility, SAP Business One can significantly improve your cash flow. It helps in other ways too. You can invoice more quickly, identify and automatically send reminders to slow payers and optimise your inventory. As a result, you'll get cash more quickly, reduce costs and so be able to have ready access to investment cash, allowing you to grow faster and sooner.
Powerful analytics for effective decision-making.
Powerful analytics and real-time data allow you to see your business clearly. Business intelligence is critical to a growing company and SAP Business One makes it easy to gather the company-wide information you need to make vital and timely business decisions. Users can customise the dashboard and reports, so that the KPIs they value most are prominently displayed, allowing for a constant check on progress.
Flexible and customisable.
SAP Business One is flexible and modular – with options that are applicable for any industry. It can be deployed on premise or in the cloud, and is accessible from anywhere, at any time using mobile devices. As your business grows, you can customise and enhance it to meet your evolving needs. And if your growth is international, it can handle multiple languages and currencies.
Integrate with warehouse management to streamline processes.
For smaller warehouse operations, SAP Business One has built-in warehousing capability. But as you grow, you may want the extra functionality that a dedicated warehouse management system (WMS) can bring. With more advanced, configurable WMS software, you can increase productivity in your warehouse by perhaps employing more complex picking strategies, using paperless scanning systems or supporting multiple warehouses.
Formidable software at an affordable price.
SAP Business One is a complete solution for managing your entire business – yet has a low total cost of ownership. With SAP Business One, you'll be running the same kind of system that's used by global blue-chip companies, but without the hefty price tag.
SAP Business One means big business.
Worldwide, more than 60,000 customers trust SAP Business One to run their companies. It helps them to plan better, react better and operate better. It enables them to provide great customer service, reduce costs, improve productivity and ultimately increase profits. As an affordable way to manage your entire business, in the same way, SAP Business One can help you grow your small business into a big business.
If you want a powerful yet simple to use all-in-one platform, with a user-friendly interface and big business features, call us on 020 8819 9071 or get in touch for a quote.