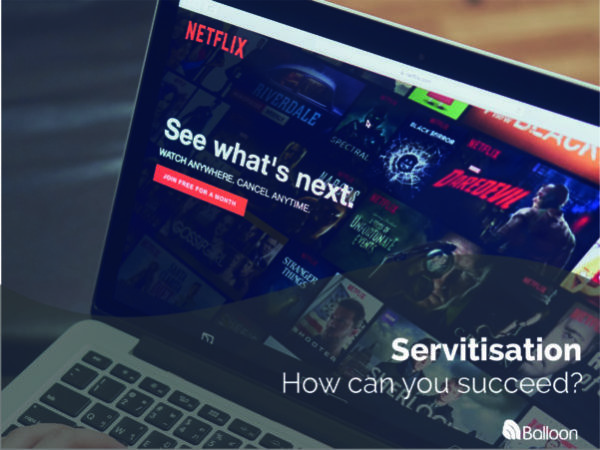 18 Sep

Servitisation: How Can You succeed?

Servitisation has quickly gained traction as a means of increasing revenue and profit for a business. But it's not something that many distributors will typically consider. If you're in the same boat, you may well think servitisation is not for you because you sell products, not services. And how could you possibly sertivise them?

Well, read on to find out more and see if servitisation could be useful in your own warehouse and distribution operation.
What is Servitisation?
Servitisation is short for the longer term, the 'servitisation of products'. It's a business model that creates value for your offering by adding a service onto your products, or even fully transforming your products into a service. Servitisation represents a shift away from a transaction model and towards a subscription model.
It sounds complicated. But it's not. Here are some examples.
Take the business products industry. Instead of just selling printers, additional income can be gained from adding on a service. In this case, it's an after-sales maintenance service, whereby service engineers will preventively and proactively service the products. This model itself has evolved beyond this in recent years, though. So, for a fixed monthly fee, a customer can get his product along with all the consumables, like ink cartridges and paper, and also print a certain number of copies. This has transformed the basic model. Instead of purchasing the products separately, the customer buys an all-inclusive service.
Servitisation is often associated with disruption of an industry. Subscription streaming services such as Netflix and Spotify, for example, have disrupted the traditional CD and DVD sales industries. In delivery their media as a service instead of as a one-off sale product, they have revolutionised the market. The outcomes are the same – the user gets to view TV or listen to music – but the business model has changed.
The advent of Internet of Things (IoT) has been a more recent catalyst of change. Sensors in products can monitor the status of all manner of conditions and can report back via the internet. Weight, temperature, humidity, volume, pressure, GPS location and much more can be evaluated. This has allowed companies to measure performance and efficiency and to automatically flag up when things are wrong, when parts of consumables need to be replaced, or when safety is being compromised. In turn, this has enabled a whole new industry of servitised products that report back and can not only be maintained, but also proactively given guaranteed service levels. All at a monthly cost, of course.
You may already have come across servitisation in the logistics side of your business. Some companies will provide tyres and servicing to haulage contractors "by the mile", instead of selling them outright. Here, the product is still the same outcome – the haulier stills gets tyres – but they are provided as a service rather than as a product.
Why are customers ready for servitisation now?
Since the 2008 financial crisis, the landscape has changed. We've seen strong price competition from global manufacturers, a squeeze on bricks-and-mortar shopping, and customers that want greater value and faster delivery at ever lower prices. The high street has been a notable casualty, but other industries have suffered too.
At the end of 2011, author Steve Denning wrote that, "Half a century ago, the life expectancy of a firm in the Fortune 500 was around 75 years. Now it's less than 15 years and declining even further." Only companies that remain agile and alert to market pressures have been able to survive.
To stay competitive and to survive, distributors need to do more than just sell products. They need to remain relevant by offering new services that will keep their customers happy. And keep them as customers.
And customers become more and more open to servitisation as it begins to pervade other aspects of their lives. They see it as the norm to subscribe to servitised products in perhaps their music streaming, so why not when it comes to other areas too.
Customers may also be using servitised products in their working lives. When the printer is being 'bought' via a managed services contract, or they are leasing equipment on a 'per-something' basis, it is easier and easier to apply this to all manner of purchases – both B2B and B2C. In particular, people are beginning to see that in business, using servitised products can make their own operations more profitable and streamlined, especially where the offering has a service aspect that prevents breakdown and keeps their business running smoothly.
How can servitisation benefit your company?
The prime goal of servitisation is to growth revenue and profit. Servitisation means you can get more income, more often. Take the Netflix example. Instead of a user purchasing or even renting a film, they subscribe to an ongoing service. The relationship with the customer then takes place over a longer timeframe and has the potential therefore to generate more income.
This engenders a greater sense of customer loyalty. Assuming everything else about your servitised product is great, you will be rewarded with a loyal customer base that will continue to renew their subscriptions.
Of course, you do need to back it up with good customer service, because you can't just sell something and move on. But this brings its own benefits. You then have a duty to provide good, responsive customer service.
And where you improve this, you also improve your how you respond to customers' needs and develop and refine your offering. This ensures you will improve product innovation, always aiming to provide the best products and services for your customers.
If your servitised product is innovative and even disruptive in your market, you become the business that wins over the early adopters and sets high barriers for others to successfully compete in your market.
Is servitisation for everyone?
Servitisation is not the golden goose for all distributors. You still have to create something that delivers value, has competitive advantage, and leverages economies of scope and scale. But servitisation of your products could help you to build new revenue streams and possibly even disrupt and transform your industry.
Balloon One offers support and maintenance services for all its customers. Our support desk staff support clients by phone, email and messaging. Plus, we operate a web-based service desk where customers can log tickets about any issues they need us to investigate and solve.
Many of our customers run cloud-based software that is automatically updated. But for those with on-premise software, we plan and implement software upgrades, and apply bug fixes and patches from our software suppliers.
For more information about our support and maintenance services, call us on 020 8819 9071 or get in touch.
Contact us