The Gartner Top 10 Supply Chains 2019.
A little while ago, Gartner announced its top supply chains for 2019. So, we thought we'd have a closer look at the companies that make up its top 10 supply chains.
The rankings are based 50% on the opinion of Gartner analysts and industry experts, and 50% on business performance, which takes into account the companies' financial performance and corporate social responsibility (CSR) data.
Outside of this list is the Gartner "Master's" list. This includes companies that are recognised as having "sustained leadership over the last 10 years" and comprises Unilever, Apple, P&G, Amazon and McDonald's.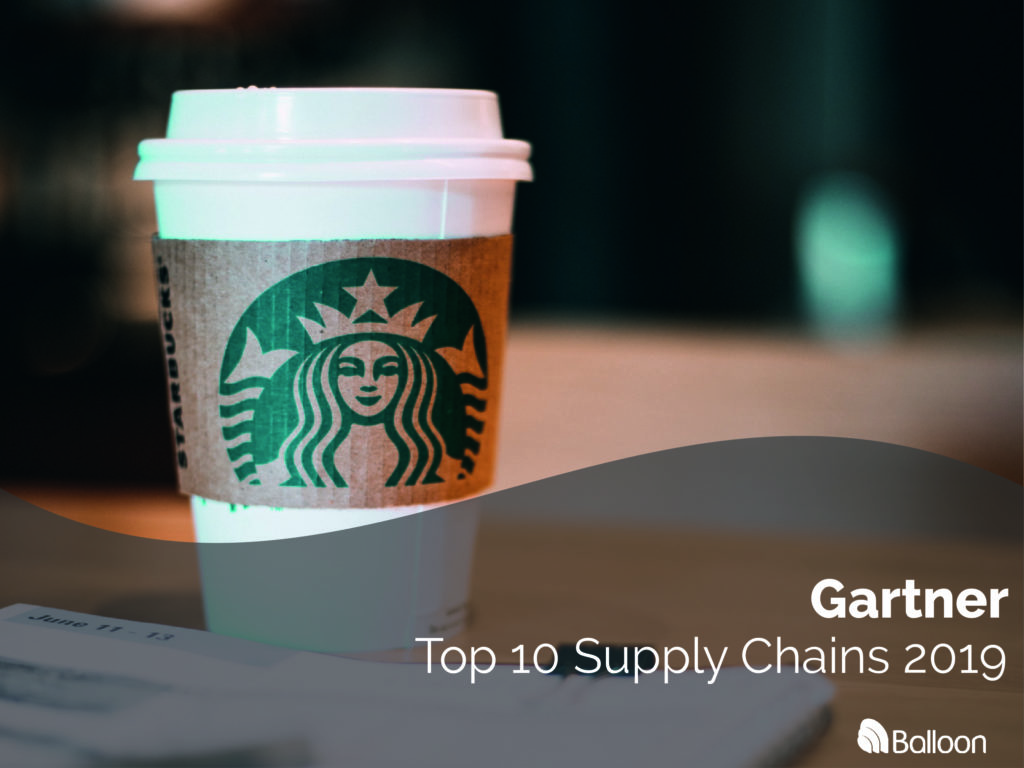 Colgate-Palmolive has jumped into top position from its fourth place ranking last year. A Gartner spokesperson explained that Colgate-Palmolive's top ranking this year is based on its "strong financial performance, combined with its focus on an aligned organization and impressive work in corporate social responsibility".
A number of the company's products use palm oil, which makes for a contentious issue when you're talking about factoring in CSR. However, Colgate-Palmolive has a "no deforestation" policy and has declared that by 2020 it will source its palm oil and derivatives from producers that use sustainable, responsible and traceable production. It's aiming to get its paper and packaging materials from recycled and responsible sources too.
Colgate-Palmolive has daily digital visibility of its supply chain and it also uses artificial intelligence (AI) and predictive analytics to improve the rate and quality of its production.
You may not immediately recognise the name Inditex. But it's the parent company of several retail fashion brands, including Zara and Massimo Dutti.
The Zara brand in particular is known for how quickly it recreates catwalk fashion and gets it in store ready to buy. It produces about 450 million items of clothing and accessories a year, and needs to get those in front of its customers, which it does by managing frequent deliveries to each of its stores around the world.
In terms of supply chain and CSR, the company aims for "a circular economy", where the life cycle of its products is efficient and contributes no waste. It also manages much of its own supply chain, which gives it a great deal of control and visibility over the entire process. Zara employs Just In Time production and uses feedback from stores to adjust lines and develop new, limited edition ones. This allows the company to sell greater numbers of its products at full price, meaning it doesn't suffer from the fashion scourge of having to regularly discount that season's items that haven't sold as well as anticipated.
Nestlé has long been a controversial brand and has been the subject of many mass boycotts. Thanks to its contentious practices, like how it hooks mothers in developing countries into buying formula, the use of unsustainable palm oil in its products, and more recently, bottling water in drought-ridden California, it has always been a company that has attracted accusations of misconduct.
But none of that prevents Nestlé from taking the number three spot on Gartner's list. It has been accelerating its drive to reach full supply chain transparency by disclosing its list of suppliers for consumers to be able to know what is in their food and where it has come from. And it has also used personalisation to drive sales, for example by offering consumers personalised tins of Quality Street chocolates and running a promotion with prizes of personalised packs of KitKat.
Aside from the obvious Pepsi-Cola, the PepsiCo portfolio runs to some 22 food and drinks brands, including Quaker, Tropicana, 7Up, Doritos and Walkers.
Environmental sustainability, technological advantage and the digitisation of the value chain are the drivers of innovation in its supply chain. The company actively looks to reduce both its environmental impact and its costs. For example, many of its production plants are zero waste, or near that, and its Frito Lay brand employs a fleet of more than 200 all-electric delivery trucks.
PepsiCo also employs machine learning to assist with the improvement of its delivery forecasts and uses robots for goods unloading.
Cisco Systems is a global technology company and a specialist in networking and cybersecurity. Many of its products are configured to order, which makes its supply chain less predictable than many. This means that it cannot reliably predict the components it will need, nor readily procure them from its several thousand suppliers.
Cisco Systems streamlined its supply chain by aligning business and technological architectures and processes. It also shifted its focus from being a product-based company, to having more of an offer-centric approach. The company uses blockchain, artificial intelligence (AI) and machine learning technologies to advance its supply chain practices.
Chip manufacturer Intel transformed its supply chain with the implementation of an integrated data platform that would enable data-driven decisions and ensure a "glass pipeline", one that would allow the company greater visibility into its supply chain and enable greater business agility.
This platform simplifies Intel's supply chain and provides better access to data for its planning staff, so that they can make better decisions, more quickly. Intel's supply chain transformation includes sophisticated predictive analytics that maximise the company's manufacturing capacity and improve visibility in its supply chain.
Across the globe, computer manufacturer HP delivers hundreds of thousands of computers, printers and consumables every day. To supply their customers via its global network, the company's supply chain has been built on "sustainability, dignity and transparency".
The company works in partnership with its suppliers, setting shared commitments and helping their suppliers to improve and evolve. It even uses its own products, namely 3D printers, to manufacture some of its components.
Automation is also important, and HP uses robots, drones and automated guided vehicles in its supply chain. Its recycling commitment and environmental initiatives are what give it a perfect score from Gartner for CSR.
Pharmaceutical and consumer healthcare products company Johnson & Johnson operates more than 250 companies.
Running more than 300 warehouse and order fulfilment centres across the world, the company has revolutionised its supply chain with technology. It uses robots for lifting heavy consignments in the factory and autonomous vehicle technology for assisting workers to move goods. It has also developed an augmented reality system that layers information on top of a worker's real-world view that helps to easily locate goods in the warehouse – allowing them to pick goods 20% faster. It even uses drones inside its warehouses, to help with stock counts.
Coffee retail giant Starbucks is renowned for its supply chain management practices, which include a vertically integrated supply chain that gives the company involvement in each step of the process that takes coffee bean to cup. The company works with some 300,000 coffee producers to ensure that each supplier meets exacting quality and flavour standards, to ensure consistency in its coffee across the world.
Its commitment to only sell Fair Trade coffee and its requirement that growers meet certain quality, ethical and sustainability standards boost its CSR score. Starbucks roasts all its own beans in six sites in the US and Europe, before shipping them to central and regional warehouses. Despite the company's size, its vetting of growers and close control of the production process allows it to maintain simplicity in a streamlined supply chain.
The use of real-time traceability gives Starbucks a high level of transparency in its supply chain and it has a strong third-party logistics (3PL) network that has helped it to achieve strong growth.
Footwear and sports clothing retailer Nike has made concerted efforts to speed up its supply chain. The shorter lead times have resulted in increased revenue, but without a substantial increase in stock holding costs. The company's Express Lane initiative has allowed it a better insight into its consumers to rapidly prototype and update lines with new materials and colours.
Nike has also introduced digital tools for demand sensing, tracking stock and enhancing the visibility of its supply chain.
However, Nike's CSR rating was low, probably due to claims that the company doesn't do enough to ensure no slave labour is used in its sub-contracted "sweatshop" factories.
So, that's the top 10 supply chains of 2019, according to Gartner. The full list ranks 25 companies and also gives details of how they scored in each area.