Final mile delivery is a key part of logistics. As the last part of the order management process, it necessarily depends on all the other parts leading up to it. But it has its own challenges too.
Getting final mile delivery right depends on fast, convenient delivery that provides the best service for customers, as well as doing it at a price that delivers the most profit for the distributor.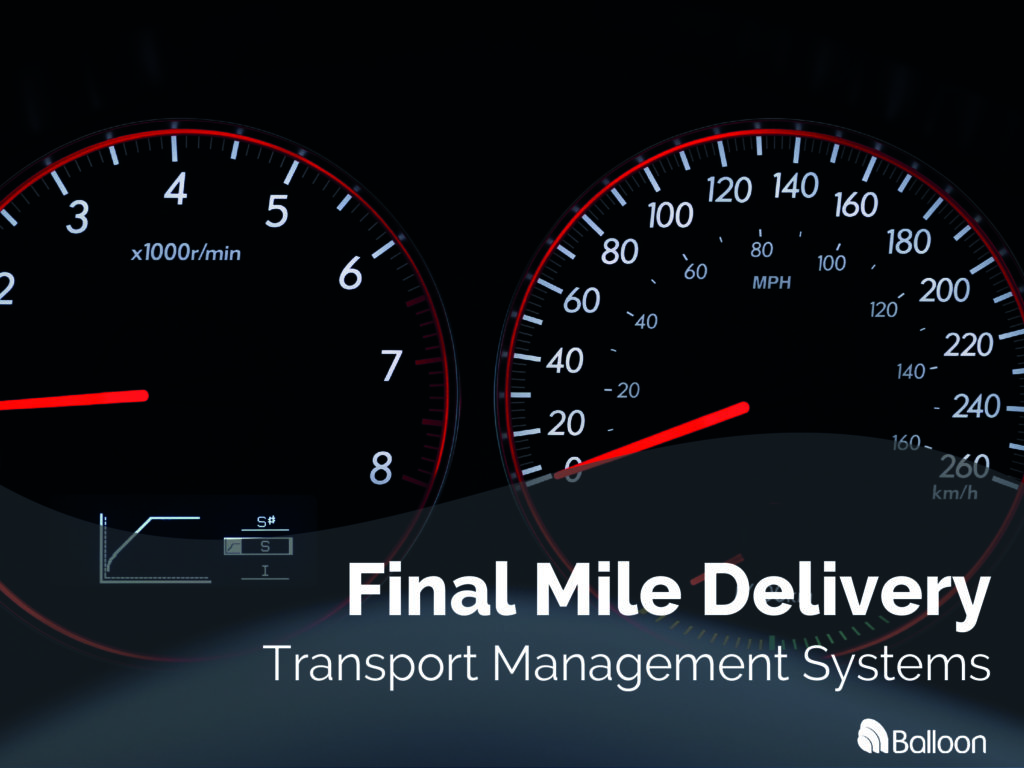 What is final mile logistics management?
Final mile logistics is the last stage of the order process – getting the goods from the warehouse or depot to the consumer. Of course, that's rarely just one mile, but as the last step, it can often be a matter of just a few miles from a delivery depot to a customer's home or chosen collection point.
There are many different ways of managing that process, and how distributors fare in this is key to keeping the customer happy.
Changes in final mile delivery have revolutionised order processing, especially for ecommerce operations. Customers demand – and get – next day or same day delivery. And increasingly, they are favouring retailers that offer convenient delivery options, simple returns procedures and low-cost or even free delivery.
To meet changing consumer requirements, distributors need to optimise how they manage their final mile delivery. Typically, last mile delivery is accomplished using parcel carrier companies. But other options are coming to the fore too. And choosing and managing these third-party couriers is what final mile logistics is all about.
The challenges in managing final mile delivery.
The principal challenge in final mile delivery for retailers is to be able to match the likes of Amazon and its same-day and next day delivery options. Customers want really fast delivery, but providing this while also remaining competitive can be difficult for smaller retailers.
Another challenge is in offering as many convenient delivery options as possible. Distributors need to be able to offer a choice, so that their customers can select the most suitable option. Home delivery, or delivery to a workplace, is of course standard. But a rise in ecommerce sales has led to all sorts of innovative delivery options. Local convenience stores, post offices and supermarkets now act as collection points. Retailers have for some time offered collection in-store, but these other options can often provide longer opening hours or collection from places that are more accessible for consumers. Delivery lockers are commonplace too now, where customers can collect their goods at any time, 24 hours a day.
Increasing traffic in urban areas can cause delays and make delivery times longer than anticipated. Parking or access restrictions can make some sites harder to reach. The majority of final mile deliveries are provided using courier vans. With more and more sales coming from ecommerce, delivery vehicles are having to find the fastest, most convenient routes to get to their customers.
Aside from traffic issues, the need to map out optimal delivery routes is a core challenge in final mile delivery. Planning an efficient delivery route manually can take a very long time, so investment in a transport management system (TMS) is vital for larger logistics providers.
The rapid rise in fuel costs has meant that logistics providers can struggle to remain competitive. Ultimately though, these costs need to be passed onto the distributors, who in turn must somehow pass them on to the end customer. Masking cost rises within the cost of the goods is often more favourable than raising delivery costs. Somehow there's a psychological knee-jerk reaction against paying more for delivery, while a similar rise in the cost of the goods we're buying may not be noticed.
Trends in final mile logistics.
One trend in final mile logistics has been finding new ways of getting the goods to the customer. With high fuel costs and urban traffic, delivery robots could be the future. Amazon tested drone delivery – although seems to have quietly parked this idea for now. But others like Starship Technologies are pioneering autonomous delivery robots.
Very apt for high population density urban areas, autonomous droids and drones also eliminate or dramatically reduce staffing costs. And with labour making up a large proportion of a distributor's costs, this makes them an attractive proposition for many companies.
Getting goods to consumers quickly is still the paramount aim. And if you serve a large geography, then that's never going to be easy. Sharing of warehouse space can counter the challenges here. It's estimated that Amazon's scores of fulfilment centres across the US puts the company within 20 miles of more than half of its potential market for same-day delivery. Emulating this sort of distributed warehousing via shared warehousing means retailers don't need to manage the warehouses themselves, but can get closer to larger numbers of the populations they serve.
To cut delivery costs, distributors are seeking out options that give them even better route optimisation. Delivery costs are made up of driver time and wages, fuel, and to a lesser extent, wear and tear to a vehicle. Where delivery times can be reduced, then costs will be too. Finding faster routes to get from depot to customer can cut delivery times and minimise the costs of delivery.
Transparent, real-time tracking is something that consumers are increasingly getting used to. With many services, customers are now able to go online or use an app to watch their delivery making its way to them. No longer are customers tied to waiting in all day for a delivery. Now they can be informed when it's arriving with minute by minute accuracy. Real-time transport management systems (TMS) offer enhanced visibility for both the consumer and retailer.
As for the future, it's not too much of a leap of faith to predict that logistics technology will some day be augmented by the application of machine learning. It's conceivable that TMS software could be improved via predictive analytics and that machine learning could mean that systems autonomously could make better routing decisions, for example.
If you offer in-house final mile delivery, then consider Balloon One's own Springboard Delivery app. It is a cross-platform application for cloud route optimisation and vehicle tracking, as well as proof of delivery capture on multiple Android devices.