Each year, Balloon One undertakes an activity or a challenge for charity.
Last year, five employees took on Ben Nevis in aid of Macmillan Cancer Support. And this year, we are aiming to raise both awareness and funds for another very worthy cause by once again tackling a climbing challenge.
The Challenge
This May, we will be completing the Welsh Three Peaks Challenge in aid of Alzheimer's Society.
Conquering the Welsh Three Peaks challenge means climbing the three peaks of Wales: Snowdon in the North, Cadair Idris in mid-Wales, and Pen y Fan in the South. Challengers cover a total walking distance of 17 miles and ascend 2,334 metres – all in less than 24 hours.
The challenge will test both the physical and emotional strength of our team. In terms of fitness levels, we are quite diverse. But we intend to motivate and support each other to successfully complete the challenge.
Alzheimer's Society
Alzheimer's Society is a UK charity that is "united against dementia". It supports those with dementia, campaigns for change, and funds research to find a cure.
Eighty-nine percent of funds raised go directly to help improve the lives of people with dementia. The remaining eleven percent is spent on supporting frontline activities.
Alzheimer's Society is the only charity that invests in research into dementia care, as well as its cause, cure and prevention. The charity is also known for its Dementia Friends initiative, which raises awareness of the condition and pushes for a more dementia-friendly society.
Our Goal
Thanks to the generosity of our supporters, last year's challenge raised £3,430 and this year we're hoping to exceed that.
Our target this year is to raise £5,000 for Alzheimer's Society.
If you would like to donate to this very worthy cause – and encourage our challenge team in their endeavours – we will be very grateful.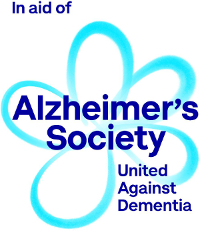 However large or small, all donations will both help the charity and spur us on. Who knows, we may even beat the 9 hours 6 minutes record!