Multi Carrier Management: Analysis and Recommendations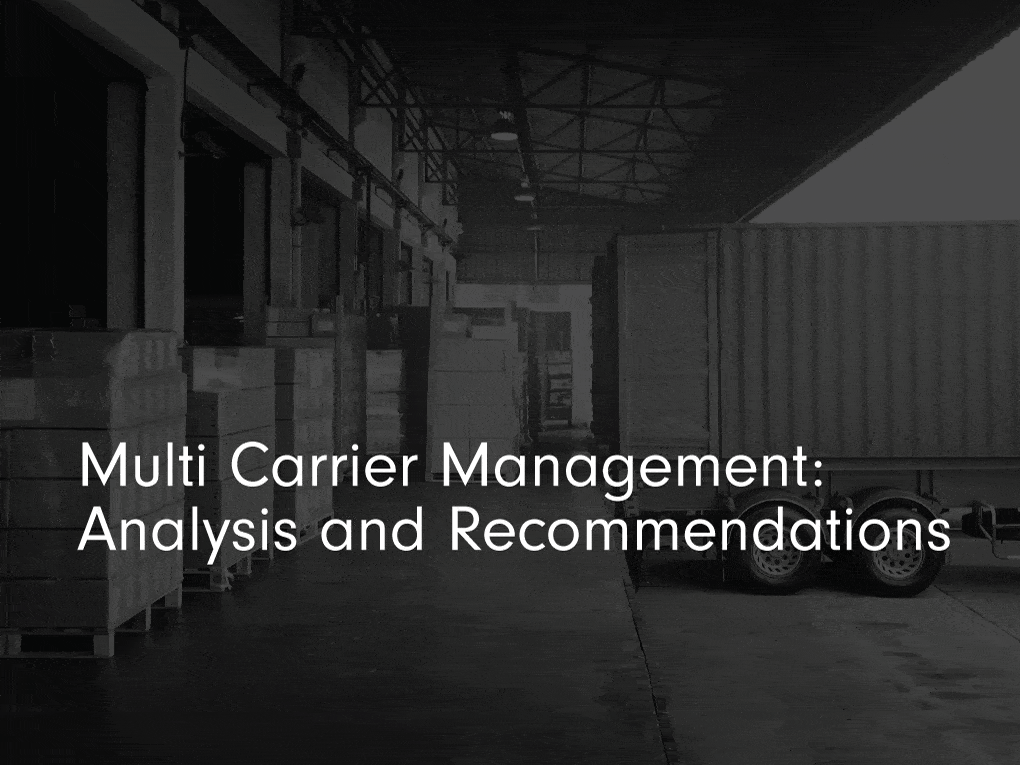 In an effort to meet customer expectations about delivery speed, distributors are opting to use multiple carriers. But each carrier has its own requirements and ways of working. To best work with this scenario, distributors need to integrate their warehouse systems with a multi-carrier management tool.
But what's the best way to do that? And how can you optimise your logistics without sky-rocketing your costs?
In a previous blog post, we looked at the multi-carrier management market. We follow up on this now with a closer analysis of the features to look for in multi-carrier management software.
The benefits of multi carrier management systems
Multi-carrier management solutions can shop around for the best carrier rate for you. Instead of manually checking prices, the system can match the parcel weight, dimension and destination with the best carrier.
Some systems can consolidate parcel deliveries. These aggregate many deliveries into one Less Than Truckload (LTL) shipment, combining a distributor's shipment with that of others. The load is then shared amongst a number of customers, lessening the costs.
And in markets with large territories – like the US, for example, zone skipping strategies can be used to save money. Companies consolidate parcels and transport them together over long distances. Near the final destination, the full consignment is divided into individual packages.
Multi-carrier management software speeds up the shipping process and also enables better visibility for consumers to track their parcels. Self-management reduces the workload of the distributor. They no longer need to receive calls from customers inquiring about the location of their parcel.
The biggest benefit though is that systems automatically manage each parcel carrier's preferences. They can print labels in a variety of formats. They can also create and print out shipping and export documentation.
Additionally, they guarantee that the distributor follows tariff and customs compliance regulations. This means that the shipper's parcels can be sent without delays, without incurring additional fees and without any danger that shipments are returned for non-compliance.
Essential features to look for in multi carrier management
The capabilities of multi carrier management software vary widely. And their features also therefore range from basic to very advanced.
We've identified the three core features that we feel our typical clients will need.
1. Compatibility with your other systems – so you can integrate
Distributors should integrate their Transport Management System (TMS) with a multi-carrier management solution. This is a good practice as it prevents operations from being siloed.
However, integration can be tricky where the packaging of individual parcels can't be determined until the order has been picked. In these cases, a TMS can only estimate the best way to ship. The ultimate choice, along with production of shipping documents and labels, is done by the warehouse management system (WMS).
Therefore, best practice is to integrate all management systems used in the operation. Make sure your chosen multi-carrier management system is compatible with your ERP, WMS and TMS so that you can integrate your systems into one seamless solution.
2. Outbound Integration – Host system to Carrier
Shipping integration should operate without interruption. It should connect your order system (ERP or WMS) to the selected carriers through an application programming interface (API). You are able, from within your host system, to send the delivery information – like customer address, number of packages, weight – to your carrier, thus registering the consignment.
3. Inbound Integration – Carrier to Host System
On successful consignment registration, your chosen carrier will send over both a Carrier Label and the relevant Tracking Detail. The label is printed automatically on your warehouse printers whilst the tracking detail can be sent to the customer as a trackable confirmation.
The next step
To optimise your parcel supply chain so that you can easily and cost-effectively send parcels within the UK, the EU and worldwide, a multi-carrier management system can help you do it. Once set up, it's a very simple process that takes little more than printing and affixing shipping labels.
Springboard Ship is a multi carrier management system. It will integrate with your other systems. This will help reduce your costs and optimise your shipping. It can integrate with various ERP systems, such as SAP Business One, NetSuite, Microsoft Dynamics, and Sage. Additionally, it can integrate with warehouse systems and transport management systems.
Would you like to take a closer look at Springboard Ship? Call us on 020 8819 9071. Alternatively, you can get in touch for a free demonstration.