For mobile computers and barcode scanners to work in the warehouse, you need a reliable and effective wireless networking system.
With many devices in use in the warehouse, there's a risk of packet collisions. This is where more than one device attempts to send a packet of data on the network segment at the same time. But an optimal warehouse wireless network can increase throughput by reducing packet collisions, and ultimately reducing roaming times.
At Balloon One, and using our UK partner network where necessary, we offer a structured approach to setting up a wireless network in your warehouse. We survey, plan and implement technology that gives you the most powerful solution for using your Wi-Fi devices to run an efficient warehouse.
Site Survey
Whether you're looking to install a new system, or want to boost your existing infrastructure, the first step is to carry out a site survey.
An engineer will map the areas where you want coverage. Then, by carrying out physical wireless propagation tests, we can determine the optimum configuration of your system. This will determine how many access points are needed and where best to locate them to ensure you get 100% connectivity.
We also review the layout of your warehouse and simulate the RF coverage to identify any sources of radio interference or security risks.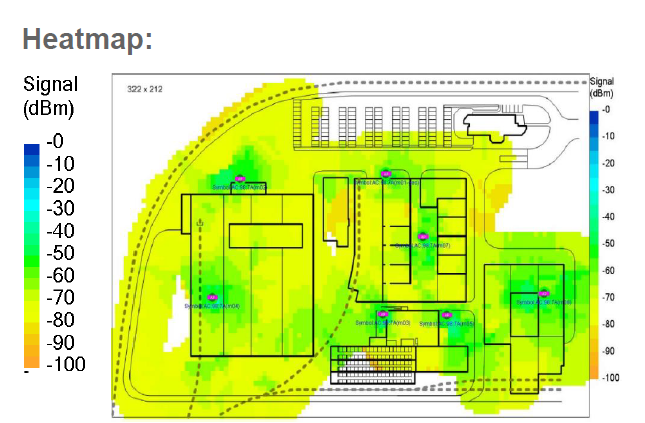 Design and Planning
In the design and planning stage, we consider a number of factors that will affect the configuration of your system.
These include the inputs from the site survey, such as the physical, geographical and environmental elements that might hinder your Wi-Fi coverage.
We also take into account:
The number of users and devices you want

Levels of network access and security

The mobility of your workforce and their roaming needs

Your future-proofing or scalability requirements

Which areas have the most dense usage

Which applications you want to run on the network

Whether you need to allow staff to use their own devices (BYOD) on your network

Whether you want to allow guest network access
Of vital importance though is security. We plan a robust and secure network, ensuring performance and resilience so that your business is protected against security threats and that vulnerabilities are minimised.
In partnership with leading WLAN vendors, we can and design your wireless network to incorporate the latest RF solutions and devices.
Installation and Commissioning
Once we have together agreed a design and specification for your network, we will configure and install it. We will quickly install the wireless equipment, network cabling and associated infrastructure. And we work around you so that the disruption to your business is minimal.
Our partners have a great deal of expertise and knowledge. They have installed systems in all manner of verticals and in all types of warehousing environments.
Once installed, we will test and commission your wireless network system. We will check to see that it meets the coverage specified in the site survey. And we configure and test your RF devices to check that everything works as it should.
Maintenance and Support
For continued optimum performance, we offer warranty and maintenance services for system. wireless network. We can work remotely, can offer onsite support, and we can provide regular proactive infrastructure and device healthchecks.
You can have as much or as little control over your network as you like. You can maintain aspects of it yourself, or hand it all over to us for full peace of mind.
Our various maintenance and support services provide our customers with the convenience that Balloon is a one-stop shop partner. We can be your single point of contact for your wireless networking (as well as other hardware and warehouse software). In this way, you can be certain you're getting a consistent network performance and that downtime is minimised so that your workforce can continue to be productive.
Wireless Networking Systems
We offer many different solutions and work with renowned suppliers. These partnerships allow us to offer all manner of warehouse solutions, including LAN and WAN solutions, network switches, and security performance. Examples of solution we can provide include:
Wireless LANs that can handle a large number of devices on one network and which are scalable to incorporate large bandwidths, for example to include the use of BYOD.

Outdoor Wi-Fi that is rugged and weatherproof for warehouse environments with the need for outdoor storage and operations. We can offer Point to Point, Point to Multi Point, Mesh and WLAN.

Highly scalable network switch solutions for the ultimate in network performance, management and security, for example, network switches that feature multi-gigabit Ethernet technology with PoE (Power over Ethernet) power.

Security measures that are designed specifically for protecting mobile workforces against vulnerabilities. Guest Wi-Fi access and BYOD can present threats to the security of your Wi-Fi network. Here, remote network monitoring and management can give you the confidence that any issues can be rapidly detected and dealt with.
Find out more about wireless networking in your warehouse. Call us on 020 8819 9071 or get in touch.