A distributor looking to sell its products through Amazon as a first-party supplier – that is to have Amazon undertake the fulfilment, shipping and customer service for those products – needs to use Amazon Vendor Central.
To use this system, suppliers are required by Amazon to comply with various shipping constraints. Amazon provides a detailed 22-page guidance booklet that sets out the conditions that the supplier must meet. These cover purchase order management, carton dimensions, pallet building, shipping label sizes and fonts, barcode parameters, label positioning, bills of lading, freight loading restrictions and more. Additionally, all Vendor Central suppliers must submit their shipments using ASNs (Advanced Shipping Notices) and must use a specific EDI specification if using EDI.
Amazon is such a dominant force in retailing in the UK that it's no surprise that vendors are queuing up to sell through them. But with such numerous and restrictive conditions, suppliers are having to invest considerable time and effort in meeting them.
Manual or automatic?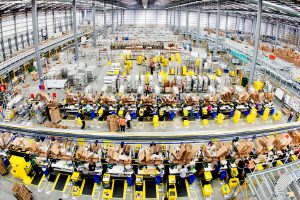 All the various tasks and specifications to be met need to be set up in advance and may well require changes to internal processes. But even complying on an ongoing basis requires a lot of labour, with printing of documents, and rekeying order information. One of our clients found that to process a single Amazon order with 30 or 40 lines can take staff five hours – and that's not including the time to pick the order and label the products.
This is an extremely inefficient use of time that has a direct impact on a warehouse's bottom line. It also entails the risk of human error, with keying mistakes being made. Amazon punishes mistakes with non-compliance fines – it calls them "chargebacks". And while these have been waived for many years, suppliers are beginning to find that Amazon is starting to enforce them.
To comply with and manage the specific Amazon Vendor Central requirements in a more efficient way – and without risk of incurring fines – can be achieved using a WMS (Warehouse Management Solution) such as HighJump.
Using HighJump WMS to achieve Amazon Vendor Central compliance
HighJump WMS removes much of the manual labour involved in the process of selling to Amazon. Integrated with handheld scanners, it can capture the information required by Amazon Vendor Central and transmit it electronically to Amazon via EDI. For the client mentioned before, this would reduce the processing time of the same 30-40 line order by at least four hours – giving an 80% reduction in labour costs.
To meet the document submission requirements, ASN information from the Highjump WMS can be provided for transmission to Amazon in an EDI document.
This automated solution also helps to reduce the risk of non-compliance fines, which could amount to thousands of pounds a month for a major supplier.
What should distributors do?
It's clear that suppliers wishing to capitalise on the stronghold that Amazon has within UK retail need to step up and meet its stringent requirements. Amazon's demands for best practice from its suppliers are not unreasonable, but many companies will struggle to meet it without employing a WMS.
If you're struggling with compliance using Amazon Vendor Central, speak to Balloon One today to arrange a process audit to identify the improvements you can make in your distribution setup.