NetSuite's core functionality, with its warehousing module, NetSuite WMS Lite, includes some basic stock management features. But for many of our customers who run complex ecommerce or warehousing operations, they find that a more specialised warehouse management system (WMS) can greatly enhance their capabilities – and in turn, their profits.
HighJump Warehouse Edge (previously Accellos One WMS) is a certified SuiteApp, endorsed by NetSuite. It integrates seamlessly into the NetSuite platform and enriches the functionality of a company's ERP system, to deliver a superior warehousing product.
HighJump Warehouse Edge
HighJump Warehouse Edge provides businesses with advanced stock management and optimisation capabilities. Integrating flawlessly into NetSuite, it provides a company with complete stock transparency.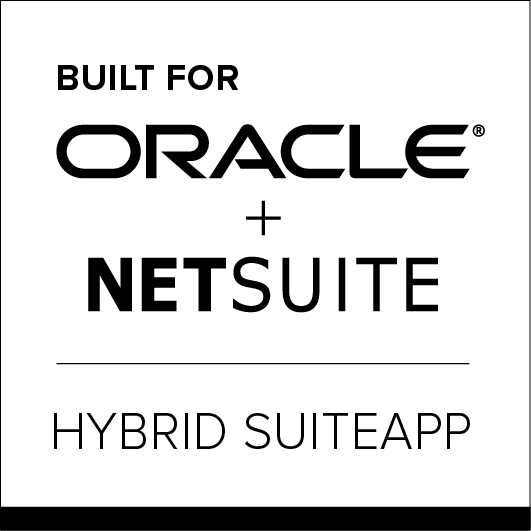 The key benefits of HighJump Warehouse Edge are:
It is competitively priced, which gives a quick return on investment while improving processes, optimising warehouse space and managing how your warehouse operatives work

Both Balloon One and HighJump run product teams that are dedicated to managing NetSuite integrations

It has a modular design with integration-friendly architecture, making it simple to upgrade or add new modules, meaning you only pay for what you need

It helps warehouse operations to achieve 99.9%+ stock accuracy, boost productivity, decrease staffing costs and reduce operational expenses

It is the only best-of-breed WMS provider with business intelligence, integrated shipping and EDI/ASN compliance

You can effectively manage fluctuating order volumes and discrete order types

It can be implemented on-premise or you can run it in the cloud

It has many successful customers in a variety of industries: consumer packaged goods, speciality food distribution, multi-channel businesses, wholesale distributors, 3PL, retail, ecommerce, medical device and pharmaceutical supply, clothing and accessory distributors, publishers and more.
NetSuite WMS Lite vs. HighJump Warehouse Edge
While NetSuite WMS Lite is perfect for many distribution operations, there are times when enhanced functionality is required. That need is subject to many different variables. However, as a rule of thumb, any warehouse with more than ten operatives should consider choosing an advanced WMS offering.
As you can see from this table, the HighJump WMS for NetSuite app really extends the capabilities of NetSuite and is the suitable system for larger operations.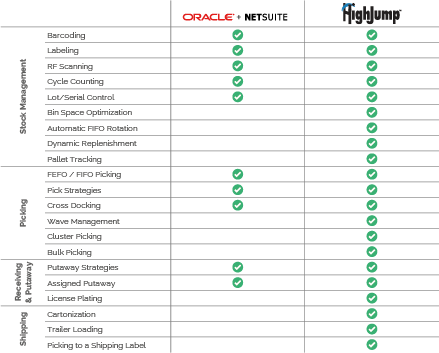 Balloon One customer, Baylis & Harding, a bathroom and toiletries products manufacturer and distributor, had been using a less-specialised WMS. But as the company grew, they realised HighJump Warehouse Edge was more appropriate. Says Managing Director, Adrian Slater, "Having enjoyed significant growth, our existing WMS did not deliver the features and functionality we needed to take the business to the next level. Therefore, as an existing NetSuite ERP user, it was imperative that we chose a cloud-based system that would interface seamlessly with it."
If your business is expanding and your current warehouse management system is no longer up to the job, the HighJump WMS, Built for NetSuite product leaflet will show you how an enhanced warehousing system such as HighJump WMS for NetSuite can take your business to the next level.
Find out more about HighJump for NetSuite
Download this brochure now to explore the capabilities of the most comprehensive warehouse management system available to the NetSuite market. Learn how our dedicated NetSuite integration team minimizes implementation time, reduces costs, and provides the peace of mind that your integration is proactively managed.