Our new release of Springboard Delivery is here!
Much anticipated, our latest release of Springboard Delivery has been upgraded to an entirely new cloud platform, bringing with it the ability to host a wide variety of new features including:
Intuitive route Scheduling
Driver movement, route progress and speed tracking
Barcode compatible detailed proof of delivery capture in real-time.
Integration with ERP / WMS systems as standard.
Springboard delivery provides Transport managers the ability to plan delivery routes, track the fleet, and manage day to day operations in one package. Integrated with driver phones / handhelds, Springboard delivery allows the live capture of proof of delivery information and telematics data.
With more than 100 users already, Springboard delivery has been extensively tested in the field, with over 100,000 deliveries recorded.
The latest release of our Springboard Delivery app is now available. It has been trialled by some existing customers and is now available on general release. In addition to proof of delivery, this latest version adds new routing and tracking features.
Available for Android phones, Springboard Delivery is a cloud-based application that gives companies an easy, paperless proof of delivery method, along with routing and tracking functionality.
Here's the key features:
Proof of delivery:
Electronic proof of delivery – real-time, geotagged and time-stamped delivery proof, with name, time, signature, location and photos.
Barcode compatible – scan and record barcodes against deliveries.
Customisable – customise your own proof of delivery documents with your company logo.
Email notifications – easily email your customers proof of delivery or collection.
Add notes – drivers can record their own notes about deliveries, including taking customer feedback.
Routing:
Routing – simple to use routing that allows the quick assembly of the routes.
Allocation – allocates driver and vehicle resource by route.
Tracking:
Live tracking – view a map of the live location of your vehicles, so you can see where they are at any time.
Dashboard – at a glance, view the location of your fleet vehicles and the active deliveries.
Easy to use:
Cloud-based – the app is available through any internet-connected device, such as tablets, laptops and mobile phones and can be used while on the move with mobile devices.
Intuitive – there is no complicated setup. Just download the app on an Android device, enter your username and start downloading your deliveries.
Easy to use interface – simple mobile phone application functions ensure minimum training requirements for your drivers.
Scalable – you can add as many users as required, performing as many deliveries as you wish.
Technical and support:
Secure – 256-bit SSL encryption.
Integration – able to fully integrate with Enterprise resource Planning (ERP) and Warehouse Management Systems (WMS).
Customisable order imports – use your existing CSV/Excel delivery manifest file, without having to change its layout.
UK-based support team – ensuring your application remains usable.
Future development roadmap – advanced fleet and resource management functionality planned, including: route optimisation; ETA updates and driver alerts; fleet and resource management tools, allowing you to manage your vehicles and drivers.
Development opportunities – can be customised further: discuss your user specific requirements and needs with us.
Pricing and more information can be found on the datasheet: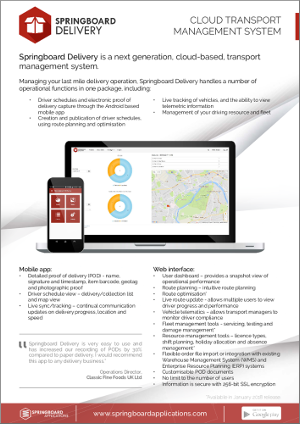 You can download the latest version of the Springboard Delivery app from the Google Play store now.