Gartner FrontRunners is a quadrant report that uses data-driven assessment to determine which software products in a certain category offer the best value and capabilities for small businesses.
Like the Gartner Magic Quadrant, FrontRunners plots the ERP market's top 20-30 solutions in a quadrant format. It pitches each product against its peers according to capability and value and plots them on the chart according to their scores.
Designed to help the leaders in small businesses when making a software purchase, it is completely data-driven and influenced only by user reviews and not via analyst interpretation.
The latest report has recently been published and we're pleased that the two ERP solutions we offer – SAP Business One and NetSuite – have both been determined to be leaders in the ERP market, offering good value and capabilities for their users. Gartner points out that no one quadrant is necessarily better than another, and that each may have its benefits, depending on a business's needs. However, the report itself looks at the top 22 products and "Leaders" are the ones that offer a good balance of functionality and value for money. Gartner describes the leader quadrant as "all-around strong products. They offer a wide range of functionality to a wide range of customers. These products are considered highly valuable by customers."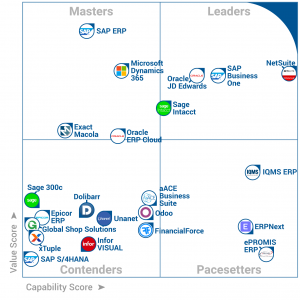 If you're unsure about which solution might be right for you, our blog posts comparing NetSuite and SAP Business One will help you out.
For completely independent advice on either of these leading software solutions, or for any further information, please get in touch.
Can't decide between NetSuite and SAP?
As Balloon One is the only UK partner of both these leading systems, we are able to offer unbiased advice on which solution is best for your specific business needs. Download the comprehensive 'SAP Business One vs NetSuite' comparison to explore the capabilities of both ERP systems.