A couple of weeks ago in London, NetSuite hosted its annual Next Ready Business Tour conference, showcasing the company's plans for the expansion and optimisation of the ERP platform. Next Ready Business Tour 2017 did not disappoint and there were exciting new developments in many different areas. We've pulled out five that we believe are the most exciting.
1. SuitePeople
Human Capital Management (HCM) was a major focus for NetSuite during Next Ready Business Tour. The company's advanced HCM module – SuitePeople – was announced and will be launched for UK users of the NetSuite platform later this year. The module will take NetSuite's existing HCM functionality and extend it in three key areas:
Human resources functions: global employees; jobs and positions; departments and locations; reporting; qualifications; compliance; and employee portal.
Workforce management: global payroll; time tracking; time-off management; expense management; and recognition.
Compensations and benefits: compensation tracking; job levelling; benefits tracking; benefits enrolment tracking; and ACA reporting.
The increasing functionality of NetSuite, especially in the area of HCM, highlights the focus on creating a single business management solution for all functions of a business. The benefits of seamless and transparent cross-functional management to companies of all sizes are staggering and this continues to be demonstrated from customer successes.
2. NetSuite Lite WMS
NetSuite's Lite Warehouse Management System is looking like an increasingly viable option for start-ups wanting inventory management capabilities. Functionality includes:
Barcoding, labelling and RF scanning
Cycle counting
Putaway strategies and directed putaway
Lot/serial control
Pick strategies and FEFO / FIFO picking
Cross docking
Advanced WMS functionality (such as wave management, bin space optimisation, cluster picking, cartonisation, and bulk picking) will still be required for those customers with larger warehousing operations. For advanced WMS functionality, HighJump WMS for NetSuite is a better option.
3. Digital Impact on Sales and Marketing
Citing market research figures, NetSuite said that 25% of businesses asked felt that "customer interaction processes will increasingly be automated" and a further 20% stated that "sales will increasingly move online".  It is clear from the continued development of its already advanced CRM, NetSuite is not shying away from these trends. Automation processes across sales and marketing roles are becoming more seamless.
Additionally, SuiteCommerce is being frequently adopted by UK businesses as an in-built ecommerce platform. The benefits are becoming more apparent, with the alignment between the ecommerce channel, sales, marketing and operations showing clear benefits, such as transparency and control over most stand-alone ecommerce alternatives.
4. Increasingly Global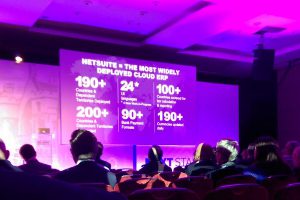 NetSuite's vision on being the first truly globalised platform is reinforced by its expansion in Europe, with Mark Woodhams announcing the addition of both Spanish and Portugese localisation, including tax and regulation standards. NetSuite is now deployed in more than 190 countries and territories and is available in 24 different languages.
This vision of NetSuite can be seen in its multinational solution, OneWorld, which allows for the unified management of global businesses. OneWorld featured again in this year's Next Ready Business Tour, with the growing of functionality in global business management data, from summary to detail, through comprehensive financial and operational role-based dashboards and real-time reports.
5. SuiteSuccess
SuiteSuccess has been an impressive model for NetSuite in Northern America, focusing on delivering quick implementations that will return value for the customer as soon as possible. SuiteSuccess is comprised of four key pillars:
Build – a complete suite to support the modern business, built on the NetSuite cloud platform, continually updated.
Engage – leading practices for each industry and role, including workflows, KPI reports, dashboards and metrics, with the flexibility to personalise on the NetSuite platform from the initial sales contact to on-going support.
Consume – intelligent, staged approach via NetSuite's industry stairway allows companies to consume capabilities based on their business needs.
Optimise – customers benefit from continuous engagement, updated leading practices, new feature releases, value-added SuiteCloud partners and movement up the stairway.
Its introduction to the UK market will, no doubt, drive excellence across the ERP industry, particularly the focus on continual customer engagement.
From the inspirational keynotes at SuiteConenct 2017, it was clear that NetSuite continues to follow its vision and is relentless in developing NetSuite, building on what is already a world-class platform.
Can't decide between NetSuite and SAP?
As Balloon One is the only UK partner of both these leading systems, we are able to offer unbiased advice on which solution is best for your specific business needs. Download the comprehensive 'SAP Business One vs NetSuite' comparison to explore the capabilities of both ERP systems.