We're really pleased to announce the next release of our Springboard Delivery app, available early in September.
Springboard Delivery is a cloud-based application, available for Android phones, that was developed to give companies an easy, paperless proof of delivery method. It has been very successful and already has more than 100 users, who have captured more than 100,000 signatures. One of our customers has 14 drivers capturing around 300 signatures a day.
With the latest release, we're adding a number of exciting new routing and tracking features.
The new routing functionality is very simple to use and quickly assembles routes. It's particularly good for distributors that deliver to the same customers over and over, or who only need simple routing software.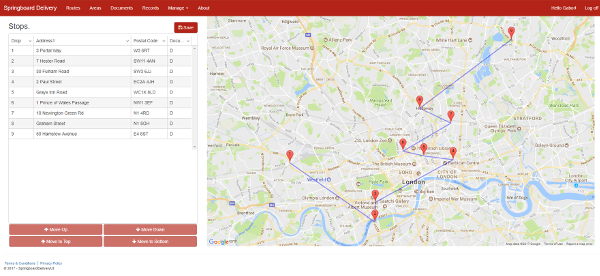 It is straightforward and quick to use, without the need to maintain large amounts of delivery data, delivering optimised routes appropriate for regular delivery locations. With improved route plans, vehicle mileage and driver hours can be reduced, thus saving money.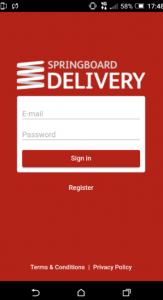 For tracking, the application provides all the tools needed for monitoring a driver's progress and behaviour whilst on the road.
Springboard Delivery is a simple piece of software that is extremely competitively-priced compared to the complex route planning software that's available. Here's a run-down of the key features:
Proof of delivery:
Electronic proof of delivery – real-time, geotagged and time-stamped delivery proof, with name, time, signature, location and photos.
Barcode compatible – scan and record barcodes against deliveries.
Customisable – display a logo on your own app to brand your own version.
Instant email notifications – following delivery, automatic proof of delivery emails are instantly sent to customer and sender.
Add notes – drivers can record their own notes about deliveries, including taking customer feedback.

Routing:
Routing – simple to use routing that allows the quick assembly of the routes.
Allocation – allocates driver and vehicle resource by route.
Route optimisation – reduces mileage and driver hours.

Tracking:
Live tracking – view a map of the live location of your vehicles, so you can see where they are at any time.
Dashboard – at a glance, view the location of your fleet vehicles and the active deliveries.

Easy to use:
Cloud-based – the app is available through any internet-connected device, such as tablets, laptops and mobile phones and can be used while on the move with mobile devices.
Intuitive – there is no complicated setup. Just download the app on an Android device, enter your username and start downloading your deliveries.
Easy to use interface – simple mobile phone application functions ensure minimum training requirements for your drivers.
Scalable – you can add as many users as required, performing as many deliveries as you wish.

Technical and support:
Secure – 256-bit SSL encryption.
Integration – able to fully integrate with Enterprise resource Planning (ERP) and Warehouse Management Systems (WMS).
Customisable order imports – use your existing CSV/Excel delivery manifest file, without having to change its layout.
UK-based support team – ensuring your application remains usable.
Future development roadmap – advanced fleet and resource management functionality planned, including: additional optimisation functions within routing; ETA updates and driver alerts; fleet and resource management tools, allowing you to manage your vehicles and drivers.
Development opportunities – can be customised further: discuss your user specific requirements and needs with us.
You can download the Springboard Delivery app from the Google Play store now. It currently only has the proof of delivery functionality, but the new features discussed here will be added with the next release, available in early September.