A study from Forrester Consulting, commissioned by NetSuite, shows that future ecommerce will take place in the cloud. Integrated ecommerce solutions, such as the use of cloud solutions, bring major benefits for midmarket companies.
The key takeaways from the report are:
Business- to business buying is moving online.

Notably 72% of respondents said that more than a quarter of their B2B sales were made online.

Customers are demanding B2B online solutions and sellers are responding.

For instance 59% of sellers have made ecommerce a priority this year.

A unified ecommerce solution brings improved customer satisfaction.

Correspondingly customer acquisition, upselling and cross-selling, profitability and satisfaction rates are all higher where unified solutions are used. (Compared with sellers using standalone, "best of breed" systems).
Key metrics from the report are shown in the infographic below:

The full study gives further information, click here or tap on the image to download the report.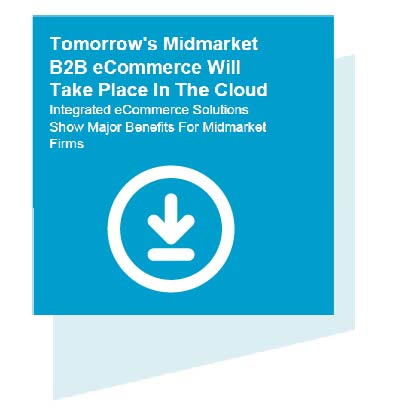 If you want to integrate your ecommerce solution with your ERP, or deliver a unified solution for your B2B customers, then Balloon One can help you. Please call us for a free demonstration of our ecommerce capabilities on 020 8819 9071. Alternatively contact us using the website form.