Several of the Balloon team visited NetSuite SuiteConnect 2016 earlier this week.
Held at the Park Plaza Westminster Bridge Hotel in London, the theme this year was "Make Bold Happen".  The overall message from SuiteConnect 2016 was that the cloud has changed everything.  It has accelerated global competition and has forced companies to rethink their business models. To meet that, NetSuite can transform businesses of any size and with any business model, and brings the agility and flexibility necessary to thrive in today's rapidly changing business world.
Mark Woodhams, Senior Vice President and MD, NetSuite EMEA, opened the proceedings by telling us how NetSuite EMEA has grown rapidly. Five years ago there were just 35 employees, based in the UK, and now there are 900 across the UK, The Netherlands, Spain and the Czech Republic.
And today, worldwide, NetSuite has nearly 5,000 employees and had a 2015 financial year revenue of $741m. It is the fastest growing top 10 financial management system globally and the number one cloud ERP.
Woodhams declared, "We help big companies act small and help small companies act big". He then introduced some guest customers that are using NetSuite to fuel their expansion.
Nathan Furr, Prof of Strategy & Innovation at business school INSEAD was a compelling guest speaker at SuiteConnect 2016. His presentation was "Hybrids: Tools to Conquer Change".
He observed that there is much "disruption panic" because companies feel they need to "disrupt or be disrupted".
But he wants companies to take a slower approach to transformation.  He judges that there is only a certain amount of performance that the average customer can absorb. They don't use the full functionality of their technology or devices.  For the average customer, that's more than they need. Yet the established companies are chasing that high end of tech progress because they make money making the next new feature or bringing the next innovation to market. And these incumbents usually win that battle. Yet, disruption comes in when a company can disrupt that mainstream product or technology. Incumbents are so focused on improving the existing product that they miss that new niche or disruptive business model.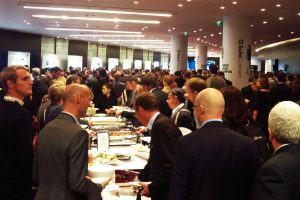 And so, he explained, over time the new entrants usually win. In hindsight, the disruptions appear fast and certain and the failed companies look slow and stupid. We tend to use our past experiences and want to adapt right now.  But there are dangers in doing this. When we look back on history, those large companies that failed had wanted to innovate, but they jumped in too early because of their fear of the disruption. They then got their fingers burned and waited, but ended up waiting too long.
Furr explained that new entrants to markets who are looking to disrupt should take time to make their mark, because change takes time. For example, when Edison invented the light bulb, it made the gas companies up their performance five-fold, meaning that electric light took another 12 years to take hold.
So, in looking to adapt, Furr's proposition is that companies should look to hybrids to bridge the leap from existing to newer technology.
Innovators can combine pieces or elements into a hybrid and from that they will learn more about the new technology, how it works and how it can be used. Examples he gave were the hybrid cloud and the Microsoft Surface.
But, Furr explained, hybrid products are not the only approach. Hybrid business models can be profitable too.  For example, shifting away from transaction-only methods of purchase to subscriptions or a freemium model. Or offering products on a fee basis such as Hilti the power tools company does. In this way, companies can reap the rewards of ongoing, high margin monthly payments rather than the traditional model of product sales, which brings lower revenue in the form of one-off payments.
With many more case studies – such as Apple developing the App Store; the creators of the Half Life game developing the games distribution platform Steam; and Qihoo, the anti-virus software developer building an extensive software sales platform – we certainly found out how "hybrid business models are a bridge to the future".
Finally, Zach Nelson, CEO took the stage to address the SuiteConnect 2016 audience. Nelson's presentation centred around how cloud is the "last computing platform", and how, therefore, in the ERP arena, NetSuite is the ultimate software solution.
There were some impressive statistics:
NetSuite is approaching a billion dollar run rate. Only three companies in world have done this on a subscription basis.
30, 000 companies, subsidiaries and organisations use NetSuite and it has customers from all industries.
There are 4 million logins into the system every quarter.
9 trillion bytes of data are added to the system every day.
There are 260+ certified apps available for NetSuite developed by the partner network.
Nelson had three lessons for the audience:
Lesson 1 – every company is a cloud company
As a cloud company, by only delivering your products differently, you can build a larger customer base. For example, newspapers now have global subscriber bases of millions, rather than local customers of thousands.
Lesson 2 – the power of cloud is data aggregation
With paper-based companies, you could never have done what can be achieved with cloud-based data integration. All the successful companies, like LinkedIn, Facebook, GoPro, Lyft and NetSuite, have put data mining at centre of the application.
Lesson 3 – cloud enables entirely new capabilities
The cloud actually makes it easier to solve lots of the complex business problems. For example, functionality that allows for world for "multi company, multi currency" is easier to deploy in the cloud than it is to deploy physical servers across the globe.
If you take companies such as Amazon, eBay and Google, for example, these are business models that were not possible without the cloud. There are tons of everyday applications that wouldn't exist without the cloud.
Nelson went on to illustrate how business models are changing, and how there are new markets, new pricing models, new products, services and bundles, and new sales channels. NetSuite is a single platform that is able to deal with all business models.
The point of Nelson's presentation was to show that "The Cloud is the last computing platform". We have gone through mainframes, to client servers, to the cloud. And he reiterated that "cloud is the last disruption".  Companies that leverage cloud, he said, will be the winners in their industry. And they will go on to win for 100 years, not just 20 years.
And to add to that, he warned that if you are not building your own business model in the cloud, you are probably going to be a five-year company, not even a 20-year company.
After the keynotes and lunch, there were focused breakout sessions to improve NetSuite expertise and to learn about the latest advances, and the day finished with cocktails and more networking.
NetSuite SuiteConnect 2016 cemented our beliefs that NetSuite is a dynamic, forward-looking and exciting company to work with and that the product is one that will continue to deliver great value to our clients.