The "cloud" as an everyday business concept has been talked about since around the end of the 1990s. With the advent of web 2.0, increased bandwidth and technological developments, the cloud started to gain traction and companies like Salesforce started to offer cloud-based business solutions.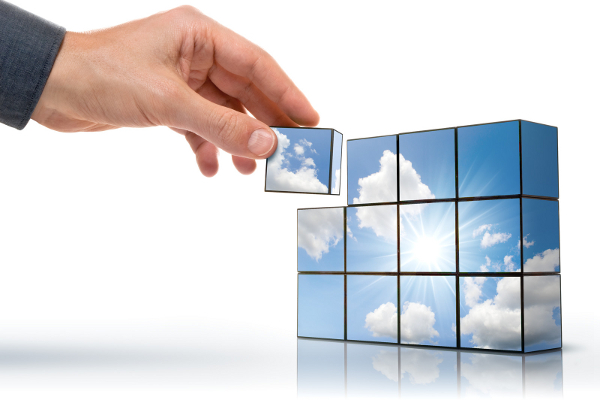 Since then, over the past twenty-odd years, the shift to the cloud has been wholeheartedly embraced by businesses. As technology has matured, initial doubts about the security and integrity of data have been overcome and cloud has taken off due to its "anytime, anywhere" access, lower cost of ownership and its scalability.
So the shift to the cloud is now wholly mainstream and cloud-based business management solutions are now the norm. It's no longer a case of if a company will adopt a cloud strategy, but when.
So what's your company's cloud strategy? If you don't yet have one, this report from Mint Jutras will help inform your choices and planning. The research reveals the goals, challenges and statuses of 525 businesses, allowing you to benchmark yourself against them.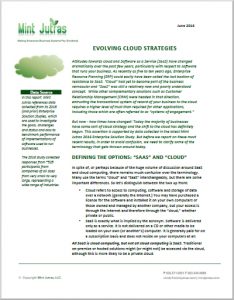 The report starts by explaining the important differences between Software as a Service (SaaS) and the cloud. Many people use the terms interchangeably, but there are important differences that you should be aware of.
It then goes on to reveal the cloud strategies that companies currently have in place. 15% of companies do not have a cloud strategy at all.
Mint Jutras also asked companies how they would design a system if they were to implement a new one right now. Five years ago, in a 2011 survey, more than half of respondents (59%) stated that they would choose a traditional, licensed on-premises solution. This year, that figure had reduced to just 29%.
The report concludes by encouraging companies to adopt a cloud strategy. It doesn't advocate an all-out race to adopt cloud solutions just for its own sake, but does advocate researching the options and investigating your own situation.
You can download and read the entire report here.
If you would like to find out more about Balloon One's cloud offerings, including NetSuite, the world's number one cloud-based business software, please call us on 020 8819 9071 or contact us using the website form.
Can't decide between NetSuite and SAP?
As Balloon One is the only UK partner of both these leading systems, we are able to offer unbiased advice on which solution is best for your specific business needs. Download the comprehensive 'SAP Business One vs NetSuite' comparison to explore the capabilities of both ERP systems.
---
Cloud image purchased from canstockphoto.com